Pasta, the queen of the Italian table
Journey through taste, the discovery of Italian pasta, between history and curiosity
Journey through taste, discovering the most famous Italian pasta formats, between history and curiosity.
Spaghetti: the must-haves on Italian tables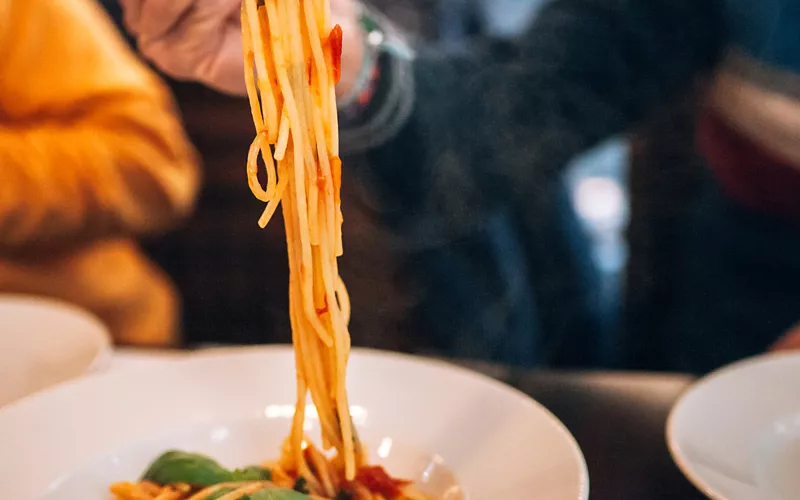 It is the best known dry and smooth pasta format in the world, made with durum wheat semolina and water: the spaghetti have a long and thin shape, with a round section. They are the typical dish of Lazio in the version of the tasty carbonara based on eggs, pecorino and guanciale, they are also popular in Campania with clams and present in Abruzzo in the egg dough made with the cooking tool of the guitar, which gives a square shape and a porous consistency. In Basilicata they are excellent with raw peppers (dried and fried), in Calabria they become a spicy dish with the addition of nduja (typical local sausage) and in Friuli they are seasoned with smoked trout. 
But the origins of spaghetti are not Italian: the oldest spaghetti dish dates back to 40,000 years ago and was found in a northwestern area of China; this ancestor was based on soy and not wheat. However, Italy has made them a true tradition by creating recipes of all kinds that enhance the product and all its characteristics. 
Tonnarelli: rough and tasty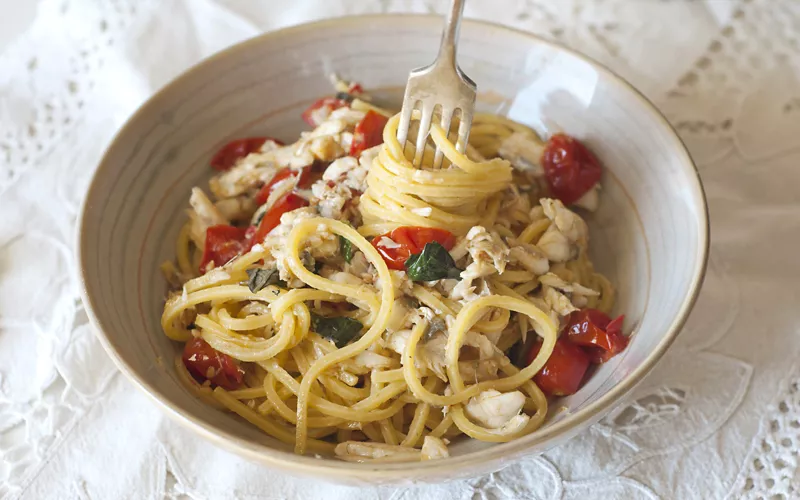 Ideal for cacio and pepper, tonnarelli are a type of fresh pasta of long shape with a round section, typical of Lazio and Roman cuisine. Similar to spaghetti, but with a greater thickness, they are called tuna are more square. Their name derives from the central-southern expression of "tonderelli", a round spelling.
Rough and tasty, the tuna are obtained by laying on a wooden frame a rather thick sheet of water, flour and eggs. The dough is pressed with a rolling pin along a frame covered with ropes, which makes it fall on the axis below.
Excellent also in the variant with porcini mushrooms and pumpkin, typical of the Apennines, from Emilia to Calabria, or in the "seas and mountains" based on clams, porcini mushrooms and cherry tomatoes, widespread in Lazio, in the version with mushrooms, pillow and cream of chickpeas, characteristic of Apulia.
Pizzoccheri, typical of Valtellina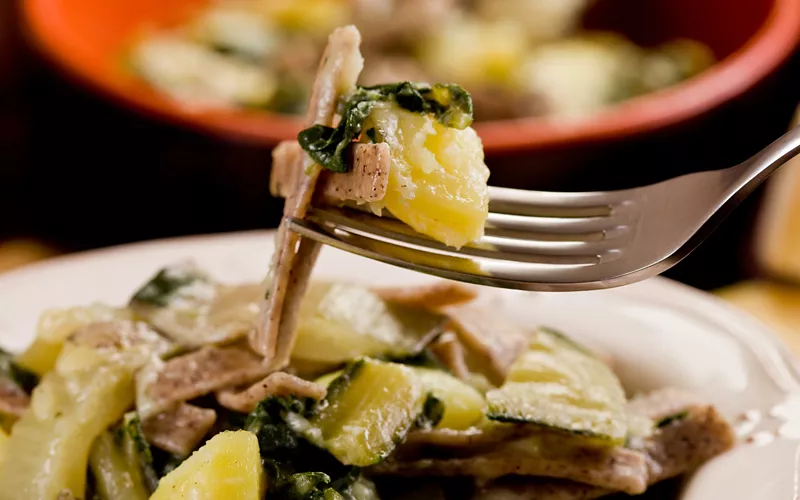 Originally from Valtellina, and marked with the PGI mark, pizzoccheri are a variety of fresh or dry pasta, prepared with buckwheat flour and mixed with other flours. The format is similar to that of noodles, but shorter and wider, and grayish in color.
Seasoned with butter, cheese, cabbage and potatoes are a dish of Lombard cuisine, consumed especially in winter. Try them in Bormio, where in 2022 the longest pizzoccherata in Italy was held, a table of 800 meters for 1800 people.
Canederli, to taste in Trentino and South Tyrol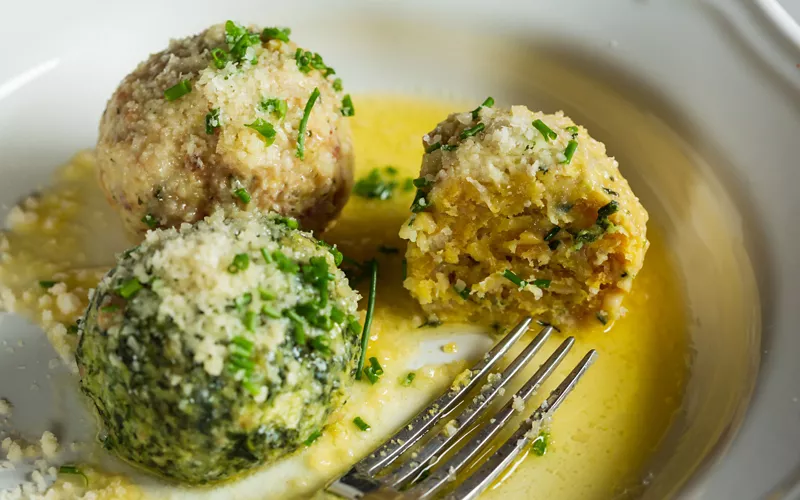 Typical of Trentino and South Tyrolean cuisine, Canederli are large dumplings made with a mixture of stale bread, milk and eggs. There are also variants that replace bread with buckwheat polenta.
Cooked in the broth or served dry, the canederli are seasoned with melted butter and keep, inside, a heart of speck and cheese. The spinach version of the canederli is increasingly sought after.
Perfect to taste in autumn and winter, perhaps in the warmth of a cabin, after a day of trekking, even better if accompanied by a good glass of white wine, canederli are an energetic dish with a unique flavor.
Gnocchi: the secret of Italian grandmothers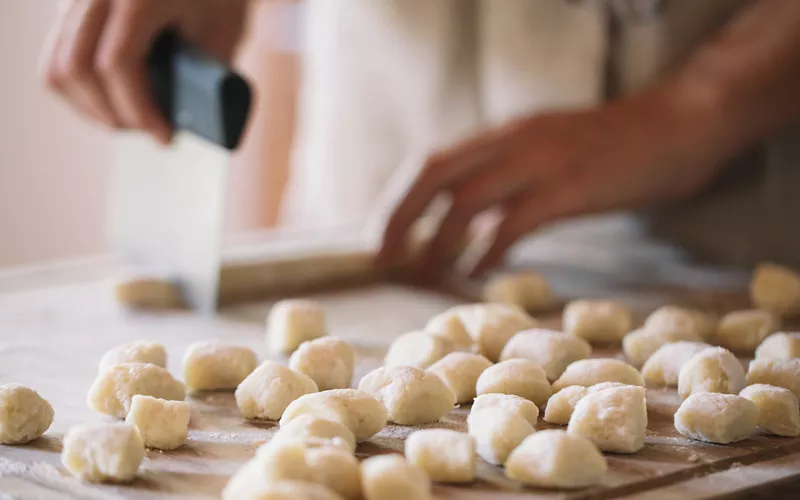 Dumplings are a type of fresh or dry pasta, short, smooth, rounded and/or oval, made with flour and water, and, in some versions, with the addition of potatoes. The origins of this dish date back to the sixteenth century, when a similar dish was served, but with a different consistency and based on eggs. It is from the sixteenth century that gnocchi spread, coinciding with the importation into Italy of potatoes from America.
But grandma's recipe is the true art to guard, made of precision, craftsmanship and quality ingredients. A craftsmanship that, if inherited, is the fundamental tool for making dumplings with a perfect consistency, able to retain large quantities of sauce. Seasoned with the classic ragù or with a cheese-based sauce, with a little butter and sage or with a pesto of basil, garlic and pine nuts, they are a real delicacy.
In Lazio the variant of gnocchi alla romana, based on semolina and in the form of diskettes, traditionally baked, represent the Thursday dish, according to custom; in Campania they boast a very ancient tradition and are enjoyed on Sunday, the feast day, with Neapolitan ragout and mozzarella, cooked in terracotta pieces and baked, according to the well-known recipe of gnocchi alla sorrentina.
Lasagna: the queens of Sunday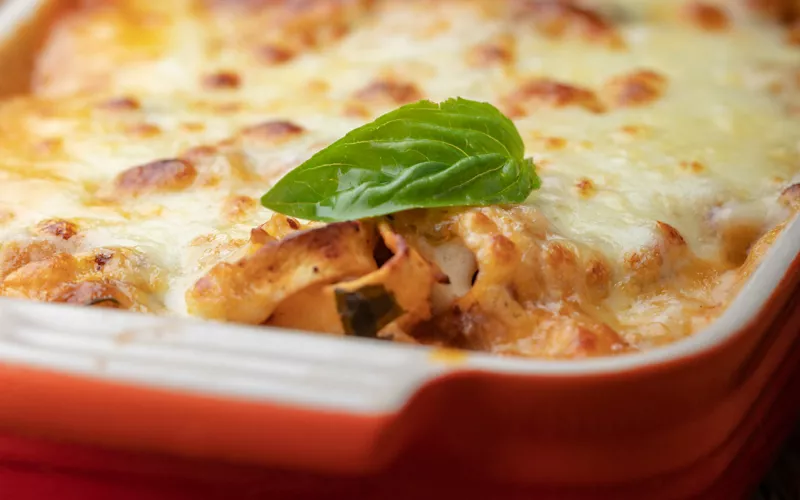 Fresh or dried egg pasta puff pastry, lasagna is the dish par excellence of many regions, from Emilia-Romagna, with classic Bolognese lasagna, seasoned with ragù, béchamel and grated cheese, to Veneto, with sweet lasagna from Fornel, stuffed with poppy seeds, raisins, peanuts, walnuts and cinnamon. Typical Sunday dish in the family, when at lunch - almost strictly - you find yourself all sitting around the table. 
In Campania, Neapolitan lasagna, typical of Carnival and Easter, is depopulated with pork sauce, fried meatballs, ricotta and provola. In the Marche, on the other hand, there is the version of vincisgrassi, seasoned with unground meat sauce, béchamel and spices, cloves and nutmeg. The autumn dish par excellence is, finally, that of vegetarian lasagna with pumpkin, fragrant and light.
In short, the varieties of pasta are more than 300: in every Italian region eating is always a delight and a discovery. Enjoy!