Campania
In Campania, where food culture is a way of life
The diversity and richness of Neapolitan dishes and products will win you over.
Discovering the Sorrento Peninsula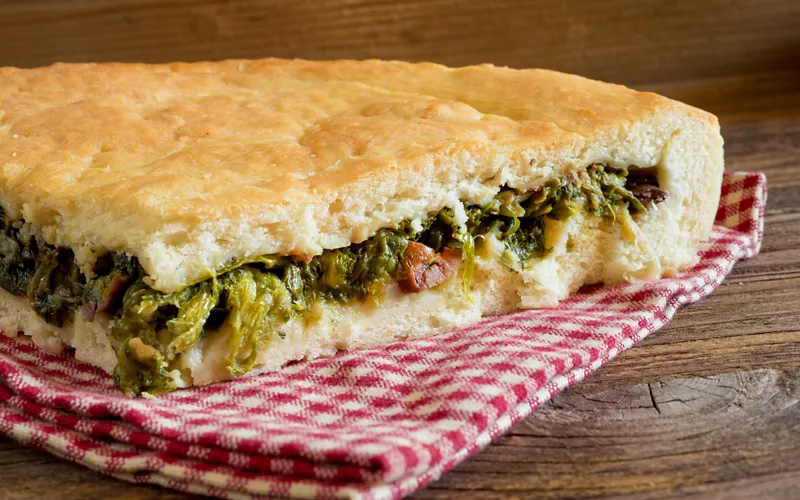 A tasting tour of the specialities of the promontory that closes the Gulf of Naples to the south, with glimpses of Vesuvius, Procida and Ischia.
Start from Castellamare di Stabia where you can enjoy spaghetti with mussels and pecorino cheese and the caponata stabiese, made of toasted bread ('o Pascuotto) soaked in water and topped with tomatoes and pickles.
In Vico Equense, you will find Provolone del Monaco DOP, made from cow's milk grazing on the Lattari Mountains, and Riavulillo (in Neapolitan 'little devil'), with a spicy heart in the centre consisting of black olives and chilli pepper. The "vicana" pizza is also worth trying.
In Sorrento, as the typical fruit of the Sorrento coast, the lemon is the protagonist of many recipes. One of these gives rise to Limoncello, a legendary liqueur exported, and emulated, all over the world. The citrus fruit is also used to cook "La delizia al limone di Sorrento", a sponge cake with cream and icing, both lemon flavoured.
Don't miss the Sorrento walnuts, used for Nocillo, a walnut husk-based liqueur.
Gnocchi alla Sorrentina, with basil and Sorrento dop olive oil, is another local must, with the local tomatoes, famous for their large shape, suitable for preparing fresh salads (such as Caprese).
Massa Lubrense extra virgin olive oil welcomes you with its yellowish-green colour, combined with lemon and limoncella apple (linked to the hamlet of Sant'Agata sui due golfi) so called for its sour aroma reminiscent of citrus fruits.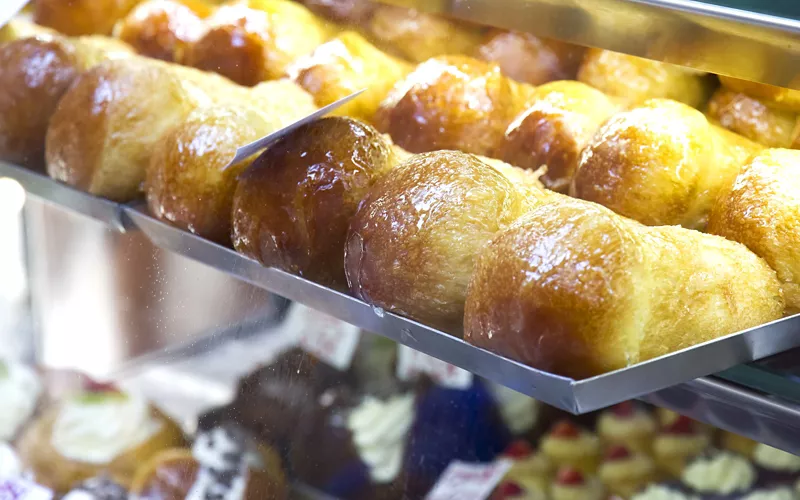 Scarola Pizza
At Christmas time on Campania's tables, it is a mandatory accompaniment to a meal with this deliciously traditional Neapolitan vegetable pizza, which is excellent both hot and cold. A burst of flavours will delight your palate and you won't know whether to prefer the rustic taste of the sautéed escarole or the sweet, soft taste of the homemade dough. Let yourself be creative with the toppings: olives, capers, sultanas, pine nuts, anchovies, garlic and chilli peppers.  
The Babà
Did you know that this timeless Neapolitan sweet (actually of Polish origin) 'drenched' in rum, perhaps takes its name from Ali Babà, another character from The Thousand and One Nights? Its preparation involves attention to the long leavening process. If you are teetotal or do not like rum, you may enjoy the baba with a non-alcoholic sauce, prepared just for you.