Latium
Latium and its popular gastronomic tradition, an eternal discovery
Even in the most famous dishes, Roman and Latium cuisine still holds surprises in store.
The Sabina of the Valle del Velino, in the province of Rieti, amongst chestnuts and Amatriciana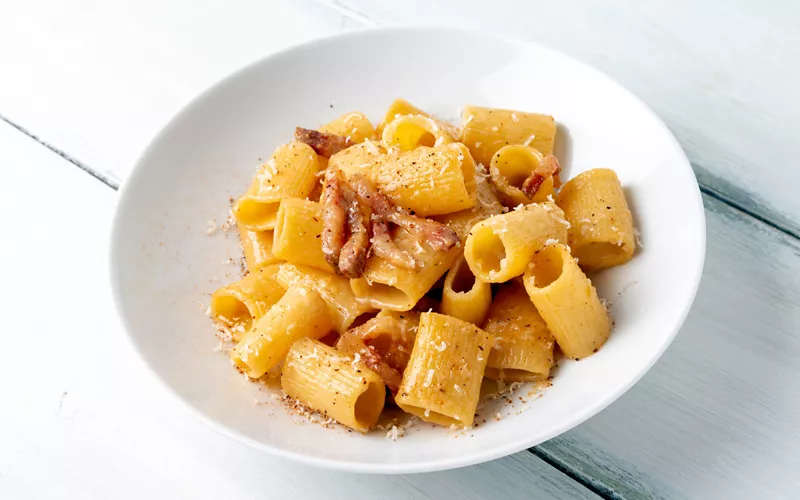 Are you ready for a full immersion in nature and tradition? The Valle del Velino is the ideal location to find both surprises and confirmations from the local products of the land. 
In Castel Sant'Angelo you will encounter different types of beans, which are the main ingredients of soups prepared in typical terracotta pots called "pignatte". Also, try the pizzicotti and sagne alla molinara, both seasoned with garlic, oil, chilli peppers, tomato and parsley, without neglecting the local salami and cheeses.  
In Antrodoco, do not miss the stracci, special rolled crespelle (crepes), baked in the oven and filled with meat sauce, tomato sauce and cheese, combining the best products of the area, such as local eggs and meat and Sabina DOP extra virgin olive oil.
Remember also that you are in the land of the Antrodoco brown, in a mid-mountain area, at an altitude of between 400 and 1,200 metres above sea level, stretching between Antrodoco, Borgo Velino, Castel Sant'Angelo, Cittaducale and Micigliano. One cannot fail to recognise it because, compared to ordinary chestnuts, it has a crunchy texture and, above all, a sweeter, stronger flavour.
And, speaking of sweet, if you happen to be in the area over the Christmas period, try the tisichelle made with egg white, sugar, flour and aniseed, and especially the copeta di Antrodoco (or Nociata), a crunchy walnut and hazelnut cake with honey, flavoured with bay leaves. 
In the small village of Posta, have a taste of pig's trotters in green sauce and then a nice sip of gentian liqueur before reaching Amatrice, a true empire for the senses, which never seems to stop offering its products and surprising visitors, even in times of reconstruction.           
Be prepared for a basket full of at least twenty outstanding products, such as the guanciale and pecorino cheese used to prepare the legendary dish known throughout the world, pasta all'amatriciana or its white version, pasta alla Gricia, and then honey, mortadella or Marotta, the Turchesa potato, wild berries and apples.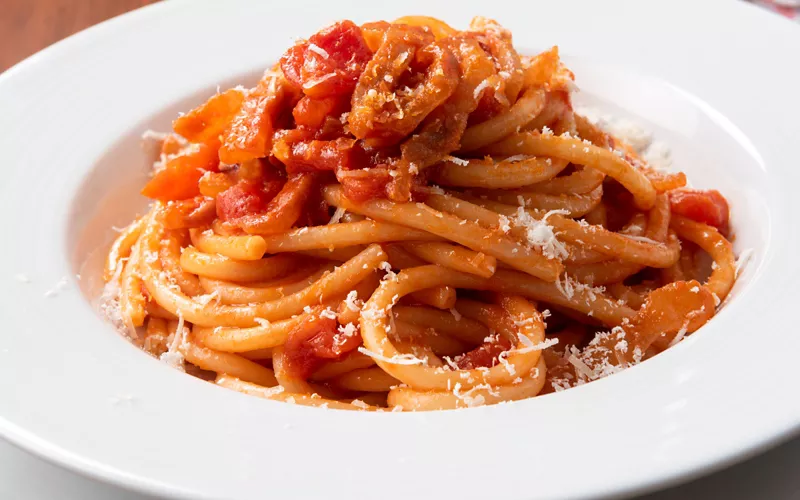 Pasta all'amatriciana
A pasta dish steeped in centuries-old history, which, in compliance with its specifications, must be prepared using strictly local guanciale (cheek of pork cheek, not bacon) and possibly local pecorino cheese (Roman pecorino is also acceptable).
Roast lamb with potatoes
This is another evergreen delicacy, a 'must' of the Italian capital and the region where the abbacchio (suckling lamb) has been bred for centuries by the shepherds of Agro Pontino. The key to preparing this dish? Patience, as it requires resting the meat for at least 12 hours.