Veneto
Veneto, a colourful planet full of flavour
From the sea to the lagoon, from the plains to the Dolomites, discover foods from another world.
Between Conegliano and Valdobbiadene, in the Prosecco hills
Explore this Unesco-protected cultural landscape in the province of Treviso, where the vineyards triumph with the grapes of the Prosecco Superiore Docg, straw yellow in colour and slightly sparkling, which goes well with boiled meats, white meats and light sausages.

From Conegliano to Valdobbiadene you will find deposits of typical products that represent the Marca Trevigiana: Radicchio, in primis (Rosso Tardivo, Rosso Precoce and Variegato di Castelfranco).
If the season is right, you will come across another vegetable, asparagus (the Bianco di Cimadolmo Igp and that of Badoere Igp), to be eaten with tasty sausages, such as ossocollo, salado trevisan or soppressa trevisana.
You will also find delicious cheeses, such as Bastardo del Grappa, Morlacco, and 'formajo inbriago' (drunk cheese). In particular, in Pieve di Soligo, listen to the story of Casatella Trevigiana DOP, a soft cheese with a mild aroma and sweet flavour.
In Combai, you must try the territory's marrone (chestnut), toasted in the 'rostidora', which is easy to peel and happily eaten with a glass of Prosecco.
In addition to the emperor of the territory, you can taste other wines that have found fortune on this route, such as Pinot bianco, Verduzzo, Sauvignon, for the whites, Refosco, Merlot and Raboso Piave, for the reds.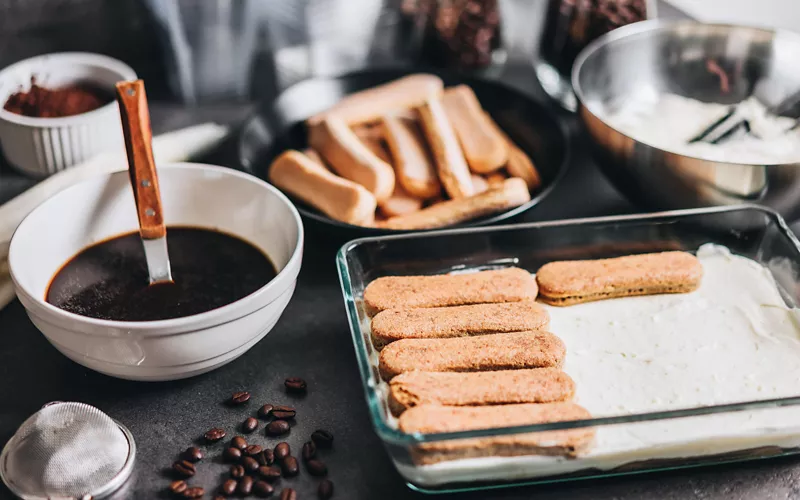 Vicenza-style salt cod
A miraculous dish obtained from a fish that is usually woody and stodgy, which demonstrates the inventive capacity of the Vicenza people. It is characterised by an abundance of sauce that gives the dish a soft, full-bodied flavour.
The Tiramisu
You should know that the ancestor of this dessert was the 'Sbatudin' typical of the Treviso peasant tradition, made with egg yolk beaten with sugar until it became a frothy cream. To these two ingredients, add mascarpone, ladyfingers, coffee and cocoa powder to have a piece of heaven on your plate.