Emilia Romagna
Emilia-Romagna, where gastronomy is an empire of the senses
Sit down at the table and enjoy some of the world's most popular dishes without thinking about diet.
Powered by:

In the Food Valley, between Piacenza, Parma and Reggio Emilia, in search of tortelli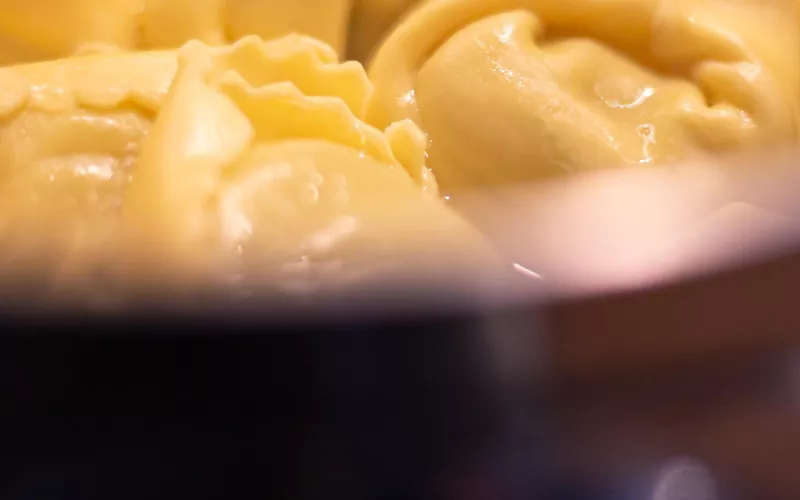 Dive into the magic that this blessed land and its 'alchemists' manage to create with fresh pasta, butter, ricotta and Parmigiano Reggiano.
Starting from Piacenza, make the acquaintance of Vigolzone's tortelli with tail, created in 1351 in honour of Francesco Petrarca: this is a pasta filled with ricotta cheese, spinach or herbs and grated cheese, in the shape of a candy or braid, usually served with melted butter, sage and grated Parmesan cheese.
If you are here over the Christmas period, also enjoy anvein (anolini) from Piacenza, stuffed with beef stew and cooked in 'brodo di terza', made for special occasions.
Head to Parma to learn about anolini also known as cappelletti: a popular dish dating back to the 15th century, shaped like a small sun, served with broth and filled with Parmesan cheese and breadcrumbs or with meat stew. 
In the area, you will also find pumpkin tortelli, with herbs or potatoes, typical of the Apennines, served with mushroom sauce or truffle. 
In Reggio Emilia, you will find green, square-shaped tortelli, which, in addition to spinach and ricotta cheese, include chard, lard, garlic, parsley, nutmeg and the ever-present Parmesan cheese. The manicaretto is traditionally prepared for Christmas Eve dinner. 
These signature dishes of Emilia are accompanied by great red wines of the territory, such as Barbera, Lambrusco, Bonarda, Gutturnio, with an eye on white varieties such as Malvasia, Sauvignon, Chardonnay and Pinot Grigio.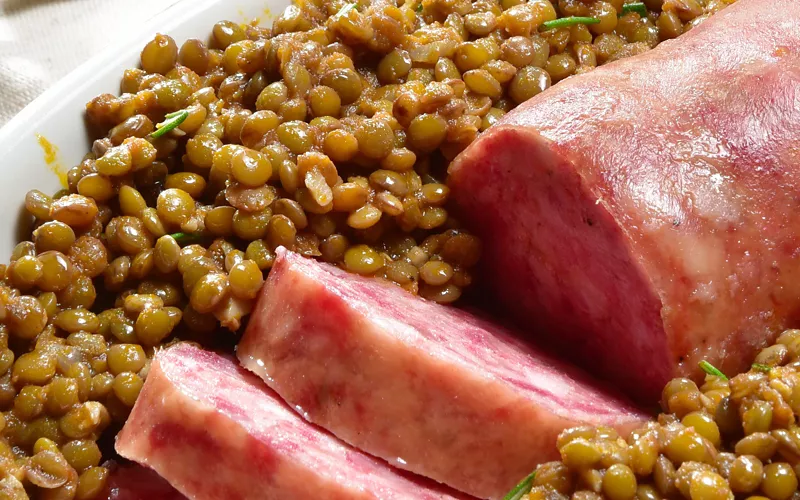 You are in the presence of the prince of Emilian culinary tradition: tortellini, small squares of puff pastry folded over a filling of pork, ham and Parmigiano Reggiano, famous in Italy and around the world for their unique taste. For recipe purists, sealing the tortellino is a real art: it has to be twisted around the little finger to keep the size down and make the edges stick well. Tradition dictates that this dish should never be missing from Emilian tables on Christmas Day. 
Cotechino Modena IGP
And after enjoying a delicious dish of tortellini in broth, Christmas lunch can, or rather must, continue with another extraordinary product, cotechino accompanied by legume soups, in particular lentils or stewed beans or served with polenta or mashed potatoes. This sausage, typical of the Modena area, is made from a mixture of lean meat, fat and pork rind with the addition of salt, pepper and other spices. Once the mixing is finished, the cotechino is inserted into the casing and then left to dry or precooked.