Puglia
Puglia, all the colours of a top cuisine
From the extra virgin olive oil to the bread, every dish bursts with light. You can see it even if you are colour-blind.
In the Itria Valley, among trulli, dry-stone walls and traditional dishes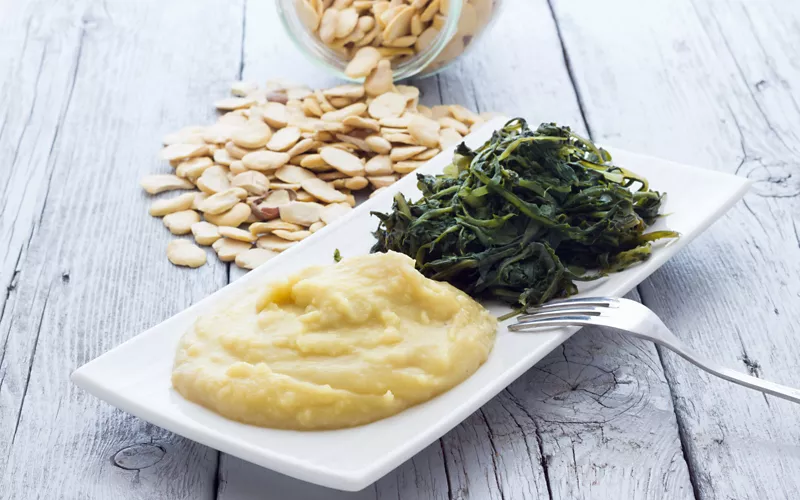 If you love small villages hidden among oak trees and centuries-old olive trees, with their genuine recipes and traditional products, this itinerary is for you. 
Start in Martina Franca, famous for its Martina Franca Doc wine, with its pleasant scent and dry, delicate flavour, and for capocollo, a salami made from the meat of pigs raised in the woods surrounding the town. Try it and you will smell its aroma of spices, scrub herbs and light smoke, making it delicious. 
In just 6 kilometres you will reach Locorotondo, along the Strade del vino route that crosses the Valle d'Itria. The town is home to one of the region's excellent wines, Bianco Locorotondo Doc, with an intense aroma and a dry, smooth taste with hints of peach and hawthorn. 
Try also the Rosso Valle d'Itria and the Rosato, delicious with local dishes, such as Locorotondo's carne al fornello, with pieces of lamb and suckling lamb skewered on steel spits and cooked in special ovens with oak or holm-oak charcoal, or the white tripe roulade, prepared with onion, pecorino cheese rind, tomatoes, salt and pepper and cooked for a long time in a pignatta over a very low heat.
In a further 9 kilometres you are in Cisternino, whose alleys are perfumed with the fragrance of barbecued meat. The town, in fact, is known to visitors and tourists alike for its 'fornelli pronti' (ready barbecues): butcher shops are equipped with ovens and small halls where you can enjoy 'gnummareddi', livers, or 'bombette', a quality of coppa (pork neck) meat, cut into thin strips, flavoured with salt, pepper, rosemary and parsley and garnished with a variety of cheese and a piece of salume. Once stuffed, the slice is folded up and takes on the appearance of a bowler hat (bombetta).
Orecchiette with turnip tops
You are faced with one of the region's signature dishes, one of the most famous in Italy, combining the bitterness of turnip tops, the savouriness of anchovies and the distinctive spiciness of chilli pepper with the softness of fresh pasta. To shape this type of pasta, which originates from the Bari area, a ball or fingertip is used until the typical concave shape is obtained, which is perfect for capturing and holding the sauces.
White broad beans and chicory
Don't miss this dish of ancient tradition, nutritious and digestible at the same time, which has Salento origins. It can become a unique dish with the addition of fried cubes of homemade bread.