Sardinia
Discovering the iconic dish of Sardinia: pane carasau
Tasty and musical: it's all in the name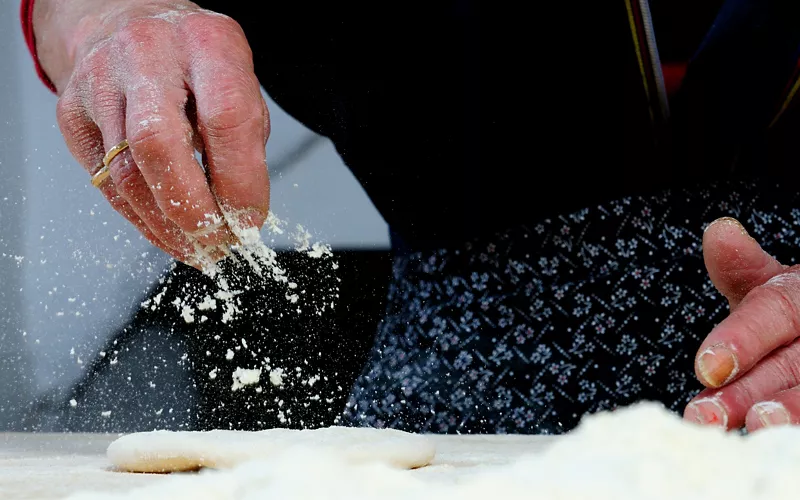 You cannot say you have truly experienced Sardinia without tasting one of its iconic dishes: pane carasau flatbread. It is also known as music bread because of the unique crackly noise it makes when it is broken and eaten. One of the oldest types of bread in the world, it embodies the wild nature and local people of Barbagia, the area from which it originates – austere yet inviting.

As with any age-old product, the origin of pane carasau is shrouded in legend. It seems that it can even be traced back to the Arab world.
What we know for sure is that it is a poor bread, born out of logistical needs: it needed to be easy for shepherds to carry with them and to last as long as possible for transhumance.
This explains why it is double baked, more biscuit-like, to make it dry and easy to store. This also gives it its characteristic crunchiness: pane carasau is thin and flat, super flat in fact, wide and extremely crumbly. 
The recipe is ancient and practically unchanged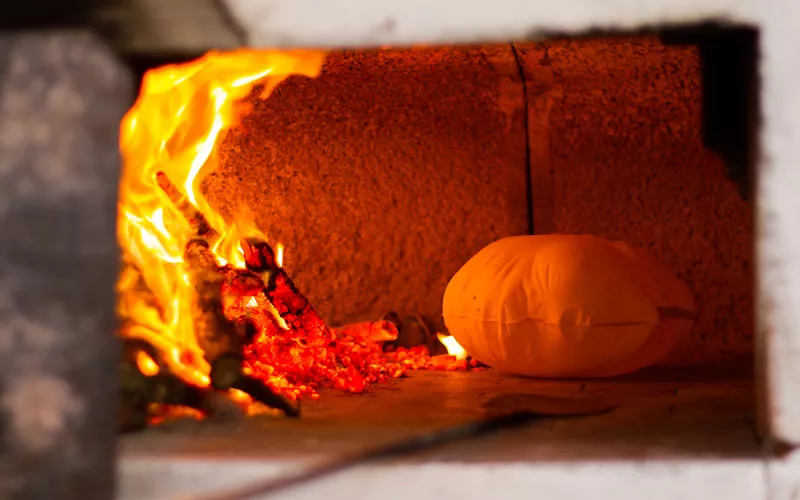 The light and nutritious pane carasau is the perfect sustenance for long periods away from home, thanks to the fresh ingredients and high energy content.
Historically, every Sardinian family would prepare and store it in large quantities.
Today, the process remains the same as the original: it is a bread made from water, salt, yeast and remilled durum wheat semolina, or more commonly from barley or mixed wholemeal flours, rich in bran, that is baked for a few seconds in a wood-fired oven.
The modern recipe for pane carasau is virtually unchanged, although people now tend to prepare the dough using a machine and bake it in electric or gas ovens. There are four stages to its production: first the dough proves, then it is baked in the oven, where it swells up like a balloon; next, it is divided into two halves while still hot and finally it goes back in the oven for toasting, known in Sardinian as "carasadura", which gives the finished product its name.
The result is a crispy pastry that stays fresh for a long time.
Fonni: the home of pane carasau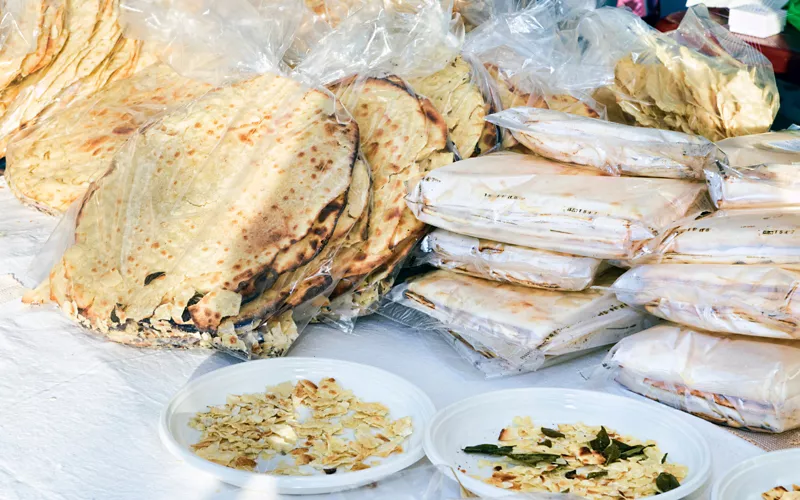 To taste the very best pane carasau, you have to visit Fonni, the highest-altitude town in Sardinia. Surrounded by centuries-old forests and prehistoric ruins, the municipality of Nuoro lies on the northern slopes of Gennargentu, in the centre of the island.
It is a stunning location, surrounded by a breathtaking panorama, where the mountain peaks loom majestically over the Barbagia valleys.
Fonni is the ideal town not only for nature and archaeological excursions but also to experience authentic craft and gastronomic traditions, since it is home to one of the top bakeries that produces pane carasau: the "Sunalle" bakery.