Gastronomic journey in Abruzzo
Complete guide to typical Abruzzo dishes
Dear Foodie, here is everything you need to know about Abruzzo's typical products and dishes, before setting off on a gastronomic journey of inimitable value.
Abruzzo's typical products, including PDOs and Slow Food presidia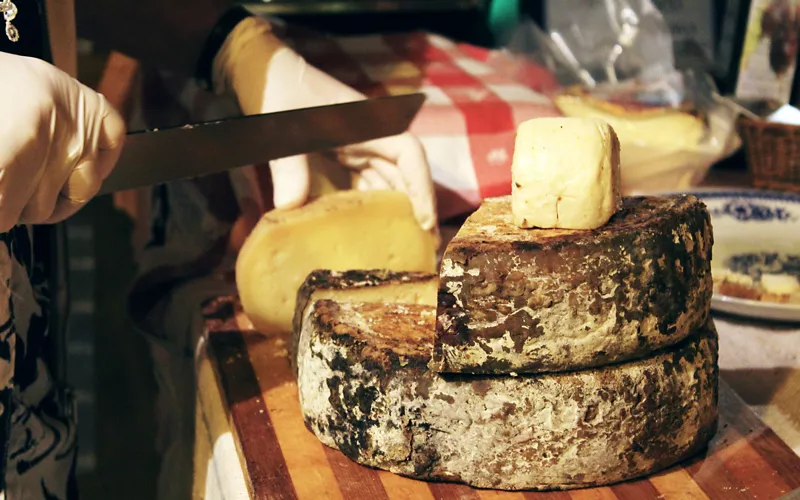 PDO and PGI, or Protected Designation of Origin and Protected Geographical Indication, mark those products that have a lasting bond, and history, with the territory where they originate. There, and only there, do they have a special flavour, also as a result of centuries-old traditions. These are the wonders of Italy, and Abruzzo is no exception with its vast bread basket of excellence.
Let's start with oil, an ingredient indispensable for achieving full flavour in any preparation. The Aprutino-Pescarese, Colline Teatine and Pretuziano of the Colline Teramane are PDO extra virgin olive oils. So sit at the table and first of all taste a bruschetta, to capture all the aromas of the extra virgin olive oils and lightly rub garlic on it, a true cult here: Sulmona's red garlic is, in fact, a Slow Food presidium, one of the best in Italy with its unmistakable spicy veiled flavour.
To enrich an appetiser, or a snack or aperitif, try the delicious cured meats and cheeses from Abruzzo, such as Ventricina del Vastese, rarely find outside this region and another Slow Food presidium along with Mortadella di Campotosto. The cheeses of this generous land of pastures are also worthy of mention: Slow Food also protects the production of Canestrato di Castel del Monte and Pecorino di Farindola.
Try them in combination with the equally famous honeys of the Abruzzo Apennines, produced only in the mountains around L'Aquila and at an altitude of at least 850 metres. The city itself boasts another PDO product: L'Aquila saffron, cultivated on the nearby Navelli Plateau. Its red colour is as intense as its flavour, a preciousness that should find a place of honour in the gourmet traveller's suitcase.
Spaghetti alla chitarra or Sagne e fagioli? Abruzzo pasta dishes are a powerhouse of flavour
Spaghetti alla chitarra is a fresh egg pasta made with a special guitar-like instrument. Order them as tradition dictates, seasoned with a tomato sauce and beef or lamb meatballs, like the ones you will find in Teramo's succulent timballo.
You should know that, here, meatballs are called 'pallotte'. An example: Pallotte cacio e ova, just bread, pecorino cheese and egg, then cooked in tomato sauce, for a country recipe that does not disappoint the most sophisticated palates. If you head up into the mountains, you will come across another type of fresh homemade pasta: Ceppe pasta with wild boar sauce. Sagne e fagioli, instead, is a rustic soup with homemade pasta in the characteristic striped shape, flavoured with borlotti beans and tomato.
The typical dishes of Abruzzo cuisine come from the power of fire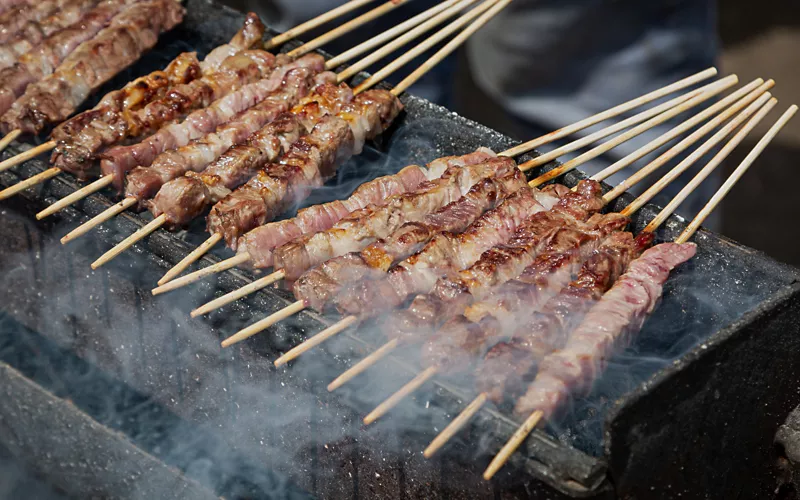 An icon of Abruzzo cuisine is arrosticini, now also famous throughout Italy in their street food version. It is a recipe from the countryside, created to use the less prized cuts of lamb by cutting it into small pieces and roasting them over embers. Nowadays you can also find them made of chicken or turkey, but the advice is to look for the right place that uses the right recipe mutton arrosticini, in one of the countless places that will cook them perfectly on a grill shaped like a gutter, are simply irresistible.
The sheep is also the protagonist of another typical dish: pecora alla callara, once cooked on the large cauldron hanging from a chimney chain, for hours on end, with seasonings and spices. When visiting Abruzzo, look for a trattoria with a fireplace, because you will find one, and enjoy a unique experience. Focaccias, soups with Santo Stefano di Sessanio lentils or Navelli chickpeas, grilled caciocavallo cheese and pizzelle, sweet wafers cooked on a special griddle forged in squares or diamond shapes, are also born from the fire.
The bocconotti, mostaccioli and sugared almonds of Sulmona: sweet delights of Abruzzo tradition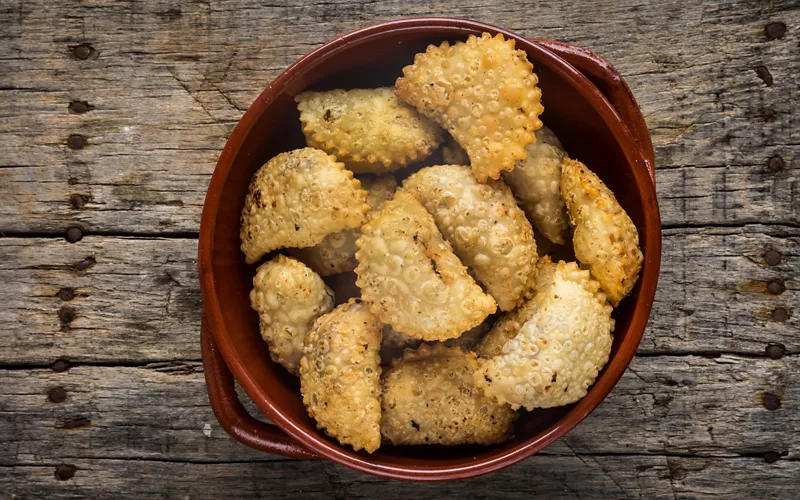 Take a seat at a café to sample Abruzzo sweets. First, accompany your coffee with a bocconotto, to get to the heart of the region's confectionery tradition. The fragrant, cinnamon-scented short pastry encloses a filling of black grape jam, almonds and chocolate: a delight.
Equally tasty are mostaccioli, biscuits made with must and almonds. If your destination is Sulmona, and perhaps you are planning a wedding, stock up on sugared almonds. The oldest factory of this speciality was established here, a tradition dating back to the Romans. Confetti di Sulmona are unique, made only with prized Pizzuta di Avola type almonds.
The fish cuisine of Abruzzo's Adriatic coast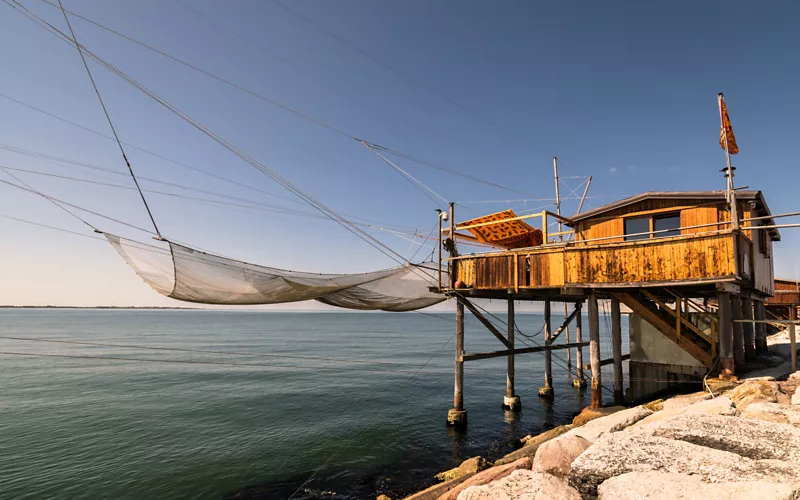 You are enjoying the coastline of the region, the sandy beaches and nearby vegetation. You are already in paradise. Now all that is left to do is taste the typical Abruzzese product par excellence: fish.
Brodetto is a speciality that has two versions, both of which are worth trying: Pescara's version and Vasto's version, since the two cities are only an hour apart. In Pescara, no tomato and lots of pepper, plus a splash of vinegar for a sweet and sour taste; in Vasto, the fish is poached in tomato. Both excellent. Start with the fish in scapece appetiser, in a tasty marinade.
Finally, choose to experience more than just dinner by eating on a trabocco: pile-dwellings over the sea once used for fishing, now converted into charming restaurants.