Molise
Molise, a small and tasty treasure chest of dishes and "identity" produce
Discover a land, among the least known in Italy, full of surprises for all tastes.
Powered by:

Tra Campobasso e Capracotta, alla ricerca di antichi sapori
"Cavatielle e carne e puorche" (cavatelli e carne di maiale) insieme ai "crjuoli" (maccheroni alla chitarra), vi accolgono a Campobasso, capitale del regno molisano, che vi propone anche il suo classico ragù preparato con la "brasciola": fetta di carne arrotolata intorno a uova sode, lardo di prosciutto e salsiccia.
Bojano, a circa 40 chilometri, vi offre la sua celebrità, la mozzarella fior di latte, esportata in tutta Italia mentre a Campitello Matese, che raggiungete in 17 chilometri, è di scena la polenta preparata con le salsicce paesane o con le verdure e i legumi locali, come i fagioli di Letino. 
È la volta di Isernia, seconda e ultima provincia del Molise, dove trionfa la cipolla, dalla forma schiacciata e dal sapore particolarmente dolce: provate per credere la cipollata, la frittatona con abbondanti cipolle, tipica della zona. 
Raggiungete Pescolanciano, la porta dell'Alto Molise, dove trovate di nuovo la polenta, ma qui tagliata con il filo, mentre in 11 chilometri siete nel territorio di Pietrabbondante, dove trovate lo scattone con pasta fresca, acqua di cottura e vino rosso (compresi Torella del Sannio, Poggio Sannita e Bagnoli del Trigno).
Ecco Agnone, più a nord, che sforna nel periodo natalizio la zuppa alla Santè, antica preparazione con brodo di gallina e ingredienti legati alla zona, a partire dal caciocavallo, con pallottine di carne di manzo e pane raffermo fritto o alla brace. Proseguendo per 18 chilometri si arriva a Capracotta, il regno della pezzata di pecora, ricetta molisana legata alla transumanza, e della zuppa di lenticchie con patate e cicoria. Una nota anche per il tartufo bianco e le castagne di cui il territorio è ricco.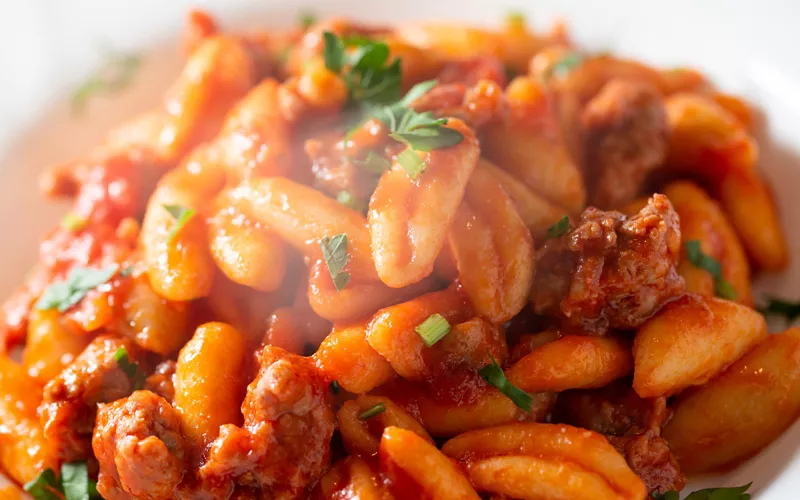 Cavatelli con la ventricina 
È il tipo di pasta tra i più utilizzati, in dialetto "cuzzutill", che potete preparare semplicemente con uova, farina, acqua, e insaporire con un sugo a base di ventricina, uno dei salumi più antichi e pregiati della tradizione norcina molisana.
Ostie ripiene di Agnone
Se vi trovate in zona nel periodo natalizio, provate le candide cialde di ostie ripiene di noci, mandorle spellate, miele, zucchero, cioccolato fondente e cacao amaro.