italy
San Daniele Prosciutto: an Italian legacy
A product of excellence thanks to the work of skilled hands guided by tradition.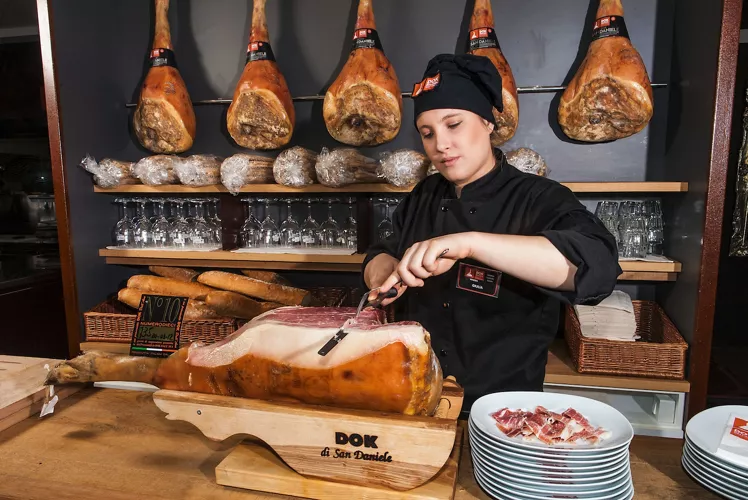 The leg is pulled at the joint to give the ham its classical straight, guitar-shaped appearance and then is placed in salt for 1 day for each kg. After this period, it is brushed off and placed in a press for 1 week so that all the serum comes out and it takes on its typical flattened shape. In the second processing phase, the ham is salted and massaged with a mixture of mild pepper, and then is hung to dry for a few months. Then it is washed and covered - where there is no rind - with a lard mixture (a substance made with pork fat, rice flour, salt and, depending on the recipe, pepper and herbs) to prevent the surface from drying out too much, which would lead to the gradual dehydration of all the meat.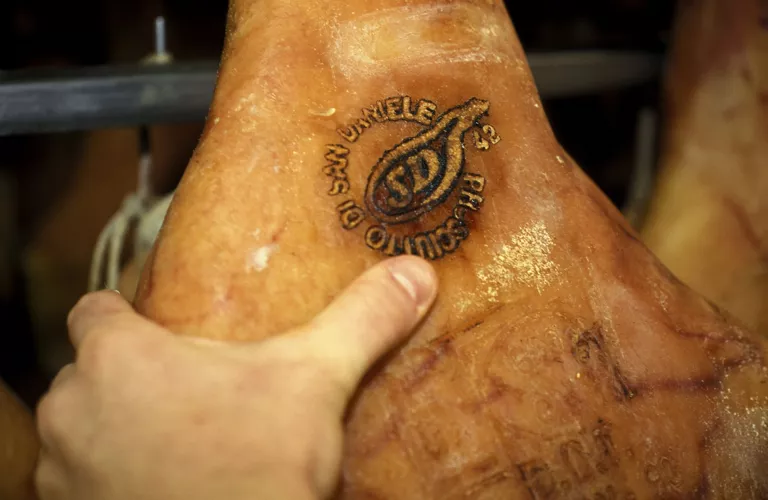 Once it has taken on its final appearance, the ham is brought into the ageing rooms, where it stays for 15-18 months to reach an optimal level of maturation. Ageing is the dehydration process, that is the removal of moisture and water from the meat, which suitably salted, allows it to be preserved. San Daniele ham is still only and exclusively made within the city limits of the Municipality of San Daniele del Friuli, in the province of Udine. This is the heart of Friuli, and more precisely is in the hills located halfway between the Carnic Alps and the Adriatic Sea, where the Tagliamento River runs. In fact, the micro-climate in this area is necessary for the aging process as the winds blowing in from the Alps are mixed with those arriving from the sea. Nature combined with the experience of the people from this magnificent land have created a masterpiece of goodness and quality, a valuable heritage that has been recognized world-wide and has been protected under the tutelage by the Consortium for Prosciutto of San Daniele for over 40 years.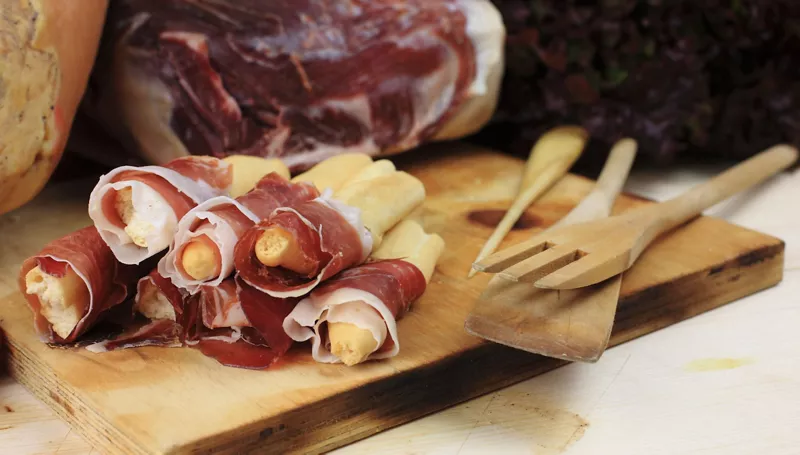 For a summer menu, combine San Daniele ham with melon or figs (try accompanying the latter also with a plain pizza). Due to its versatility, the product can be used in many recipes. For example, it is used to wrap asparagus placed in a heat-resistant dish greased with butter and mascarpone cheese and then baked in the oven. It can also be used to make the classical San Daniele billfold: Fold a piece of meat in half after having placed a slice of ham, a slice of Montasio cheese and a slice of roasted pepper on it.
The festival Aria di Festa takes place in San Daniele del Friuli from 22-25 June. It's dedicated to flavours and music and includes many performances and events. 4 days to discover a magical place and to taste this one-of-a-kind ham.