The Veneto region by way of Renato Bosco's pizza
The history of Piave Cheese and other gastronomic wonders of Veneto
In 1872, Don Antonio Della Lucia, parish priest of Canale d'Agordo, a village in the Belluno valley, set his plans in motion to combat the economic crisis that had hit his mountain area and the depopulation that was slowly killing its villages. The project he launched was called "latteria turnaria" ("shift-based cheese dairy"), in the local dialect known as "kasèl". This was essentially a community- and solidarity-based method for managing dairy cattle, in which small farmers processed their milk in shifts at a single dairy, ultimately lowering production costs and increasing profits.

Out of this experience, which spread throughout the Belluno Dolomites, the Piave PDO was born: a top-quality Veneto cheese with a sweet flavour reminiscent of alpine flowers and aromatic herbs. Produced only in the province of Belluno, it is the expression of an Alpine region proud of its traditions and of a cheese-making art deeply rooted in cooperation and respect for the experience handed down from one generation to the next.
Dairy cattle have been bred on these mountains since the end of the Venetian Republic, which coincided with the decline of forest exploitation and the beginning of dairy production. For Piave PDO, only cheese from the Belluno area is used, produced with milk from typical local breeds of cattle: the Italian Bruna, the Tyrol Grey, the Pezzata Rossa Italiana and the Holstein Friesian. The fresh cheese has a tender and light rind, while the matured cheese (which can be Vecchio Selezione Oro or Vecchio Riserva), takes on a harder texture and an ochre hue and is easily digestible with a high energy value.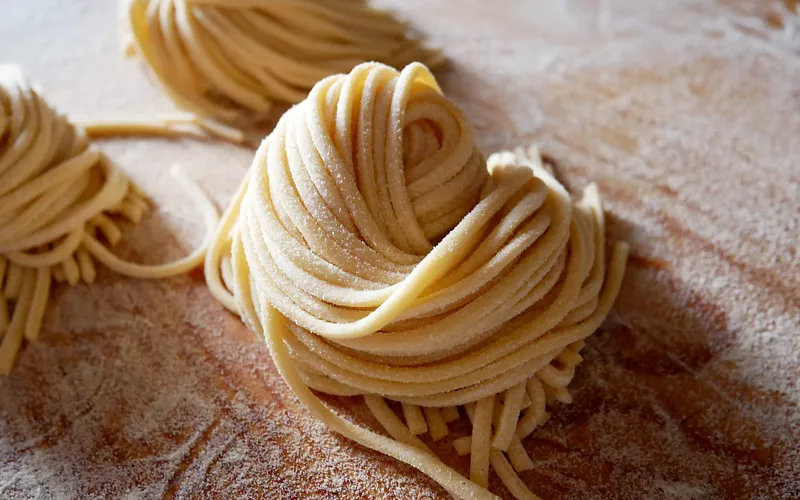 Piave PDO is an exquisite cheese that pairs perfectly with the most famous cured meat in the Veneto region: Mantagnana Ham, also known as Veneto Berico-Euganeo PDO. This sweet cured ham, still processed by hand, originates in the provinces of Padua, Vicenza and Verona, where the alternating dry and humid climate, typical of the plains between the Euganean Hills and the Berici Mountains, give it its rosy colour and delicate aroma.
However, a gastronomic tour of the delights of Veneto simply must start with the great classics. Firstly, we have baccalà alla vicentina, a 15th-century recipe that requires dried codfish to be cooked slowly over four hours, together with onion, flour, milk and oil.
Then there is Bigoli, a homemade pasta widespread throughout the region that resembles spaghetti but is coarser and rougher: in Bassano del Grappa it is darker, because it is made from buckwheat flour, and is served with duck ragù; while in Venice it is enjoyed "in sauce", in other words, seasoned with anchovies and onion.
Another iconic dish of the Venetian lagoon is sarde in saor (marinated sardines): every family has its own special recipe for preparing them, but the basic ingredients are always sardines and sweet and sour onions, garnished with pine nuts or sultanas. They are often served as "cicchetti", or bite-sized appetisers, in the ancient Venetian taverns known as "bacari", together with another great local classic: baccalà mantecato, whipped salt cod and oil spread on hot bread or fried polenta.
Finally, a much-loved dish among Venetians (and the people of Vicenza) is risi e bisi, a rice and pea-based dish somewhere between a risotto and a soup, which according to tradition was offered to the Doge of Venice on 25 April on the Feast of St Mark, the city's patron saint.