Wine Routes set amidst hills and lakes at the feet of the Dolomites
Kilometres of vineyards unfolding among hills, lakes and villages, where neatly arranged vine leaves and vine rows design romantic "wine routes": here are 5 unmissable routes in the Dolomites.
Veneto: The Prosecco, Colli Conegliano and Valdobbiadene Wine Route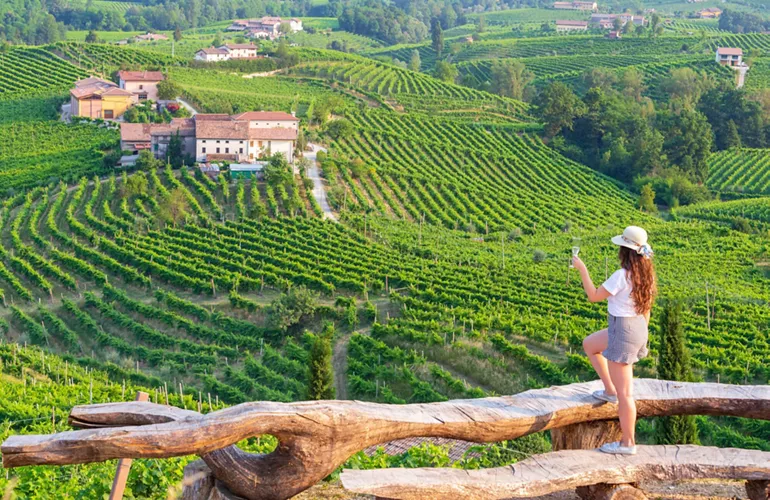 This route starts off from the XIX century Cerletti Institute in Conegliano, the oldest school of oenology in Italy. It unwinds through villages and hills, hermitages and country churches, noble villas and votary temples, as well as Molinetto della Croda, a XVII century mill standing on solid rock. The focal point of the entire route is the hill of Cartizze, where the splendid sparkling wine of the same name is made, before coming to an end in Valdobbiadene. Don't miss a tasting of typical Marrone di Combai PGI chestnuts with a glass of new vintage Prosecco or Verdisio wine.
Trentino: The Wine and Flavour Route
The route winds through the Brenta Dolomites, Lake Garda and Lake Ledro as far as Valsugana. It is crossed by vineyards growing great local wines such as Trentodoc, Teroldego Rotaliano, Muller Thurgau, Marzemino, Nosiola and Vino Santo. They are perfect accompaniments for other typical products characterizing this route, such as cheese and delicatessen meats, fruit and vegetables, honey and beer, maize and olive oil. Nor should you miss are the nearby Apple Route and Cheese Route.
South Tyrol: The Bressanone vineyards Trail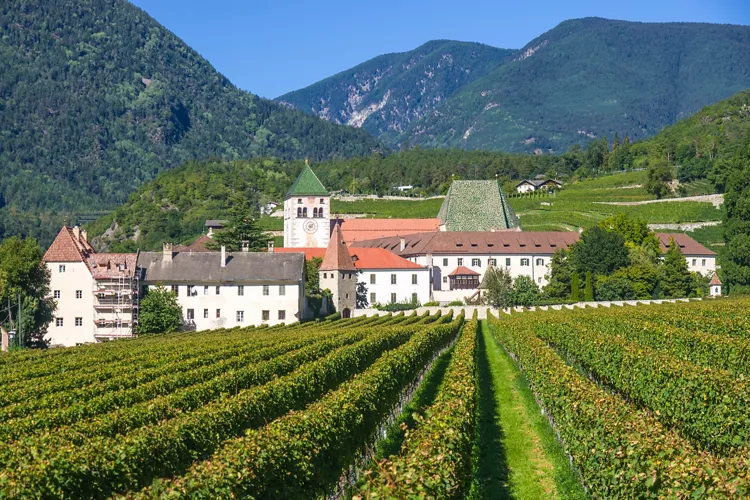 It starts from the Adlerbrucke Bridge, in the city centre, before gradually moving into cool woods and among vineyards flanked by typical dry stone walls. Along the trail, you will come across traditional rural taverns where you can enjoy a fine glass of local wine. The trail ends at the Monastery of Neustift, also known as the Abbey of Novacella, where the road sets off again to return to Bressanone.
South Tyrol: The Wine Route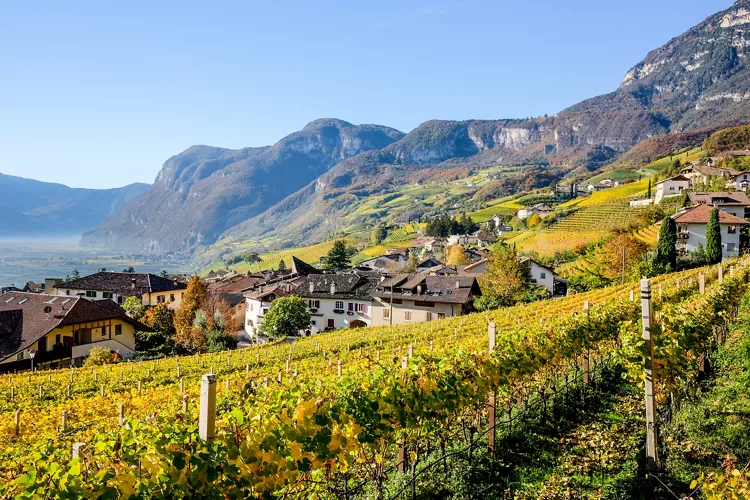 An itinerary of 150 km through sixteen towns starting off from Nalles, near Bolzano, and ending in Salorno, on the border with Trentino. Along the way among so many vineyards, you will come across more than seventy wine cellars where you can savour local wines such as Schiava, Gewürztraminer and Lagrein, perhaps accompanied by a typical Tyrolean snack with rye bread, speck and cheese. Events, wine safaris and guided tours are organized throughout the year, while Caldaro is also home to the Wine Museum.
Friuli Venezia Giulia: Wine and Flavour Route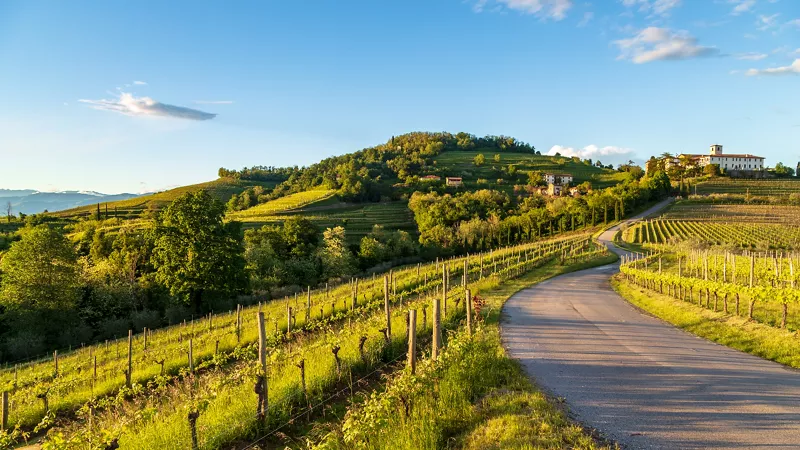 It crosses four DOC wine-growing areas with their respective DOCG wines - Picolit, Ramandolo, Rosazzo - over a wide expanse of hillside vineyards producing other excellent wines such as Pinot Grigio, Pinot Bianco, Friulano, Sauvignon, Ribolla Gialla, Cabernet Franc and Sauvignon, Merlot and Collio. All of which can be accompanied by gastronomic specialities such as San Daniele del Friuli cured ham, Fagagna cheese, pestat with lard and spices, and Rosa di Gorizia red chicory.