The most beautiful and charming vineyards in Italy
Highly valued traditions relating to food and wine are among the most popular attractions of Italy. Forming one of the many reasons why Italians themselves and tourists from all over the world decide to spend their holidays in this country.
A picnic at a vineyard in Lombardy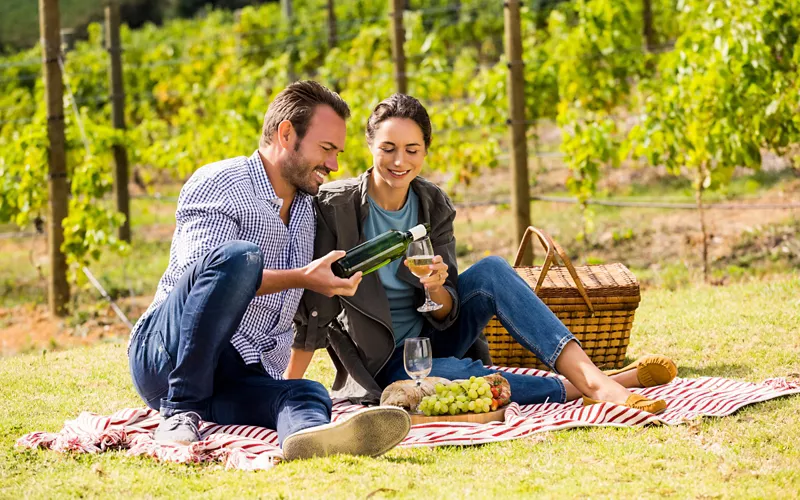 In the Province of Pavia, in the Val Versa, which is crossed by a torrent of the same name, we will find a good range of DOC and DOCG wines, such as Barbera, Bonarda, Pinot Nero and Pinot Grigio. At the Azienda Agricola Manuelina winery you will be able to appreciate the strong passion of a rural enterprise and its dedication to producing excellent products when you go and have lunch in its vineyards. This is great experience for couples, families and also children.
You will not have to worry about organising anything yourself. You will be provided with a thermal food container with a selection of products you can enjoy together, and also a large tablecloth upon which you can arrange your plates, cutlery, napkins and serviettes. You will certainly enjoy your picnic.
If you want to discover some of the savoury gastronomic specialities of the hilly Franciacorta district, you might decide to spend some time at the Franciacorta Country Lodges and enjoy a relaxing picnic close to rows of grapevines at a wonderful vineyard or in the shade of the plants present in the Rose Garden, offering enchanting views of the surrounding winegrowing haven.

Everything you need will be provided to you. This will include a basic picnic blanket upon which you can sit and lay out the local specialities you have chosen, such as cured meats, Grana Padano cheese, savoury pies, omelettes and grilled vegetables. You will also have a chance to try a glass of the Franciacorta Brut or Sebino Rosso wines which are available at the Castello di Bornato winery.
A picnic at a vineyard in the Veneto region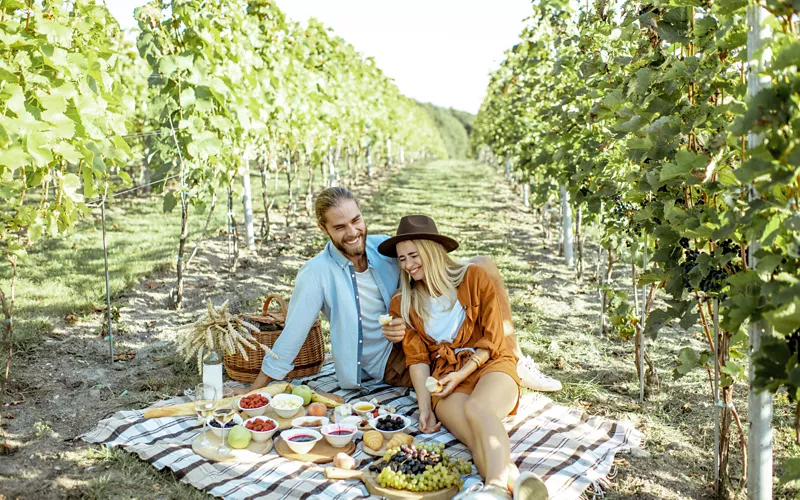 Sitting around a colourful blanket on the side of a hill known as the Col de Luna in the province of Treviso, with a basket full of delicious local delicacies and enjoying the natural landscape of the Valdobbiadene hills. These are the basic 'ingredients' of the organic picnic offered at Sarah's Vineyard.
Each box contains a sheet, a bottle of Conegliano Valdobbiadene Prosecco Superiore DOCG wine, homemade bread and a dessert and also a hot or cold first-course meal with vegetables from the biodynamic garden.
For an experience that will amaze your friends or family, let the Prosecco Hills sommelier accompany you on a picnic among the rows of grapevines on the green Prosecco Hills.

This is a more wine-oriented tasting session, during which you will be able to try the 1000 Note, Checco 24 and Tranquillo varieties accompanied by small appetizing snacks produced with local ingredients.
A picnic at a vineyard in Piedmont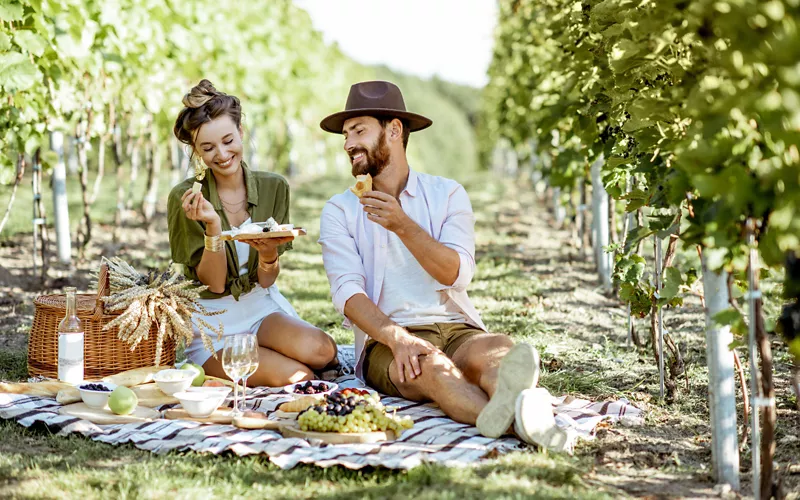 You will certainly enjoy relaxing among the Massucco grapevines in the heart of the Roero wine district and, in particular, thanks to the well-composed gourmet baskets prepared for you by the restaurant Le Vigne e il Falò at Castagnito in the Province of Cuneo. You must bring your own picnic blanket, and everything else will be provided for you on the spot.
You will have the opportunity to choose from a variety of options. The picturesque locations include an oak tree surrounded by Nebbiolo d'Alba grapevines, a small dwelling (or 'ciabòt' in the local vernacular) that was a point of refuge for partisans in WW II and the Serra, where you will enjoy a fantastic series of intersecting panoramic views of the Langhe, the Roero district and Monferrato.
Have you always dreamed of having a picnic in one of the Monferrato vineyards? In the province of Asti the Piana Winery will let you discover various local products, offering you an apéritif in the vineyard, where you will sit close to the long rows of Barbera, Cortese, Brachetto, Dolcetto and Moscato grapevines.

Here too you can choose whether to sit at the centre of the grassy area surrounding a large oak tree or out among the vines.
A picnic at a Tuscan vineyard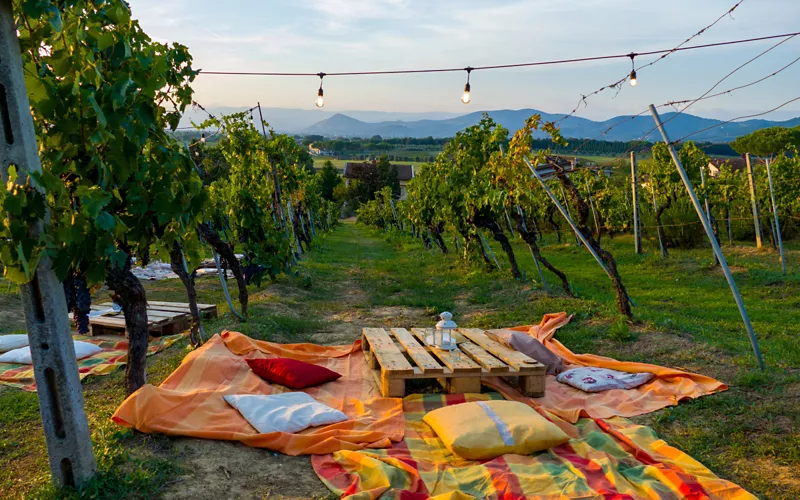 You should not visit Tuscany without tasting the Nobile di Montepulciano red wine. Perhaps you should go the whole nine yards and make sure you have a complete and truly authentic experience. Also at Montepulciano, which is not very far from Siena, you can enjoy a picnic in the vineyards. The gastronomic specialities of the area will be accompanied by wines produced by the agricultural enterprise. And don't forget to take a few photographs!
At the core of the Chianti Classico district the Tenuta Bibbiano estate will ensure you enjoy a splendid wine-tasting experience in its vineyards, where you will also be served with various local delicacies. You will be served high-quality apéritifs in the open air together with various local cold cuts and salami. You will be able to try four different types of Chianti wine: Bibbiano, Bibbiano Riserva, Vigne di Montornello and Vigna del Capannino.
A picnic in a vineyard in Umbria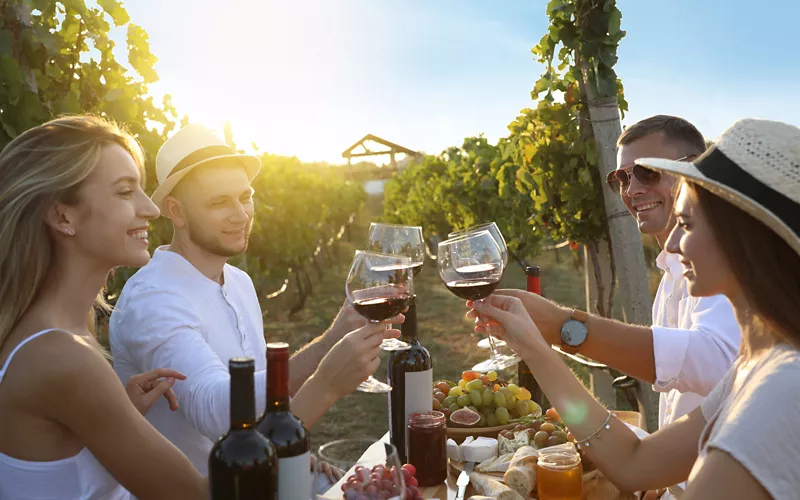 You might also decide to go for a picnic out on the rolling hills surrounding the Umbrian village of Montefalco. Your point of reference in this case will be the Tenuta Lungarotti winery estate, where a Renaissance villa stands in the perfectly harmonious setting of the surrounding countryside. Here, after completing a tour of the winery, treat yourself to a lunch among the grapevines and enjoy the contents of the food basket that will be provided to you. The basket will contain a bottle of Rosso di Torgiano DOC Rubesco red wine or Bianco di Torgiano DOC Torre di Giano white wine, 2 glasses and some genuine, typical snacks from this area.
At a location near Assisi you will discover the wine and special flavours of the Umbria region. You will enjoy participating in the two special picnic experiences offered at the Società Agricola Saio winery: a classic picnic in the vineyards, where a light lunch is served, and a picnic at the Deluxe Vineyard, where you will be offered a traditional menu and, in addition, a can of 'Prime Olive' extra-virgin olive oil and servings of the traditional Porchetta di Costano cooked-ham speciality.
A picnic at a vineyard in Apulia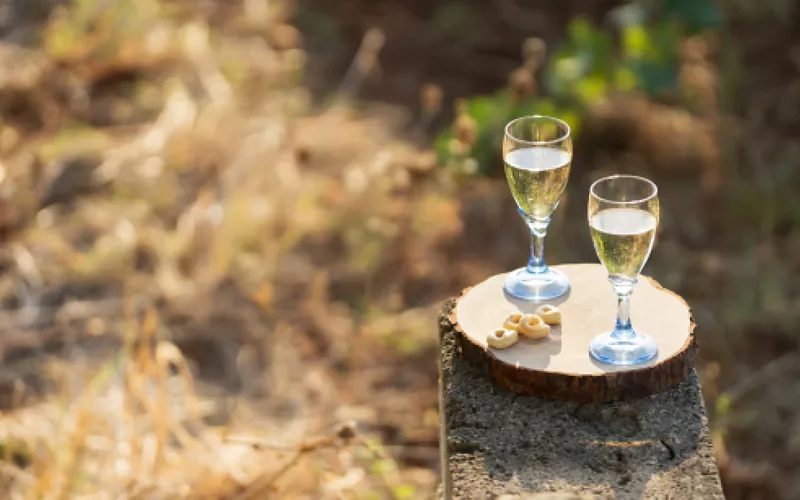 If you prefer a picnic at a vineyard in the Apulia region, the Masseria Amastuola wine resort will satisfy your desires from April to October. At this location you will sit in the shade of secular olive groves, where you can enjoy various typical Apulian gastronomic specialities and Amastuola organic wines.
In the heart of the Salento district the Cantina Petrelli winery offers picnic experiences, providing its guests with baskets filled with some wonderful snacks and beverages: 2 bottles of wine of your own choice, a jar of peppers in turmeric-flavoured oil, a vegetable paté, a packet of toasted friselline and a bag of mixed puccette bread slices. At places like this you will discover enchanting aspects of the Salento area.

So, are you ready to become enamoured with the Italian lifestyle by visiting some of its enchanting vineyards and wineries located just a short distance from cities of great artistic interest and enjoying these unforgettable experiences?