10 cooking classes in dream locations for a truly relaxing after-work break, from north to south
Smart working has not only changed the way we work, away from the office and rigid schedules, but also the way we can explore the world.
Cooking lessons in idyllic Tuscany
The enchanting landscapes of the Tuscan countryside between Valdichiana and Val d'Orcia are ideal for a few days of smart working, far from the hustle and bustle of the city.
The Podere la Rocca agritourism, or holiday farm, just a few minutes from Montepulciano, opens its kitchen to guests who want to try their hand at preparing the region's typical fresh pasta, from pici to tagliatelle, to be dressed strictly with traditional Italian sauces. The cooking lesson can also be organised after work for a duration of about three hours.
In the province of Pisa, in the elegant Villa Fonte Rinaldi, you can put yourself to the test with a cooking class held by chef Giovanni Fiorentini, choosing between a complete Tuscan menu, a selection of fresh pastas, a class entirely dedicated to wild boar or a specific one for dessert lovers.
The Badia a Coltibuono agritourism, housed in a historic 11th-century stone abbey and surrounded by 800 hectares of woodland in the Chianti wine-growing area, offers you natural, simple, friendly and practical cooking lessons with single or group courses to create simple recipes with seasonal ingredients, to be savoured at the end of the lesson.
If you have a full day at your disposal and would like to have a truly complete cooking experience, we suggest a trip that starts in Florence, with a tour of a local market to buy fresh produce, and ends at a farmhouse in the Florentine countryside with the preparation of a four-course meal of seasonal Tuscan dishes such as roast pork and bruschetta, followed by a delicious tiramisu.
An aubergine parmigiana in the Bay of Naples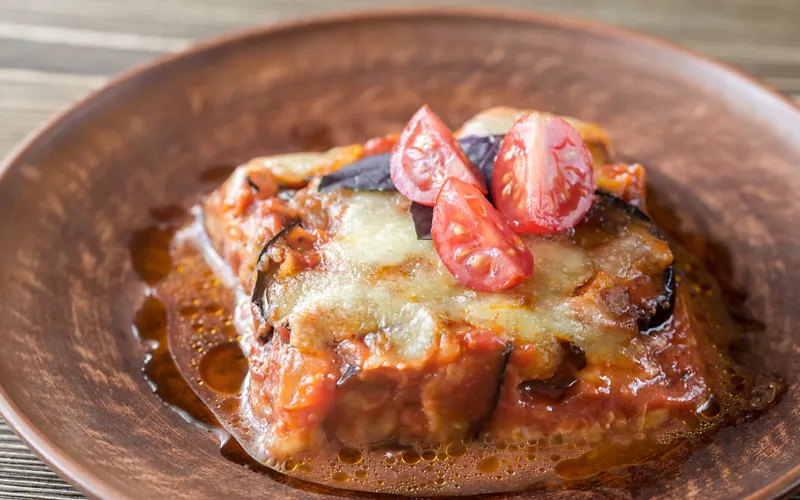 We have all the ingredients for a dream experience: sunset, genuine ingredients, music, wine and the beautiful setting of Sorrento. The Penisola Experience cooking class takes place in an authentic Italian villa overlooking the sea, surrounded by lemon and olive trees.
In three hours, after sipping a Neapolitan coffee and gathering the necessary ingredients for recipes from the villa's vast garden, you will learn how to prepare classic dishes such as a perfect aubergine parmigiana, fresh gnocchi in tomato sauce, and a tiramisù, while enjoying limoncello and local wine. 
The best cooking classes in dream locations in Italy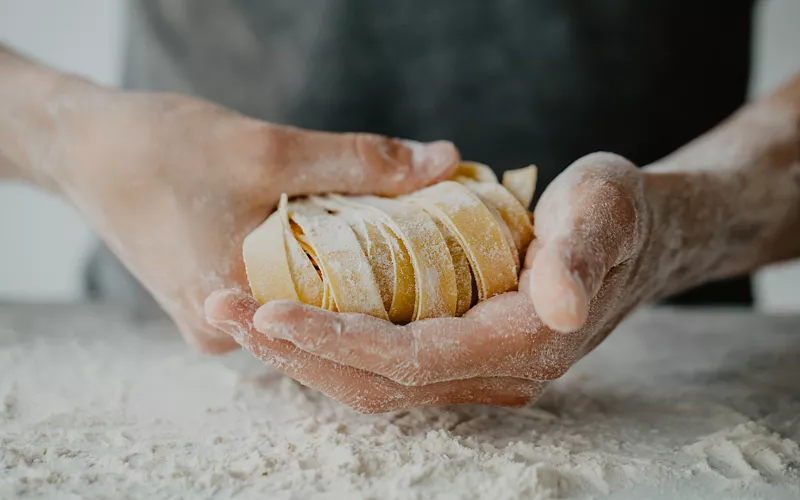 On the outskirts of Bologna stands the Ca' Bianca farm, which is equipped for optimal remote working thanks to strong Wi-Fi, a panoramic work area and office and stationery facilities.
Here, in between work sessions, you can take part in cooking lessons to learn about traditional Bolognese cuisine, preparing fresh pasta and sauces by hand using seasonal ingredients available at the farm itself.
If you chose the Venice area, however, why not carve out half a day for a cooking lesson in a historic Venetian palace. Together with a chef, you will travel by ferry to the Rialto open-air market to shop for fresh, seasonal ingredients just like a local, browsing through the stalls overflowing with colourful produce. Afterwards you can try your hand at preparing an authentic Venetian menu with a starter, main course and dessert.
Those who want to work remotely in the Piedmontese Langhe, in the provinces of Cuneo and Asti, can count on numerous cooking lessons organised after working hours. We recommend two of the most popular and original ones.
Cooking Piemonte by Raffaella Forno takes you on a discovery of traditional Piedmontese cuisine in an old renovated farmstead at the foot of the Langhe hills.
Mani in Pasta by Langhe Experience, on the other hand, takes place in a family environment in the Alba area and gives you the chance to creatively combine ingredients to prepare the most typical dishes of the Langhe, Monferrato and Roero areas.
Sicily boasts one of the richest culinary traditions in Italy, and if you have chosen the province of Palermo to escape the chaos of the city and work remotely in the midst of beautiful weather and with natural and architectural wonders on your doorstep, the Villa Dafne agritourism company will teach you the traditional methods of preparing Sicilian dishes using the company's organic products and raw materials.