7 incredible spas not to be missed in winter in Italy
What could be more relaxing and rejuvenating than a spa day spa in winter? Here are the best spas in Italy to discover during the colder months.
The romance of the Pré-Saint-Didier spa in winter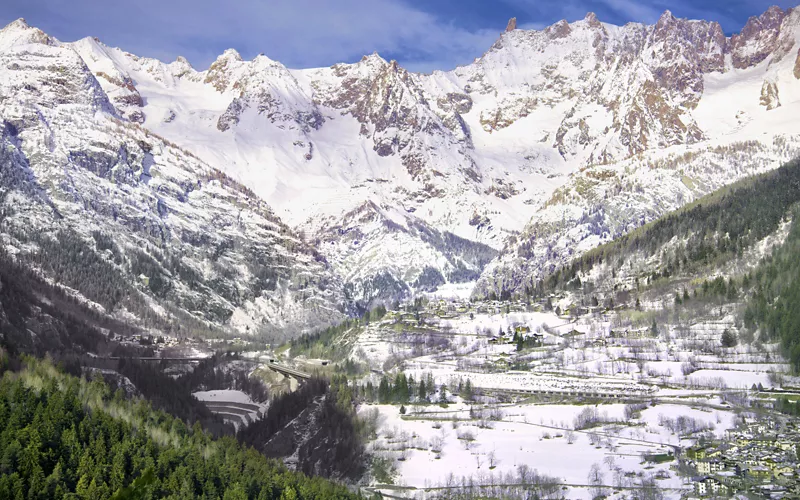 A romantic weekend in Valle D'Aosta in winter or a longer holiday in the snow must include at least one day at the Pré-Saint-Didier Spa in the upper Dora Baltea valley. Here, the warm waters that flow generously from the heart of the mountain have been famous for centuries for their relaxing, restorative and anti-rheumatic properties.
Wellness trails, outdoor and indoor pools, panoramic saunas and state-of-the-art treatments: Prè-Saint-Didier in winter awaits you in the charming atmosphere of the Valdostan forests, a stone's throw from the most famous ski resorts in Italy and the world.
How to reach the Pré-Saint-Didier spa: by bus or car from Aosta, by train from Turin and Milan. The spa is open Monday to Thursday and Sunday from 9am to 10pm, and on Friday and Saturday from 8am to 11pm.
The Saturnia thermal baths in winter, to experience like long ago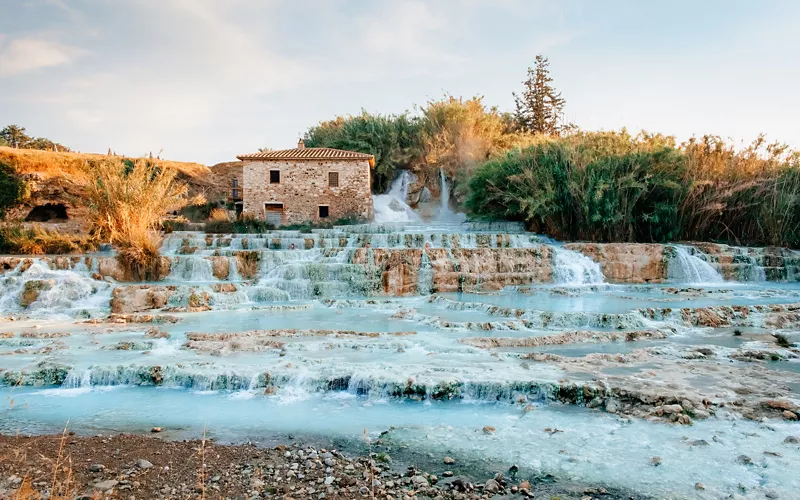 If you are planning a weekend of relaxation in Tuscany in winter, we suggest you start at the Terme di Saturnia, just outside Grosseto.
The properties of the thermal water that springs from the heart of the Maremma have been known since Etruscan times. You can still choose to experience Saturnia's thermal baths in winter like long ago: immerse yourself in the natural pools of the Mulino waterfalls, certain that the constant 37.5-degree water temperature will lull and pamper you for hours.
How to reach the Saturnia thermal baths: by bus from the Grosseto, Montalto di Castro and Albinia train stations. The private Hot Spring Pools of Terme di Saturnia is open from Monday to Sunday from 9.30 a.m. to 5 p.m.. The Mulino waterfalls are open 24 hours a day, every day, even in winter, and admission is free.  
Among history, beauty and treatments: Sirmione Spa in winter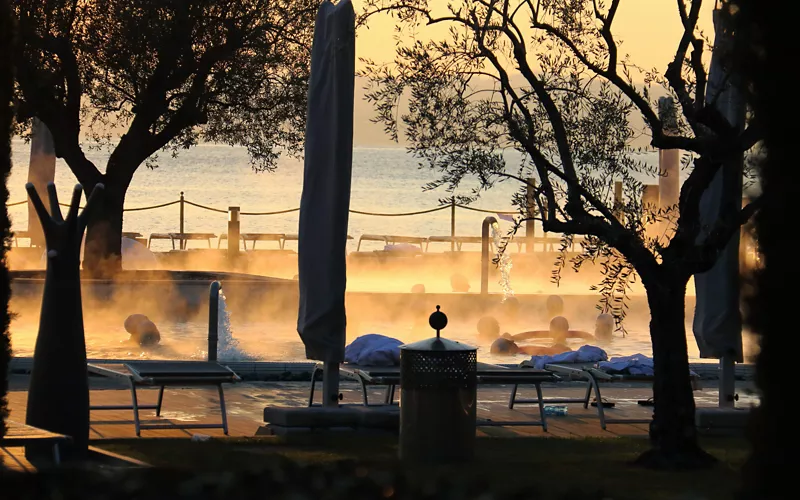 Even in winter, Lake Garda retains all the charm with which it manages to win over tourists and visitors in warmer months. Peschiera del Garda, Desenzano del Garda and Riva del Garda are ideal destinations for an out-of-town trip to Lombardy in winter or for a romantic weekend away from the hustle and bustle of the cities, but if you want to pamper yourself a little, we suggest the Sirmione thermal baths, a large thermal park on the shores of the lake.
Thanks to a historical centre steeped in history and thermal waters rich in iodine, sulphur and sodium chloride, discovering Sirmione in winter will be a real treat for the mind as well as the body.
How to reach the Sirmione thermal baths: by bus from the centre of Sirmione or from the stations of Desenzano and Peschiera del Garda. The spa is open daily, Sunday to Thursday from 9am to 10pm, Friday and Saturday from 9am to midnight.
A romantic weekend at the Baths of the Popes in winter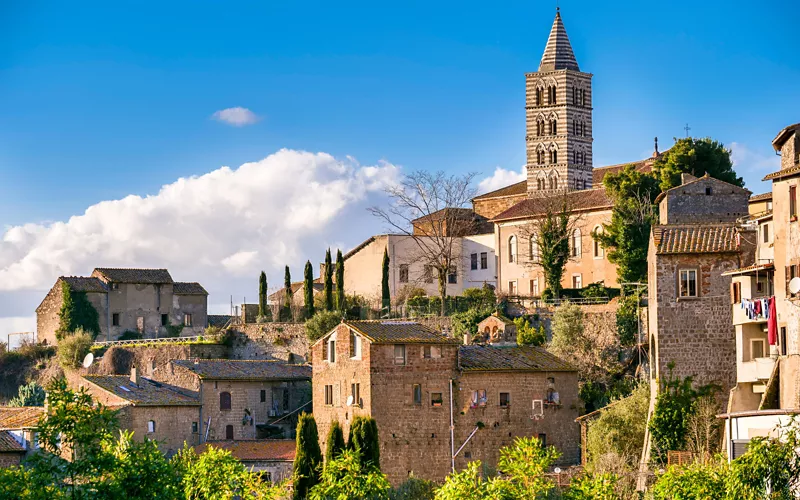 The Terme dei Papi, on the outskirts of Viterbo, already known to the Etruscans and extensively exploited by the Romans, are ideal for those looking for ideas for a romantic weekend in Lazio.
You can relax in a monumental swimming pool of over 2000 square metres, experience a natural Turkish bath inside a grotto and discover the two different thermal springs that feed the Baths of the Popes: hyperthermal waters at a temperature ranging between 40° and 65° Celsius and hypothermal waters that reach a maximum temperature of 30° Celsius.
How to reach Terme dei Papi: by train from Rome to Viterbo Porta Fiorentina station. The spa is closed on Tuesdays and accessible from Wednesday to Sunday from 9am to 7pm, while on Saturdays it is open until 1am.
The thermal baths of Bormio in winter, to try after skiing or a walk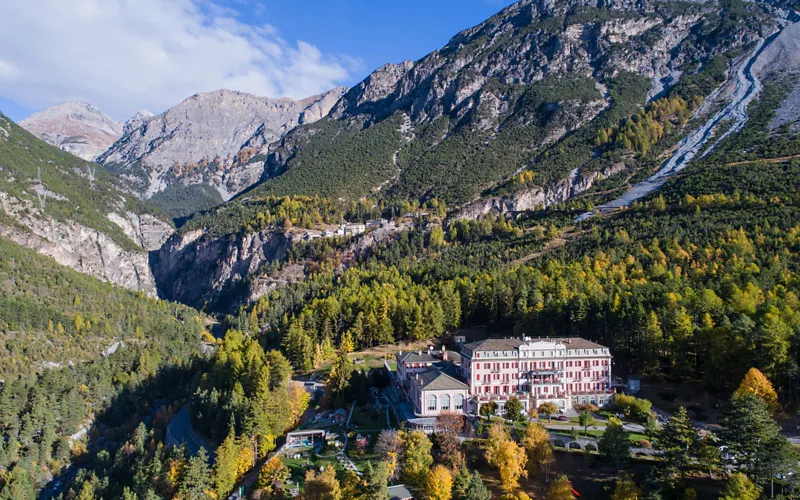 Unique views of snow-capped mountains, skiing facilities close by and no less than nine thermal springs: the Bormio thermal baths in winter are an experience you absolutely must try if you are planning a romantic weekend in Lombardy and a few days of fun in the snow.
In Bormio, you will find everything you can expect from a top-class spa, from wellness itineraries to facial and body treatments, Turkish bath, Finnish sauna and even a children's area.
How to reach the Bormio thermal baths: by train from Milan to Tirano, then bus to the centre of Bormio. The spa is open Wednesday to Monday from 10am to 8pm.
Merano Thermal Baths in winter: all the wellness possible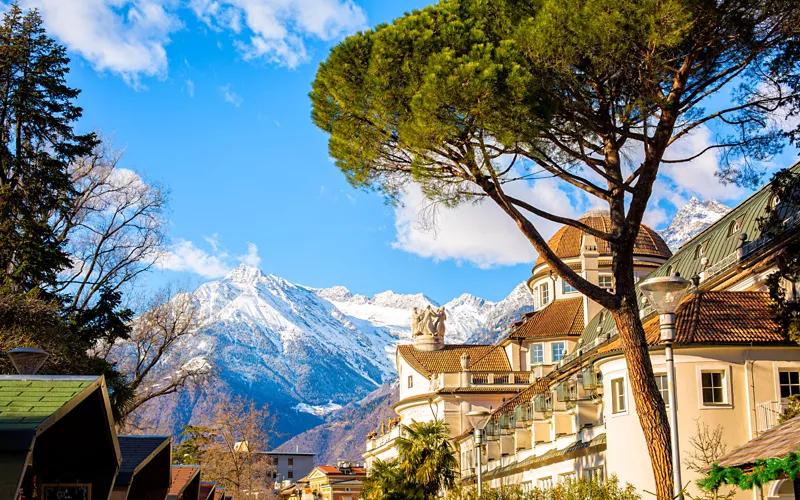 What comes to mind when you think of a romantic weekend in the mountains? A few hours at the spa to relax after a ski descent or snowshoeing to discover snowy landscapes.
The Merano thermal baths in winter are the right place to pamper yourself and devote yourself to your wellbeing: thanks to 15 pools surrounded by glass windows that allow you to enjoy the white landscape of winter in South Tyrol while taking advantage of the benefits of the thermal water gushing from Monte San Vigilio.
How to reach the Merano thermal baths: from Milan, Venice, Zurich and Munich by train to Merano station. The spa awaits you every day from 9am to 9pm.
The natural spa of the Colà thermal baths in winter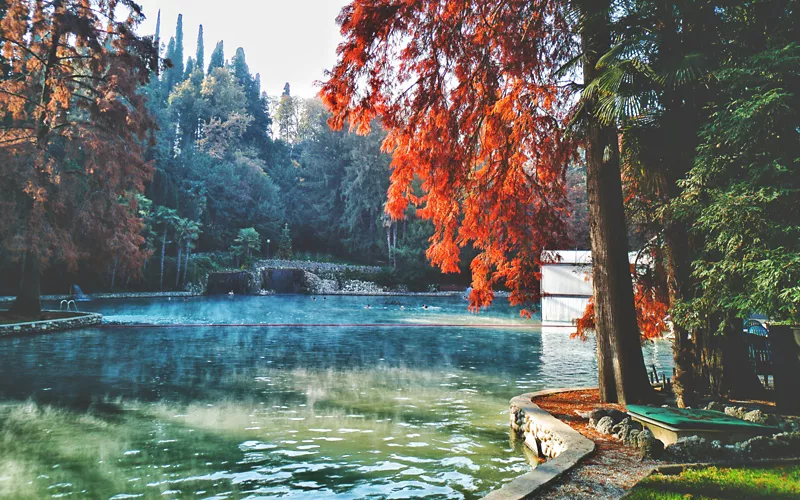 Among the places we suggest for experiencing Lake Garda in winter is the thermal park of Villa dei Cedri in Colà, a few kilometres from Peschiera del Garda.
Prepare to be amazed: this natural spa stretches over 13 hectares among ancient trees, thermal water lakes, waterfalls and fountains. Even in winter, the Colà Thermal Baths are open daily from 9.30am to 10pm from Sunday to Friday and until midnight on Saturdays and public holidays.
How to reach the Colà thermal baths: by train to Rovereto station and then bus to Colà di Lazise.