tuscany
Saturnia and its Terme
Beautiful Tuscan landscapes, relaxing spas and well-being of a tone-up holiday.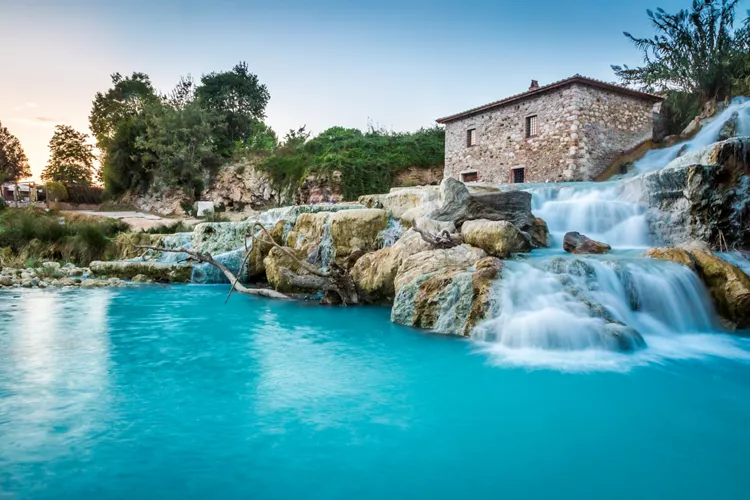 The main attraction of the Tuscan borgo of Saturnia are, of course, its terme, a draw for thousands of visitors every year they arrive to experience the incredible therapeutic properties of its sulphur springs. It is they that have made Saturnia one of the Maremma's most soutght-out vacation locales. Beyond the Terme di Saturnia's luxurious resorts and golf greens, just outside the town center lie Molino Falls – situated near an old mill – as well as Gorello Falls, where the water gurgles at a toasty 98.6°F. This vast natural spa is open to the public throughout the year.
Those visiting these terme will find themselves surrounded by an almost unreal ambience – perhaps it is because according to myth, the natural endowments are a result of Jupiter unleashed his lightning on the god Saturn, with whom he was fighting. Or maybe it's simply because Saturnia resides amidst the magic that is Tuscany. Foreign tourists, above all, are rather taken with Saturnia's beauty and hospitality in 2014, CNN declared the Saturnia terme as the best thermal spa center in the world (under the list "20 Relaxing Retreats to Try in 2014").
Guests in Saturnia can experience the therapeutic properties said to be contained in these waters, all while taking a relaxing dip in one of several baths. Afterward, treat yourself to the excellent local cuisine.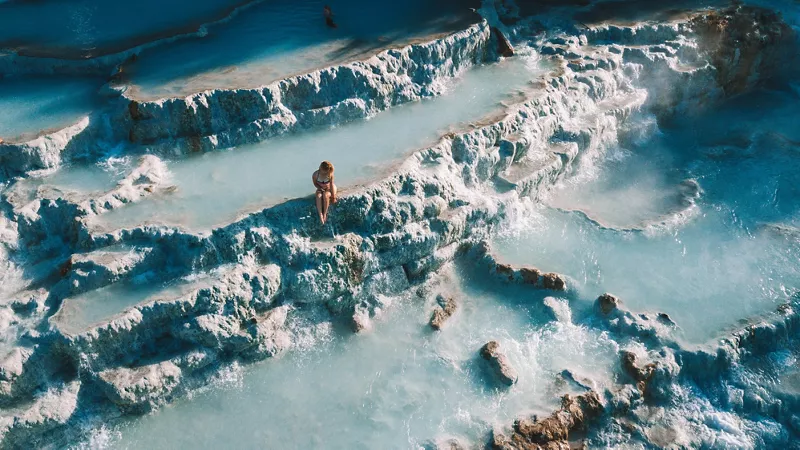 The springs of Saturnia spew approximately 800 liters of water per second. The water contains sulphur, carbonic acid, sulphate, alkaline bicarbonate, and mud. Also present are hydrogen sulphate gas, carbon dioxide and 2.79 grams of minerals.
It is best to spend at least two nights in Saturnia, especially if you want to visit nearby towns like Montemerano, Manciano, Pitigliano and Sovana. The Borgo of Pitigliano, in particular, is struck on a cliff of tuff the drops directly down into ravine, its characteristic houses hanging right onto the edge. If you go, be sure to see the Sangallo Fortress and the Baroque facade of the Cathedral, as well as the numerous artisan workshops in Pitigliano's tortuous lanes and tiny streets. Oh, and taste the Bianco di Pitigliano wine. Also nearby is the Maremma Natural Park - take the opportunity to get to know the area, including Scansano, Magliano and Alberese.