The best detox treatments to book for your post-holiday health and fitness
From the Hotel Metropole in Abano Terme to COMO Castello del Nero, find out the best 5 post-holiday detox treatments in Italy.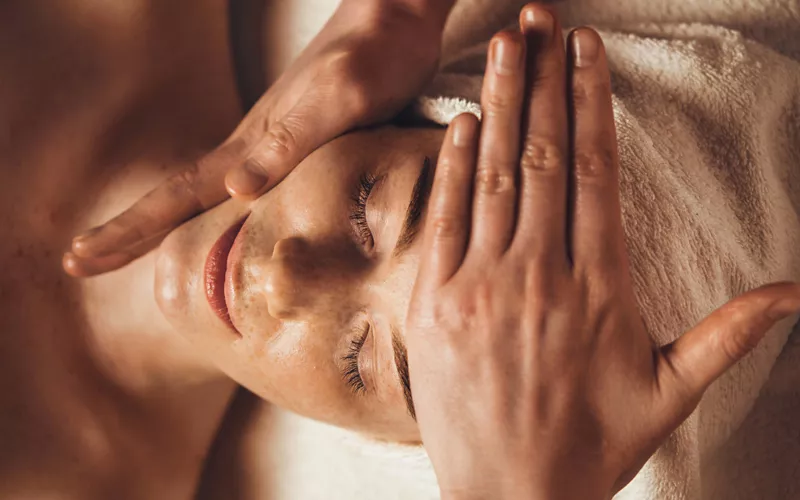 At the exclusive spa within the COMO Castello Del Nero in Tavernelle (Florence), you can try out a range of wellness programmes for the body as well as for the face; they are non-invasive but all focused on reinvigorating the skin. After a summer of sun and sea, the skin is inevitably stressed and this may mean loss of elasticity and hydration, which turn into visible signs.
With Guinot Age Summum, a supreme anti-ageing treatment, your face will regain its original radiance thanks to the use of pure vitamin C, hyaluronic acid and pro-collagen. During a special massage, the active ingredients are made to penetrate deeply: the mechanical action not only smoothes out wrinkles, but also improves the performance of the ingredients, giving the skin an unparalleled radiance.
Ayurvedic mud at the Oriental Spa Experience of the Hotel Terme Metropole in Abano Terme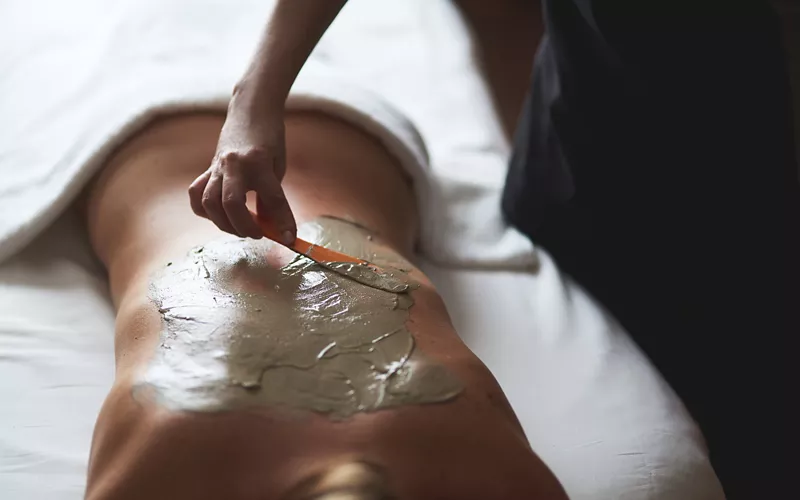 Abano Terme is the perfect location to focus on health and wellness by taking advantage of the precious thermal waters of the area. At the Oriental Spa Experience of the Hotel Terme Metropole, the many treatments on offer not only take advantage of the waters but also of the muds, which are obtained by mixing them with clays in maturation tanks for at least two months. This makes them even more active thanks to certain families of thermophilic cyanobacteria algae that proliferate here. They will thus be antioxidant and anti-inflammatory, for the good of the whole body.
In particular, we recommend the Ayurveda Mud treatment, which combines western and eastern wellness concepts for an extremely relaxing yet remodelling and detoxifying experience. The spa's medical staff will indicate the areas to be treated, onto which the mud mixed with natural essences will be applied for an entirely customised treatment.
Oriental Spa Experience Abano Terme | Hotel Terme Metropole (gbhotelsabano.it)

The décolleté also deserves to be pampered: treatments at the Medical Beauty Spot in Milan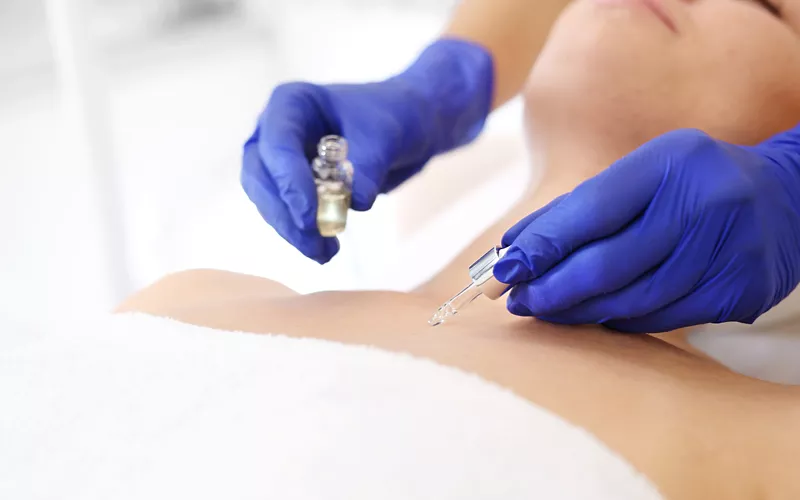 Dr Carlo Borriello's Medical Beauty Spot in Milan is a clinic where you can receive aesthetic treatments and aesthetic medicine aimed at reshaping the body in its entirety. When you return from holiday, especially if you have been heavily exposed to the sun, your skin may be affected, especially in delicate areas such as the décolleté, which is particularly prone to wrinkles, puckering and blemishes, which are especially likely to appear with advancing age.
Depending on your concerns and the level of marks in this area, different solutions will be offered, such as a combination of peeling and superficial laser, or ultrasound and advanced technology to treat deeper wrinkles. Everything will be tailor-made according to your needs so that your skin will be firmer and smoother, perfect to show off while still tanned with a beautiful off-the-shoulder top.
Physical well-being, beauty and health at Eden's Health - The Longevity Med Center Merano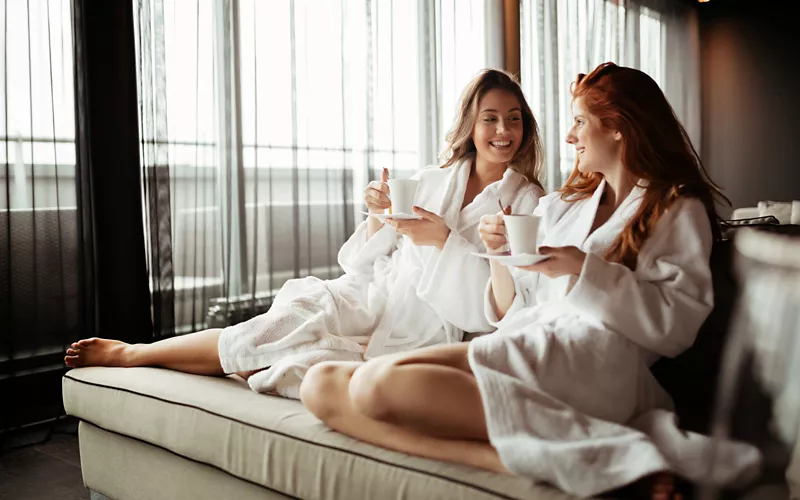 Villa Eden: the name alone makes it clear that here wellness and relaxation of body and mind are the focus of every activity. Choosing these exclusive medical centres means taking positive action for your psychophysical health.
Here, in addition to the medical care and customised treatments, you will find the Longevity Spa, where care is combined with the pursuit of beauty with various facial and body treatments customised for guests. In particular, great attention is paid to cellulite and localised adiposity: various technologies are brought into play that combine cutting-edge tools with manual intervention, especially for toning and working on fat deposits.
If you wish to sculpt your body in order to get back into shape and also prepare yourself for a return to regular physical activity, this is the pampering package to treat yourself to once the holidays are over.
Medical Center Merano | Villa Eden - L'oasi SPA dei VIP (villa-eden.com)
Sculpt your body at the Aureal clinic in Nola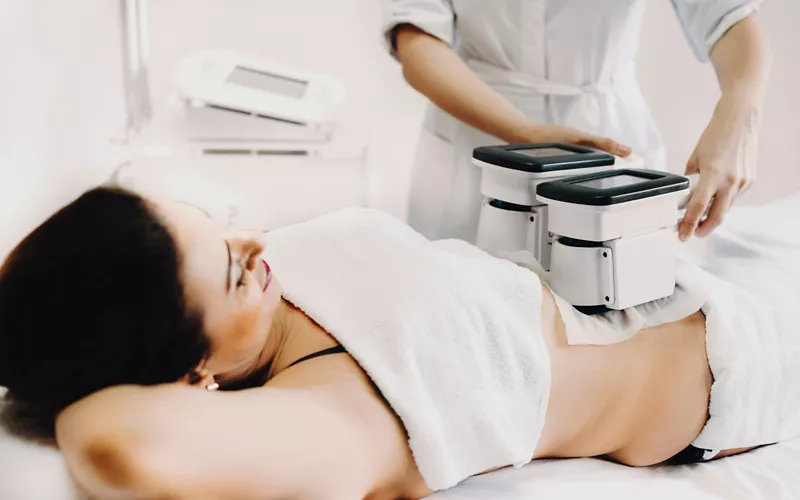 Aureal is the first glamour experience medical beauty centre, which provides non-invasive treatment of the face and body, thanks to innovative technologies that serve aesthetic medicine, especially in terms of preventive care. The very first centre has just opened in Nola, the city of the two founders.
To get back into shape, we recommend CoolSculpting® Elite, a treatment aimed at reshaping the body, even in the most difficult areas to work on such as the abdomen. Essentially, cryolipolysis technology is used to freeze excess fat cells, which once crystallised will be eliminated from the body over the course of a few weeks. It is a very popular method, especially among celebrities, that is non-invasive and acts in a localised and controlled manner. Goodbye tummy: suitable for both men and women, it will get you back into tip-top shape.