Tuscany
Landscapes of Tuscany
A beating heart with the power of ancient and harmonious panoramas and unparalleled views.
Powered by:

Chianti, not just a wine, but a way of life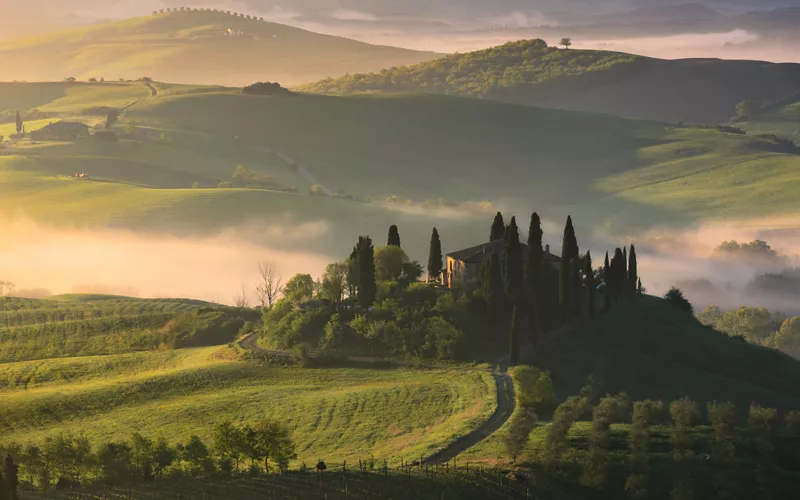 Chianti, or the quintessential hills of Tuscany. Fortresses, parish churches and country houses constellate a soft and gentle landscape that opens to panoramas of extraordinary charm around every bend, a candidate for World Heritage Site status, a reference point for conveying in absolute terms the idea of a graceful and productive territory. Radda, Gaiole, Castellina, Greve in Chianti, Castelnuovo Berardenga: villages where time seems to stand still, tiny gems embedded in a rich and evocative nature that can be enjoyed all year round. There is no question that here economy and graciousness have a long-standing pact of steel. Chianti is a way of life, a way of being, of producing, of hosting, of appearing all over the world strengthened also by the baptism of a wine as famous as few.
The Tuscan countryside, a genuine work of art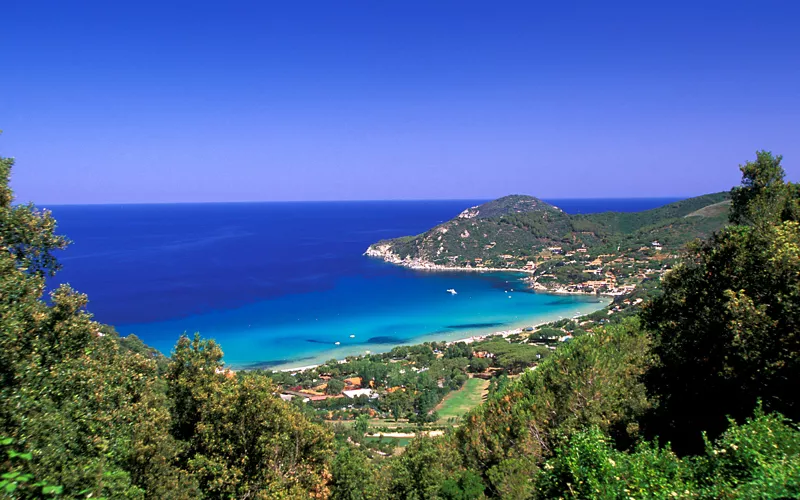 The Tuscan countryside, with its hills and soft valleys where rows of vines, grapevines, olive groves and centuries-old cypresses outline the landscape that has been shaping the imagination of the most beautiful and civilized Italy for centuries, is the region's icon. Man's design, in its finest expressions, and the skill of designing places, spaces and lifestyles in the best possible way, have encountered a fertile land, in which the best and most abundant fruits have been and continue to be harvested, keeping in due balance two factors, both considered essential and perhaps even indistinguishable from each other: work and beauty.
The islands of Tuscany and the Tuscan Archipelago National Park
The Tuscan Archipelago National Park covers a stretch of sea of more than 600 km²: it is the widest Marine Park in Europe and consists of seven islands - Elba, Giglio, Capraia, Montecristo, Pianosa, Giannutri, and Gorgona, which, according to legend, were the jewels from Venus's necklace that dropped into the Tyrrhenian Sea - plus some smaller islets.
Incredibly diverse sea and land landscapes, varying from the best equipped and easy to the wildest, loneliest and truly inaccessible. Real "Tuscan islands", seaside lands that, though distant in sea, are connected to their region and which, despite the obvious similarities, consist of glorious beaches, crystal-clear waters, lights and horizons, each one holds a special atmosphere, a personality to be discovered. Sites steeped in history, guardians of ancient settlements, from prehistoric times to the Romans, shrouded in Mediterranean scrub.
Maremma, a unique land of villages, sophisticated seaside resorts and enchanting nature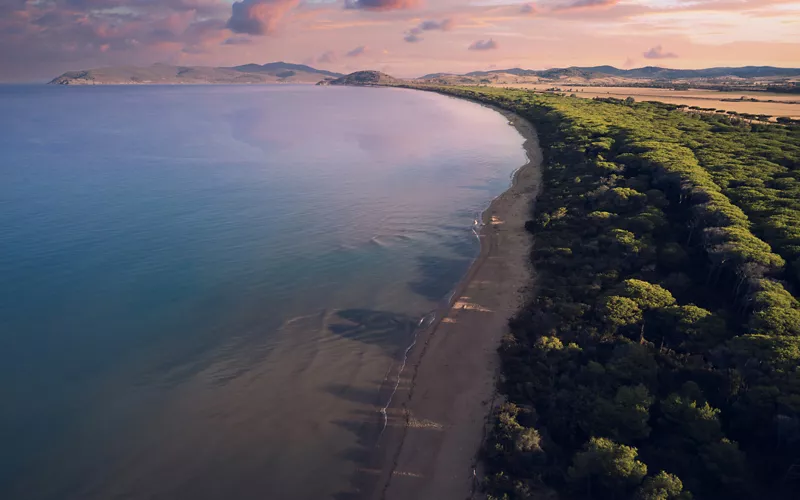 A peculiar land, a mesmerizing region that preserves an authentic roughness at times. Singular scenery, gentle hills that come across sea breezes and Mediterranean scrub, lowlands where whole herds raised in wilderness live undisturbed, have made this part of Italy a land in some ways still full of surprises. 
Earth and water here meet to form wild and refined settings such as the wonderful promontory of Monte Argentario, with its high, rocky cliffs, coves and bays and with its picturesque villages, from Montemerano to Castiglione della Pescaia, from Ansedonia to Capalbio, from Talamone to Orbetello. And also the vineyard-grown hillsides, the legendary spas of Saturnia and Sorano, where one can find shelter from the hectic daily grind, and the Tufa cities that draw signature postcards. Unique itineraries for a sensory voyage between culture, wellness and fine food. There are many ways to discover its generous nature: bike trails, trekking and easy hikes up to Mount Amiata, which still displays in its forms its ancient volcanic personality.
From Versilia to the Apuan Alps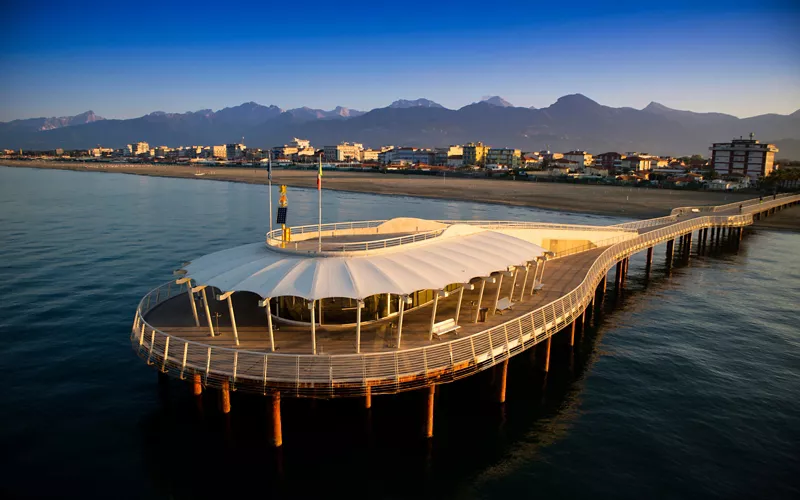 With its golden, broad, sandy beaches, Versilia is a top destination for beach tourism enthusiasts who are spellbound by the landscape, climate, and special elegance of this part of Tuscany. The distinctive hospitality, an area prized for its high-quality waters and stunning views, keep attracting those who want to enjoy a beautiful and pleasant Tyrrhenian Sea where culture and beauty, together with state-of-the-art facilities, create the right conditions. Starting from the noble Lucca, passing by the better-known Pietrasanta, Serravezza, Forte dei Marmi, Stazzema, to the coast of Camaiore, expanding to the well-kept and very famous Viareggio, a "Tuscany of the sea" for a vacation in perfect balance between culture and worldliness. And as if that were not enough, there is the unique privilege of a crown of mountains near the coast: the harsh and wild Apuan Alps, packed with paths, ferrate, and karst caves. A "valuable" land that is home to the world's most famous marble quarries.