Tuscany
Tuscan street food
Tuscany offers an array of absolutely irresistible bites to eat on a break between walks or before exploring a museum.
In the centre of Florence, you're sure to see food trucks and kiosks selling sandwiches stuffed with tripe or lampredotto, offal from the various stomachs of the cow: while tripe is a mixture of various parts, lampredotto consists only of the abomasum, the fourth stomach, which is darker in colour and curlier in shape. Boiled for a long time in broth, tripe and lampredotto are served hot in a sandwich, drizzled with salsa verde.
Both can also be found on pub menus, but nothing can beat trying them on the street.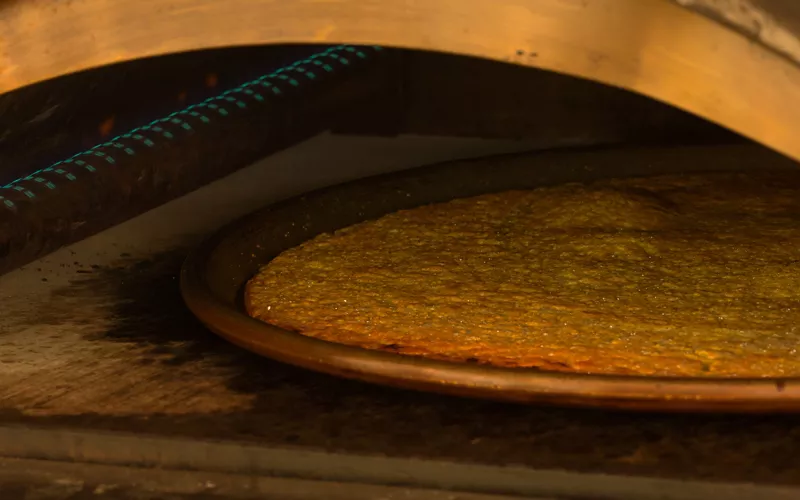 Cecina is a thin focaccia made from chickpea flour, water, oil and salt, baked until golden brown.
Also known as farinata or chickpea flatbread, you can eat a slice on its own or pair it with soft cheeses like stracchino, ricotta or gorgonzola.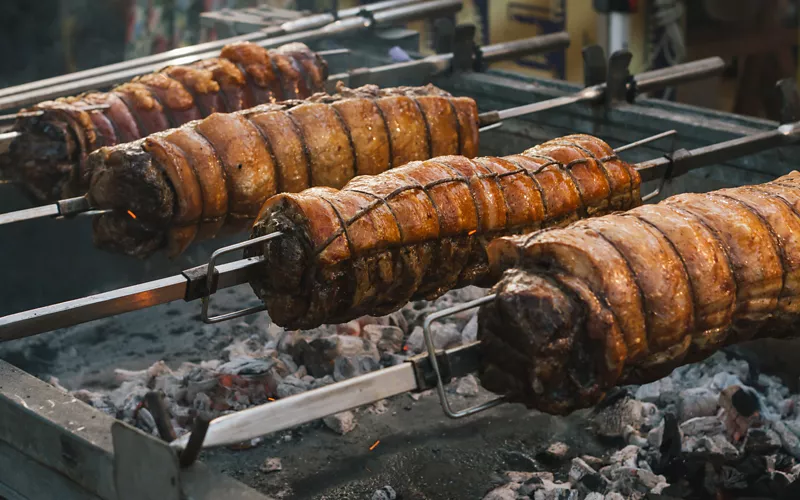 Porchetta is a boneless pork roast, rolled and stuffed with spices, herbs (rosemary and fennel flowers) and pieces of spleen and liver, then baked in the oven for 5 to 8 hours.
It is best eaten freshly cooked and still warm in a sandwich. It is a favourite at Tuscan celebrations and folk festivals, and you can always find a rotisserie offering it at the local markets.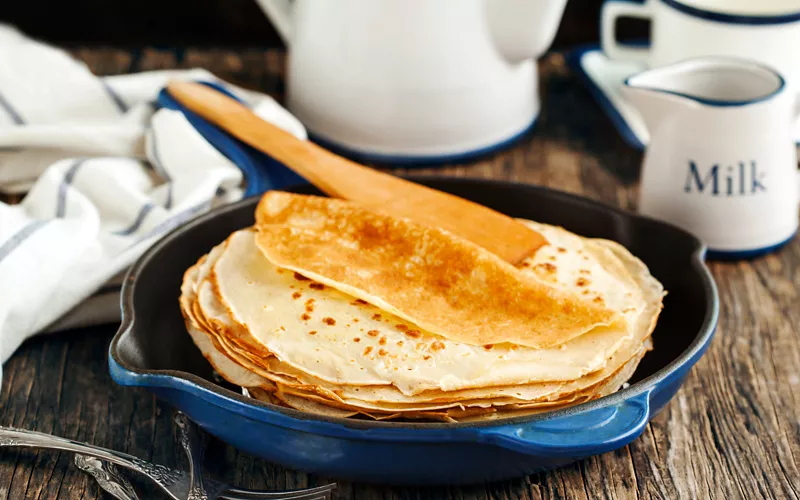 It is said that it was a lady from Manciano (in Maremma) hired at the court of Catherine de' Medici who taught the French the fine art of making crêpes.
In Manciano, these thin pancakes go by a different name, ciaffagnoni, but the recipe is always the same: a batter of water, eggs and flour, fried in a pan with lard as a paper-thin layer. In Tuscany, it is sprinkled with grated pecorino cheese before being rolled up.
A sweet variation is the migliaccia di Pitigliano, with cinnamon and honey.
Elsewhere in Tuscany you can find a variation made with chestnut flour, the so-called necci: these are mostly eaten warm in autumn at festivals, filled with ricotta or melted chocolate.
Brigidini from Lamporecchio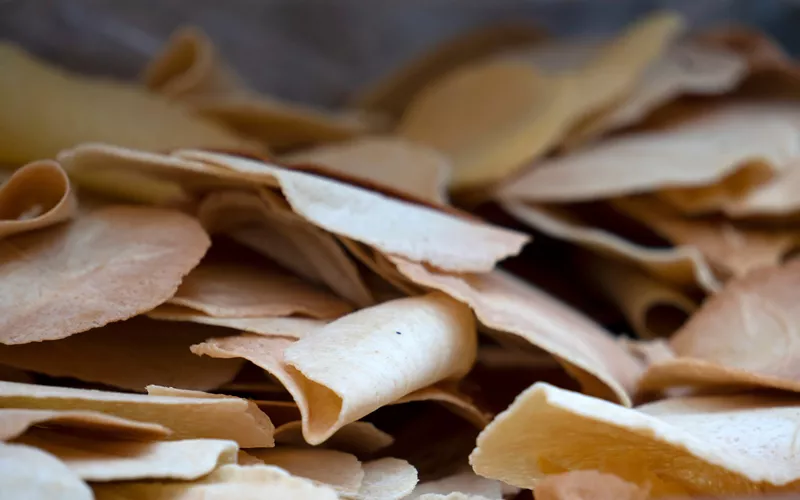 A classic to munch on and unmissable at village fairs are the brigidini di Lamporecchio, a speciality of the village of Lamporecchio in the Pistoia region. These crispy golden wafers made from flour, eggs, sugar and aniseed were dubbed a "special Tuscan treat" by Pellegrino Artusi, one of Italy's most famous gastronomes.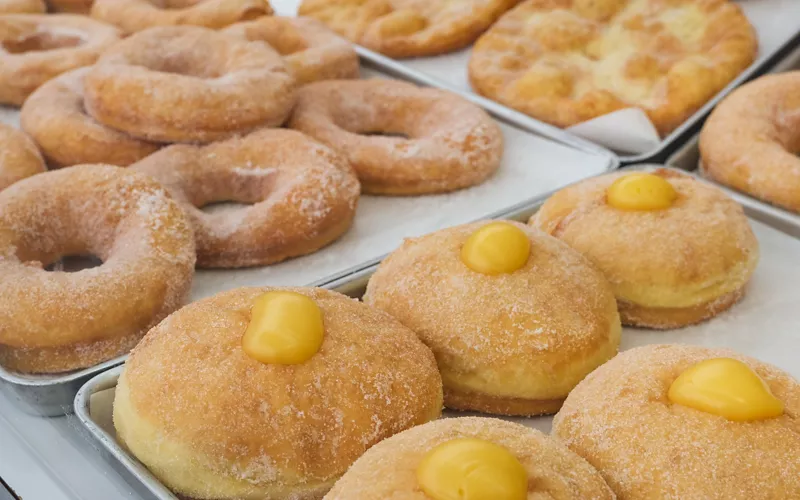 These sweet doughnuts, with or without their mouth-watering cream filling and sugar coating, originate from Tuscany. Perfect as a snack in the morning or afternoon, they can be found just about everywhere, even hot out of the oven. They also come in a ring-shaped version, without filling. After all, every city has its own take on a classic.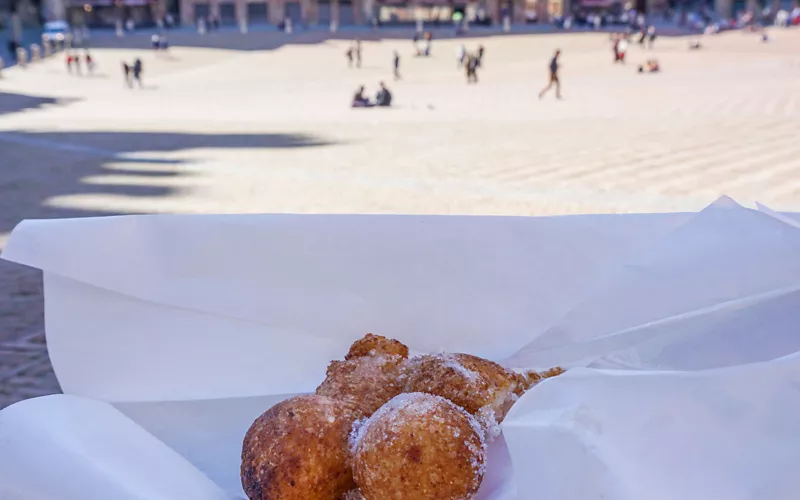 In Piazza del Campo in Siena, from the end of January to the beginning of April, you will find the stall serving frittelle di riso, traditional rice fritters in honour of St Joseph, now popular in other cities in Tuscany.
The rice is cooked in milk and flavoured with orange before being submerged in oil for a few minutes until it crisps up.
Tuscan bread and prosciutto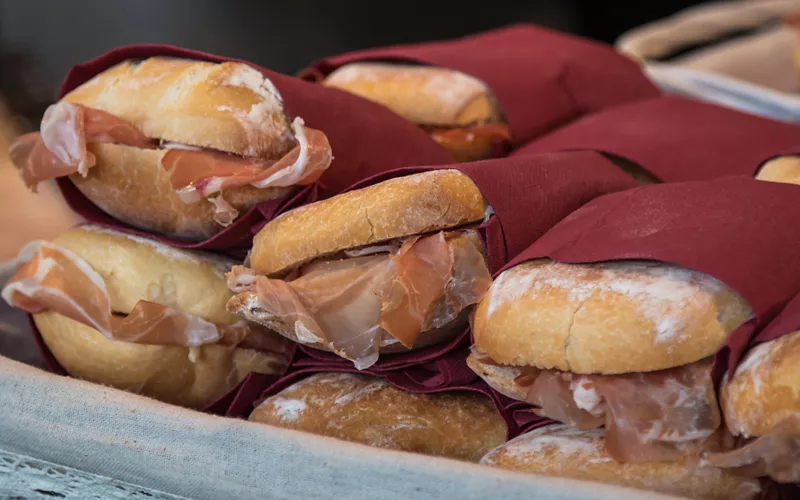 Tuscan PDO bread, without salt, pairs perfectly with Tuscan prosciutto, also a PDO product, which is usually quite salty, for a 100% Tuscan snack. Equally traditional variations include bread with finocchiona or mortadella.