Tuscany
On the saddle along Versilia: Camaiore, Pietrasanta, Forte dei Marmi and surroundings
Squeezed between the most glamorous beaches and the marble quarries in the Apuan Alps, there are itineraries that appeal to everyone: hard-core bikers, gourmets and lovers of the dolce vita.
The route to Forte dei Marmi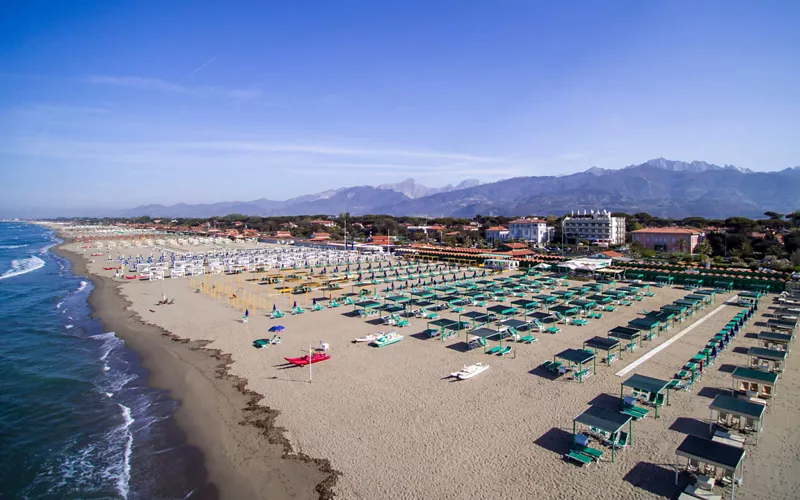 If you want to emulate the champions, you can cover the 13.9 kilometres of the time trial from Lido di Camaiore to Forte dei Marmi, skirting the town of Marina di Pietrasanta: a round trip on a long straight stretch that caresses the sea. Just one recommendation. Moderate your speed, which in the race reaches peaks of 55 kilometres per hour but becomes dicey on open-to-traffic roads. On the other hand, a more moderate pace allows you to look a little further ahead, and it is well worth it. On the Versilia coast, there is a succession of beach resorts, symbols of glamour since the 1950s. And it is always along this road, as well as in the streets of the Forte (as the habitués call the swanky holiday resort), that long-lasting rituals take place: shopping at the Wednesday and Sunday morning markets, dinner at the beach with your feet in the sand, cultural events at the Versiliana and snacks based on doughnuts and focaccia.
Montemagno: peace and good food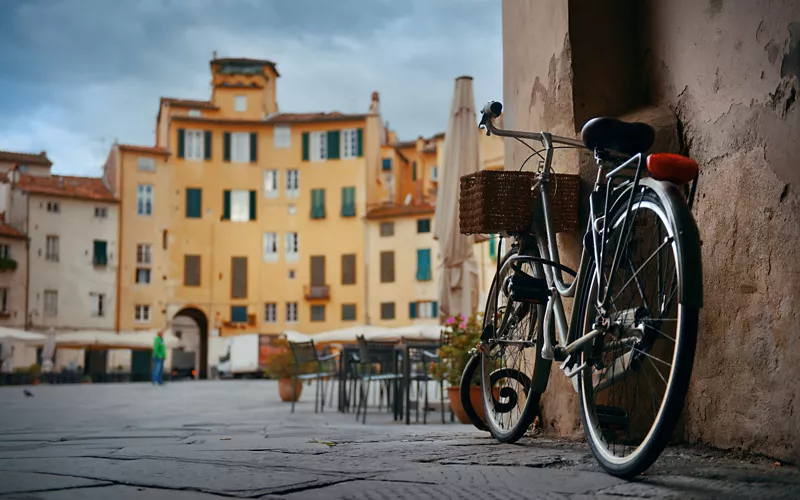 Anyone wishing to get on the saddle and deviate from the competition route is spoilt for choice. One of the most popular exits is the climb to Montemagno, a small hamlet on the road from Camaiore to Lucca: a medium-length route (7.4 km) with a few bends and peaks of 5-6% gradient, perfect for regaining confidence with the pedals after months of rest. There won't be any crowds at the finish, given that the town has no more than a hundred inhabitants. The real consolation after the effort of the day is at the table: here you can find the best of the Camaiore cuisine, such as tordelli with meat sauce or mushroom first courses.
Pietrasanta: art and shopping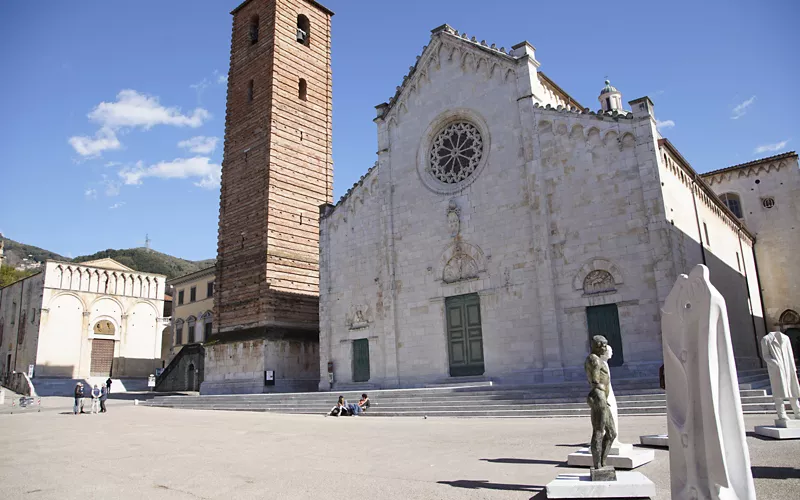 A tougher alternative? From the centre of Pietrasanta you can take the climb to the hamlet of Capriglia: 350 metres in altitude and a view to be posted on social networks. On clear days you can see as far as Liguria. There are 5.8 kilometres in all, on a scenic and rather wide road, with an average 6.5% gradient and a few peaks over 8%. On the way back, after an easy descent, a stop in the historic centre of Pietrasanta, a town with a medieval heart that today is closely linked to marble processing, is a must. Famous painters and sculptors, including the Colombian Fernando Botero (honorary citizen), have put down roots here, making it an open-air contemporary art museum. It is also perfect for recovering from cycling: after all, what better way to stretch your quads than a stroll through galleries, restaurants and shops?
By RCS Sport editorial staff