The Trentino and South Tyrol by way of Renato Bosco's pizza
The history of speck and other gastronomic wonders of Trentino and South Tyrol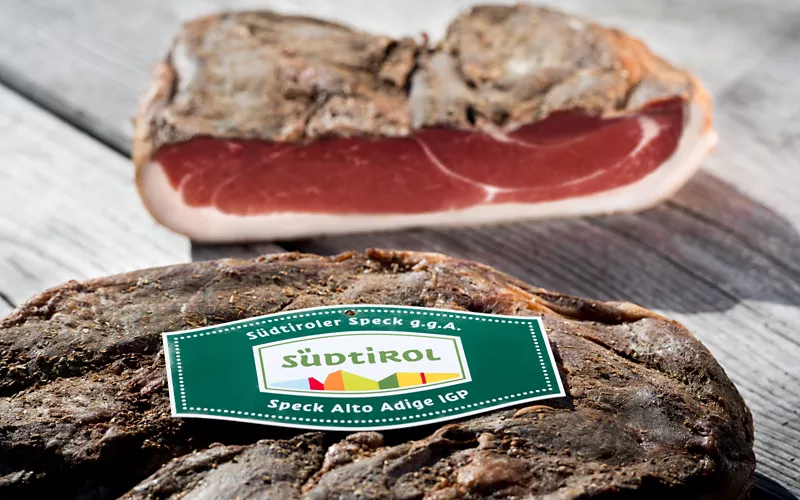 A pinch of salt, a wisp of smoke and plenty of fresh air. This is the golden rule for producing Speck Alto Adige PGI, a cured meat of the utmost excellence and a gastronomic icon of South Tyrol. Today, it is still made according to traditional methods, handed down from one generation to the next.
Its unmistakable flavour comes from the light spicing with rosemary, juniper, bay leaf, and a little salt and pepper, combined with ageing in the crisp, healthy mountain air.

This uniquely flavoured cured ham appears (under a different name) as early as the 13th century in the accounting records and receipts of butchers in South Tyrol. However, it was not until the 18th century that it was christened "Speck", a term derived from Middle High German "spec" and High German "spek", meaning "thick" or "fat".
South Tyrolean cured meat was born out of the farmers' need to preserve the meat of pigs, which were slaughtered during the Christmas period, all year round: the best legs were selected to become Speck.

The recipe was handed down through families over the centuries, and it is precisely the old traditions that make Speck so special today. A true culture, enshrined in an area that provides pure air and 300 days of sunshine a year: here, the Alpine and Mediterranean nature come together to create a unique combination. North of the Alps, uncooked ham is preserved through smoking, while further south it is left to dry in the open air: the South Tyroleans combined these two methods for their Speck.
In recent years, this cured meat, which is sublime in its own right or paired with bread, cheese and wine for the classic South Tyrolean snack, has also entered the kitchens of the most sophisticated fine dining establishments.
To celebrate this part of South Tyrolean history, the Speck Festival is held every year in Val di Funes.
Beyond Speck, between Trentino and South Tyrol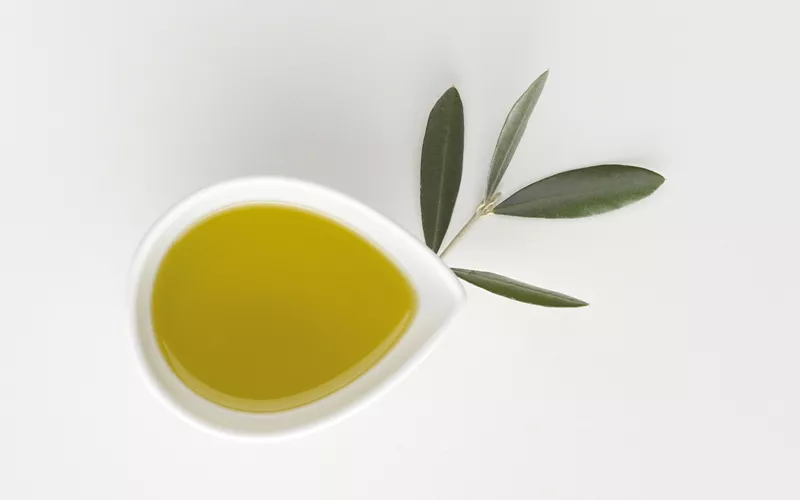 Of course, Speck is also the star of many traditional dishes, such as the famous canederli di speck: large dumplings made of stale bread, stuffed with cheese, spinach, mushrooms and much more, enjoyed dry or in broth, accompanied by sauerkraut or goulash.
For a smaller option, spatzle are mini dumplings made of flour, milk and eggs whose name in Swabian German dialect means "little sparrow". Local first courses also include schlutzkrapfen, crescent-shaped ravioli stuffed with ricotta and spinach typical of the Pustertal valley, and strangolapreti, dumplings made with stale bread and spinach.

Anyone with a sweet tooth will find no shortage of desserts. Firstly, we have apple strudel, made with very thin pastry filled with sultanas, pine nuts and, of course, Trentino apples – more than 500,000 tonnes are picked in the region every year and eight varieties boast Protected Geographical Indication.

Another Trentino excellence is Garda PDO oil, with its delicate and fruity flavour and almond aftertaste, which originates in the Lake Garda area thanks to a favourable microclimate, on centuries-old, nature-friendly terraced olive groves.

Not forgetting the wines of Trentino: viticulture has been practised in the area since pre-Roman times. The variety of climatic areas, terroirs and grape varieties produces a unique oenological array, ranging from Trentodoc sparkling wine to Nosiola, a white wine with an aroma reminiscent of wild hazelnut produced in the Garda area, where Trentino Vino Santo passito wine is also made. Then there is Müller-Thurgau from the Cembra Valley, or Teroldego, a red wine with one of the darkest hues in the world and an aroma of wild blackberry, from Campo Rotalino, north of Trento.