Trentino South Tyrol
The seals of Trentino, discovering rural biodiversity in the valleys and mountains
Powered by: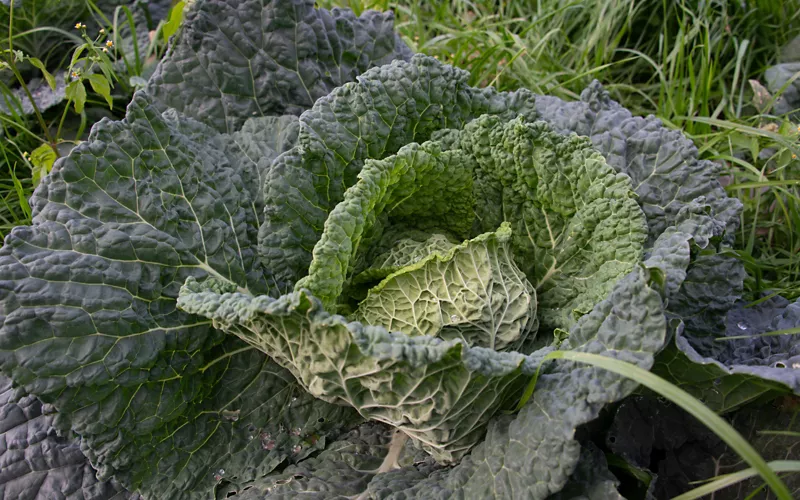 Start your journey here, like explorers with sophisticated tastes: with a backpack on your shoulders, you will delve into the heart of the Trentino region. The first delicious ingredient that you will encounter will be broccoli from Torbole. Suitable for delicate palates, perfect in practically every dish combination, it is an indigenous variety grown in the Torbole and Linfano area, in the province of Trento. This type of broccoli lends itself to being served with any meal, but is unbeatable when paired with boiled fish. Moreover, as it has a sweet taste, it goes well with pasta sauces, while its leaves can be used to make gnocchi or soups. Try it!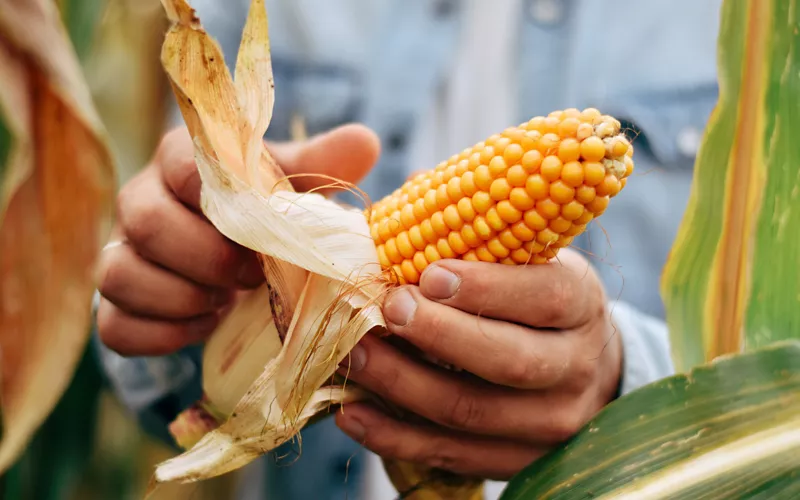 Explorers, do you love polenta? Immerse yourself in the landscapes of the Basso Chiese and Bassa Valsugana to discover the Marano di Storo maize. This is an immediately recognisable Trentino variety, due to its red-coloured kernels which, once milled, produce a golden yellow flour used in the production of the typical Storo polenta, with an even more distinctive flavour and texture when cooked with local water and eaten immediately.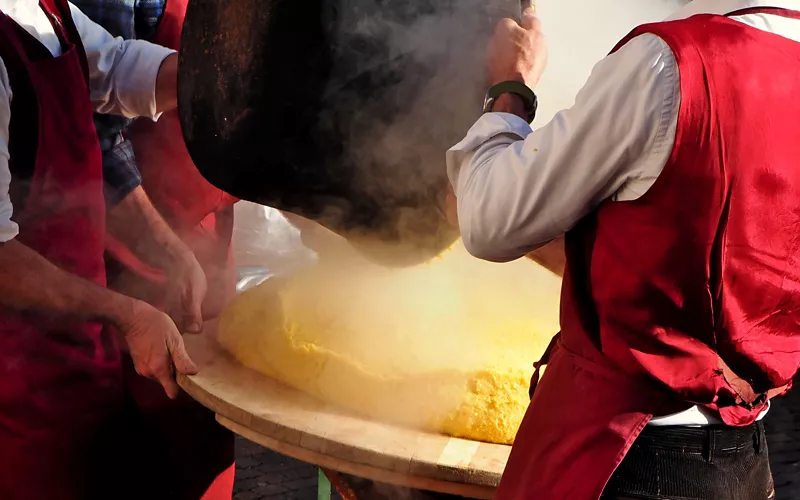 In the same area, the Valsugana, there is another maize to be tasted, another flour for polenta, marketed under the name Farina della Valsugana: spin maize is a local variety that belongs to the group of rostrati, or pointed, maize: and it actually takes its name from the particular hook shape of the grain.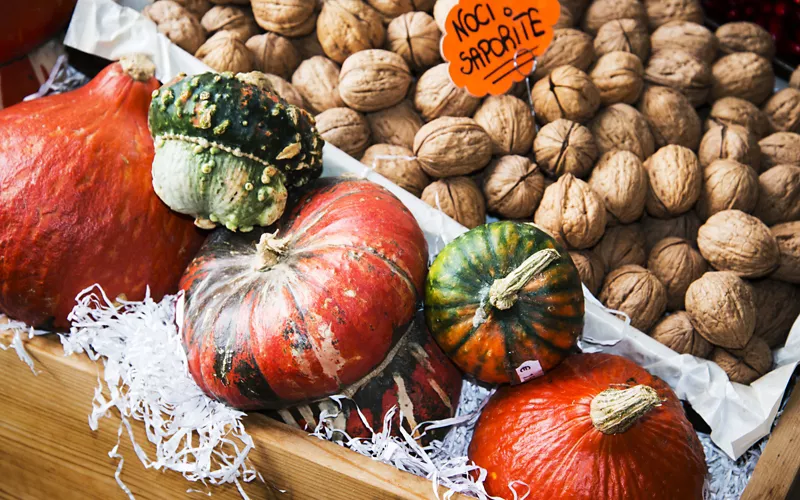 Your walk through the kitchen continues. Once you have passed the polenta valleys, you can tackle the mother forests of tasty nuts. Here you will find Bleggio walnuts, which have been cultivated on the plateau of the same name since 1550 and are notable for their pleasant taste, with a typical spicy note, and their thin, easy-to-break shell. These nuts are also used to make cakes, loaves of bread, the Nocino liqueur and the prized nut salami.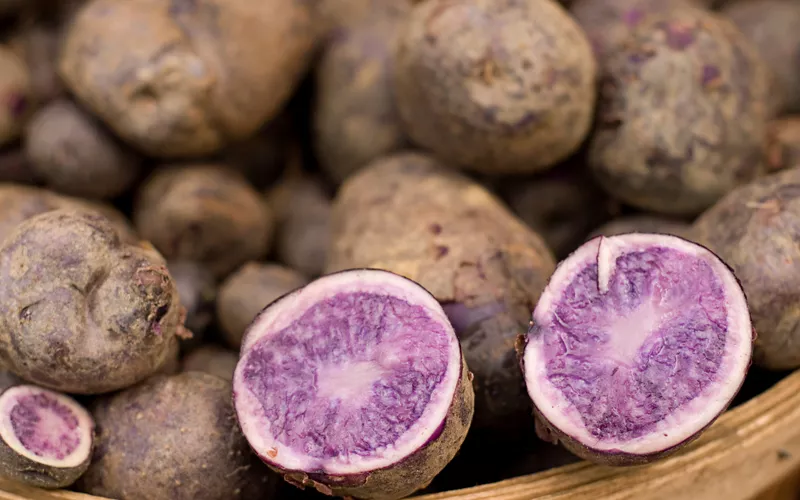 Did you know that the same substances that give blueberries, aubergines and black grapes their colour can also be found in potatoes? In Trentino, the famous blue potato is grown. Its origins are very ancient: it actually originates from the Peruvian Andes. It is rather small in size, which makes it resistant to disease and drought. Its special flavour is ideal for creating tasty, original and colourful dishes, often accompanied by other vegetables.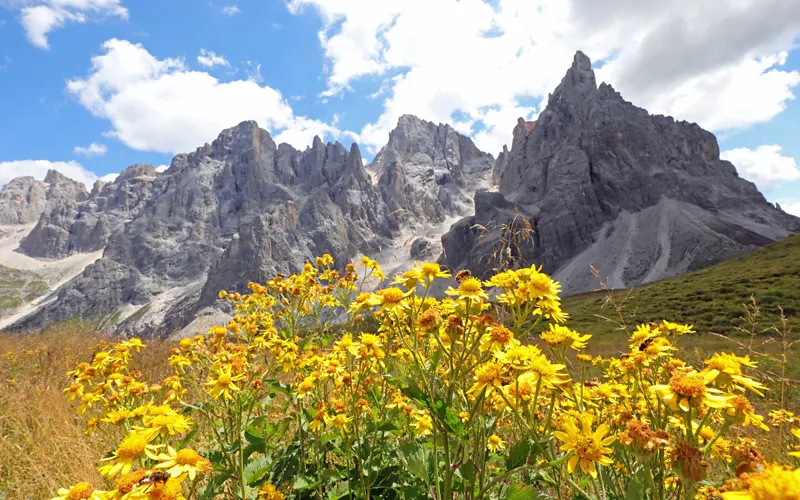 Medicinal products, cultivated for the benefit of our health, also deserve a mention in appreciation of their role in the ecosystem. Among the originally wild species cultivated in the pastures of the Trentino mountains is arnica, the famous medicinal herb: suitable for aiding the healing of wounds, relieving pain in the case of trauma or haematomas, reducing swelling and protecting capillaries, it is also often an excellent remedy for treating mouth and throat inflammation, as well as alleviating the discomfort caused by insect bites and sunburn. A true natural panacea.