South Tyrol
Where to admire the Dolomites at sunrise with sunrise tours
Say sunrise hiking in the Dolomites and prepare for an unforgettable experience.
Where to go when it is still dark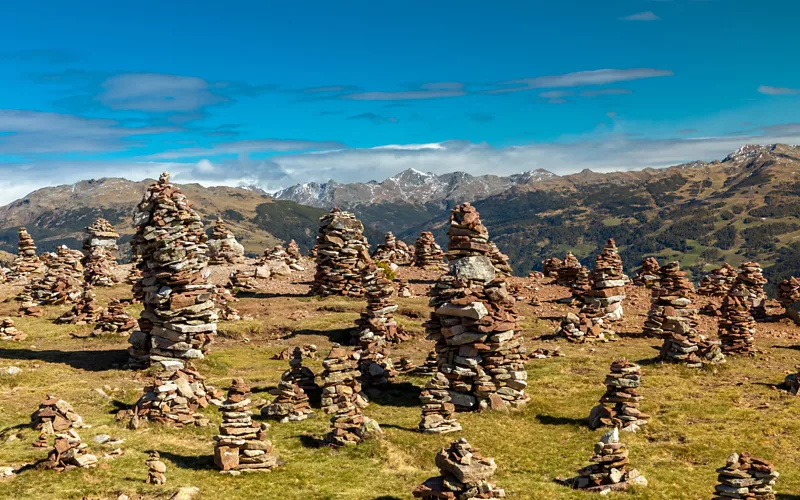 In Merano, you can take a sunrise trip to the Spieler, a rounded peak perfect for recharging your batteries.
If you are a lover of Alto Adige's folk culture, the organised hike to the Muta mountain is just the thing for you. Once you have reached the summit and admired the sunrise over the Dolomite landscape, the advice is to catch up on the legends and folk tales of these places rich in history and culture, and then end the walk with some good Tyrolean food.
A sunrise walk on Monte Mezzodi in Val Venosta is recommended. Arrive by car at San Martino al Monte. From there, the route begins in complete darkness of night. First, you climb up through a steep meadow towards the edge of the forest. At this point, you cross a dense forest of spruces and larches to reach the "Dolomitenblick" viewpoint. After the sun has risen, we return to the path we followed on the way up to reach San Martino al Monte again. Its difficulty is medium, the difference in altitude about 250 metres, for a walk of a couple of hours.
The sunrise on Monte Tramontana in Naturno is also remarkable. Arrive at the Kreuzbrünnl car park. From there the two-and-a-half-hour walk begins. First, you ascend along a slightly uphill mountain road until one reaches the alpine pasture of Naturno. From the Naturno alpine hut, you cross the spruce and larch forest to reach the highest point of the route, the "Rauher Bühel". This is the vantage point where hikers stop to wait for the first rays of sunlight and admire the sunrise. As the sun rises, we return to the path we have already taken to reach the Naturno alpine hut again and from there we continue along a beautiful alpine path in the direction of the "Zetnalm" alpine hut. 
A little tip: this is the perfect place to enjoy an outstanding rustic breakfast. After refreshments, we continue downhill until we return to the starting point, the "Kreuzbrünnl" car park. Watch out for the difference in altitude, which amounts to 450 metres.
In Bolzano, the magic of Alto Adige nature can be rediscovered with a sunrise trip to the Stoanerne Mandln, the famous little stone men who have always attracted the curious and enthusiasts, surrounded by remarkable flora.
Finally, in Val Gardena, you can walk along the Resciesa to admire the sunrise and the Dolomites in the early morning. The landscape and panorama take on a new form when the sun touches them with its rays.
There are many sunrise hikes you can do in the Dolomites, all of them beautiful and charged with a unique and inexhaustible energy.