Journey to discover typical Christmas sweet treats of northern and central Italy
The holidays are approaching, typical captivating festive scents waft through the streets of all Italian cities.
The north by dessert: between filled and spiced treats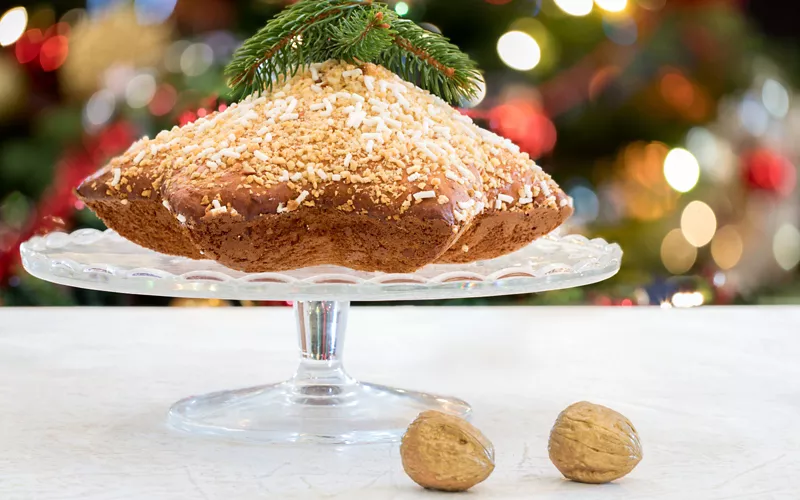 Valle d'Aosta
In Valle d'Aosta you simply must taste a flantze, a sweet and buttery bread made especially for the Christmas holidays. And how could we not mention the super traditional Mont Blanc? It is one of the most famous desserts of Aosta Valley tradition made with chestnut puree, cocoa or dark chocolate and covered with tufts of whipped cream.
Mecoulin is the pandolce (Genoa cake) of Cogne, its origins date back to the Middle Ages. It is a sweet loaf that has a leavened dough similar to that of Ligurian panettone and contains rum-flavored raisins.
Lombardy
In Sondrio, in Valtellina, there is Bisciola bread, filled with fruit and dried figs which leads us to Panettone, the Milanese king of Christmas treats.
Stretching to Valcamonica, for the end-of-year celebrations you can find the Christmas version of Spongada, a sweet and softly filled focaccia, while in the Bergamo area it is traditional to prepare Polenta e Osei: a cake made with polenta covered with almonds and decorated with marzipan birds. For those who prefer a dry treat with a soft center, there are Amaretti di Saronno, best enjoyed when combined with a small glass of the liqueur that goes by the same name.
Torrone di Cremona, is never missing from the dinner table at Christmas in Lombardy. Crumbly, soft, hard or covered in all kinds of chocolate, this nougat makes everyone happy.
Liguria
In Liguria, Pandolce is the typical dessert that marks the festive season. It is very spicy and of ancient tradition, for this reason it is possible to find many different versions.
Some mistake them for Baci di Dama, but Baci di Alassio are crunchy on the outside and soft on the inside. A winning mix of hazelnuts, cream and chocolate that ensures pure enjoyment.
Veneto
Throughout northern Italy, traditions helped to forge a series of  Christmas treats and of course Veneto has its own.
In Verona for example, in addition to the immortal Pandoro, among the typical Venetian Christmas desserts you'll find the Nadalin, its true ancestor. Invented to celebrate the first Christmas in Verona under the dominion of the Scala family.
What would you say to a dose of sugar in the form of a marzipan gingerbread house? Although nowadays it is commonly considered a dessert of Southern Italy, in actuality marzipan has an ancient connection to the city of Venice. Its name derives from "Marci panis" - or "the bread of San Marco" - as a symbol of ownership to the lagoon, it was shipped to the markets of northern Europe marked with the symbol of the Lion of San Marco.
Trentino and Alto Adige
On this culinary journey to discover typical desserts of northern and central Italy, in Trentino and Alto Adige you could get captivated by the fragrance of a still warm apple strudel or a zelten, the typical cake made with dried fruit and candied fruit; or a brazedel, a large donut the typical Trentino gift for the godchildren on New Year's Day.
There are so many bakeries to choose from, and so many different treats: spiced bread biscuits, splendid cakes made with Fiemme beer, mini Santa Lucia donkeys or delicious cranberry buckwheat cake to delight your taste buds.
Emilia Romagna
Browsing through Christmas treats of central Italy: it's time to reach Emilia Romagna. Here, we find many varieties of sweet bread such as, Modena Christmas bread, Bolognese Panone or Ferrara Pampepato covered in chocolate.
Honorable mention to a real delicacy that is served on tables in the areas of Modena and Reggio Emilia. Have you ever tasted Christmas Tortelli? They are baked or fried and are filled with Italian pastry cream, marmalade or Christmas "pesto"made with jam, chestnuts, walnuts, pine nuts, ground coffee, rum or liqueur.
In the spicy center of Italy for tasty desserts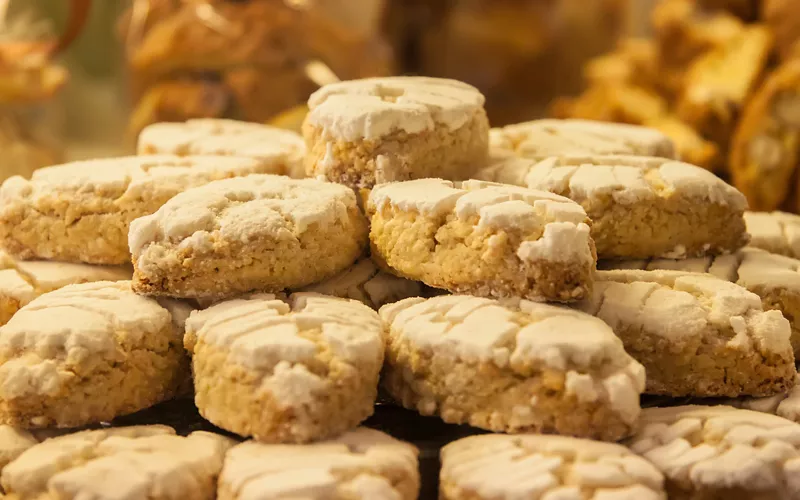 Tuscany

If we're talking about typical Christmas desserts from Central Italy, it is mandatory to look at what Tuscany offers as well. In fact, in this region, sweet treats are the real protagonists of the kitchen often with funny and witty names.
The exquisite Ricciarelli almond cookies, together with Panpepato biscuits and Panforte fruit and nut cake, make up the enviable triptych of Tuscan Christmas delicacies placed on the festive table in the city of Siena. Obviously, let's not forget Cantuccini, typical almond biscuits which, dipped in Vin Santo dessert wine, are the perfect conclusion to any Christmas dinner.
Marche
In the Marche region, Christmas pizza is a real institution.
Dried fruit including walnuts, hazelnuts and almonds, raisins and dried figs are mixed into pizza dough, with lemon and orange zest, sugar, cocoa and olive oil: that is your pizza de Natà.
Another dessert from the Marche region that deserves to be tried has to be Lu Serpe, a shortcrust pastry snake filled with almonds and cinnamon amaretti, then glazed and decorated. It is said that its origins came from the Falerone monastery where the Clarisse nuns handed down the recipe.
Lazio
In Lazio, Pangiallo is a typical sweet treat with its origins even in ancient Rome, where it was customary to produce desserts with a golden color during the winter solstice, in order for the sun's favor to return.
In Rome, try the quintessential Lazio biscuits: the Tozzetti. During the Christmas period they are very popular and are produced in large quantities. The recipe blends chocolate and nuts with a few drops of lemon and a little cinnamon: the result is mouth-watering.
Abruzzo
In Abruzzo there are Caggionetti, delicious small fried ravioli that you could just keep on eating. Their filling is tasty and soft, made up of chestnuts, chocolate or grape jam. The final touch, a dusting of powdered sugar.
Another Abruzzo Christmas dessert is the Bocconotto, originally from the province of Chieti. Small enough to be eaten in one bite, they are filled with grape jam and dusted with the inevitable icing sugar. Delicious.
In short, the Christmas kitchen throughout the peninsula smells of butter and sweetness. Preparing typical Christmas treats yourself is not impossible. The ingredients: hands at the ready, some practice and maybe perhaps a course to guide you through the processes. The secret that is handed down from generation to generation however, is always the same: love.