Valtellina: nuances of snow and taste for everyone
A territory with a vocation for food & wine, where vineyards and pastures in winter give way to kilometres and kilometres of slopes for every winter sport.
Bormio - Skiing, wellness and something for the kids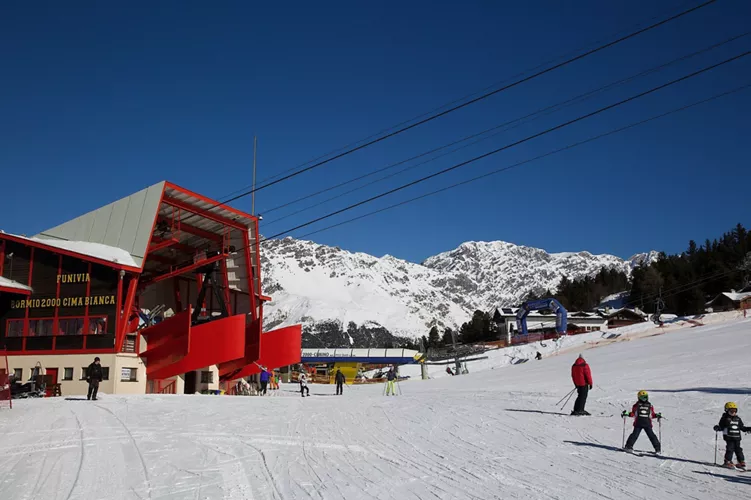 Bormio boasts the combination of spas & snow to fascinate visitors, for holidays blending adrenaline and total relaxation since the early 1900s against the splendid setting of the Stelvio National Park. The Funslope of Bormio 2000 for children was recently joined (in Valbella to be precise) by another complete with boxes, jumps, tunnels and parabolic curves. And another new arrival is the Snowpark. An extra excuse for choosing the 110 km of slopes and the three ski areas around Bormio, connected to each other by free bus and accessible with a single ski pass.
Livigno - The best snow park in Europe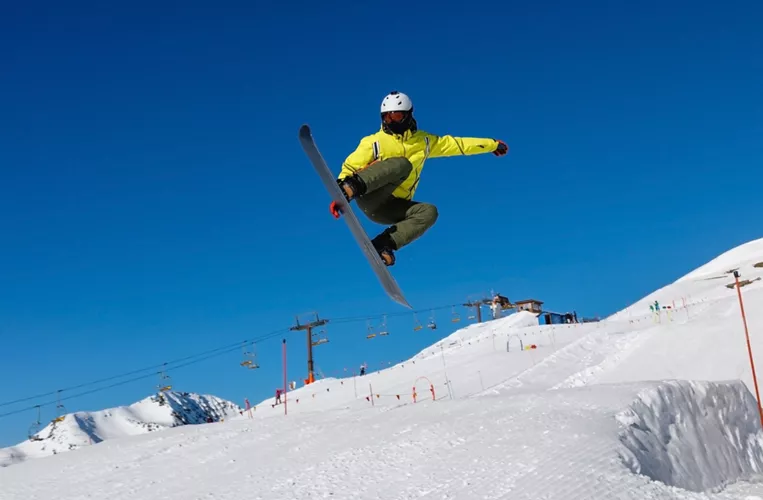 The skiing season in Livigno is endless. Blue, red and black slopes stretch for 115 km, with walls and incredible changes in gradient - while there is no shortage of more reassuring routes for people keen to learn or improve. The Mottolino snow park hereabouts is considered among the best in Europe. It stages international competitions and photo shoots for the main sector magazines and for some years now it has hosted freestyle ski, slopestyle and snowboard European Cup competitions. Several areas with more than 60 facilities spread over a length of 800 meters where you can try out your moves alongside the best pro snowboarders and freestylers in the world!
Madesimo - Snow for every experience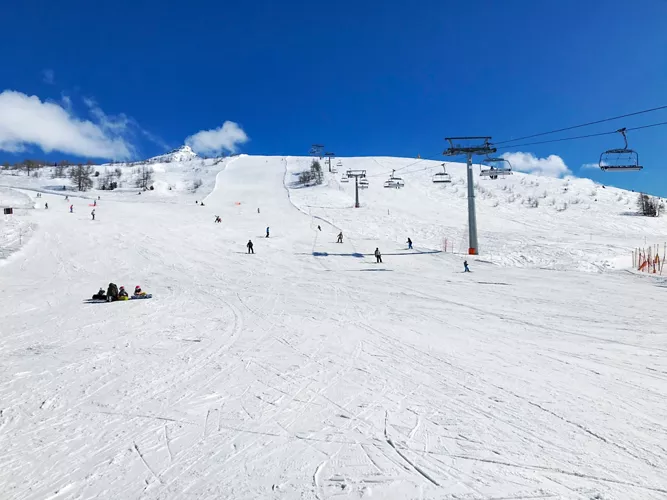 Madesimo (40 km of compacted tracks plus 20 off-piste routes) is a ski area unwinding at altitudes between 1150 and 2880 metres; here, you will be fascinated by more than 60 km of slopes for alpine skiing, such as those down from Val di Lei and the spectacular Canalone slope, as well as numerous circuits for Nordic skiing, excursions by snowmobile and snowkiting, not to mention charming walks in the woods with snowshoes over the many tracks passing by mountain huts and lakes.
Aprica - Skiing, snowshoeing and cycling for everyone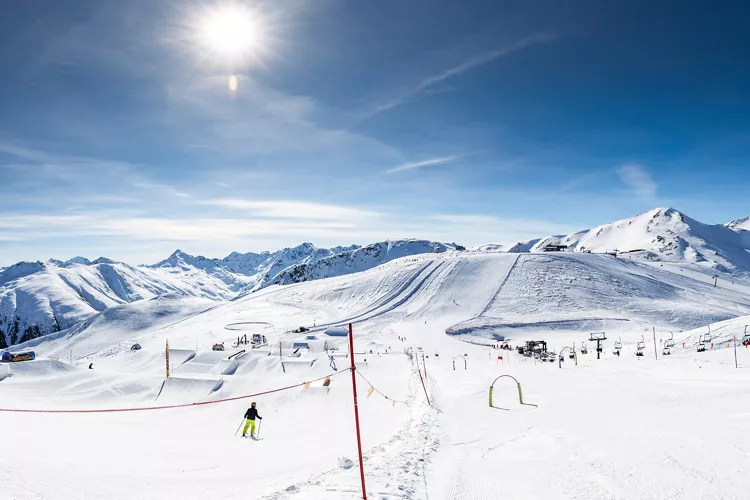 Aprica - despite its altitude - enjoys a mild climate assured by a sunny position and its ski area with more than 50 km of slopes is perfect for the whole family: while adults can set off from high altitude, children are the protagonists of the school fields further down the valley, such as those near Campetti. This venue offers cross-country skiing and ski mountaineering, as well snowshoe or fat bike treks on specific tracks.
Santa Caterina Valfurva - The gold medal slope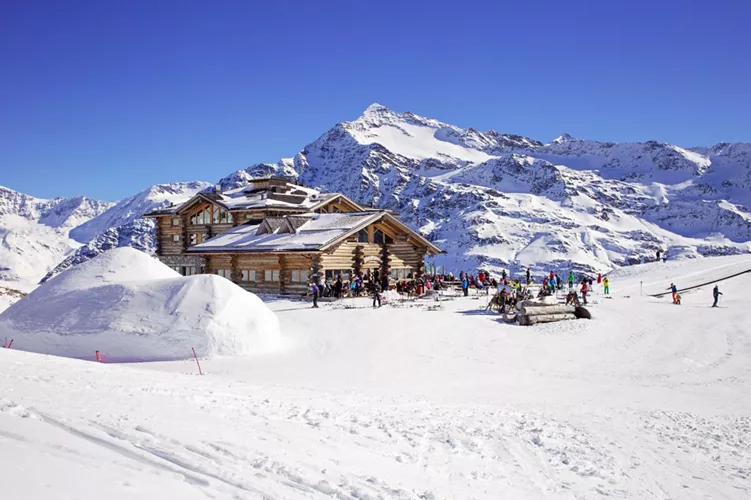 Santa Caterina Valfurva is where you can test your skiing skills skier on the slope named after Italian champion Deborah Compagnoni, three times alpine skiing Olympic gold medal winner, inaugurated on the occasion of the World Championships in this field in 2005 and also equipped with night lighting. The peaks of the Ortles-Cevedale mountain group and the Forni Glacier surround the Saint Catherine skiing area; ideal for telemark, snowboard and cross-country skiing enthusiasts (with two circuits for everyone dedicated to this discipline passing for several km through the woods). Lastly, children can learn to ski in the modern school complete with conveyor belt. The offering closes with an ice skating rink, open to everyone keen to take their first steps or perfect spectacular jumps and moves.
Valmalenco - Europe's largest cable car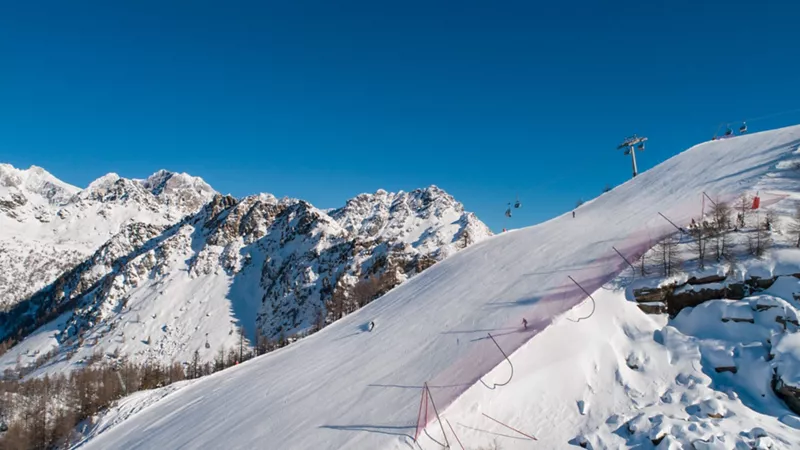 And even Valmalenco is enchanting, with 50 km of slopes. Snow Eagle - the largest cable car in Europe - is a great thrill: It takes passengers up by 1,000 metres in just 4 minutes. On reaching the destination, you can snow-shoe anywhere, even in the woods and the narrowest rocks.
Arnoga - Emotions from Alaska pulled by huskies
Arnoga, in Valdidentro (between Bormio and Livigno), offers the chance to try dog sledding: discover the thrill of driving a sled pulled by dogs through the snow. This activity is for everyone and especially recommended for people looking for something from times gone by to get closer to the alpine environment.