Italy
Unusual carnivals with popular rituals, nineteenth-century fairy tales and hymns to nature
The best of Italy's most curious Carnivals
Tricarico Carnival: a tribute to nature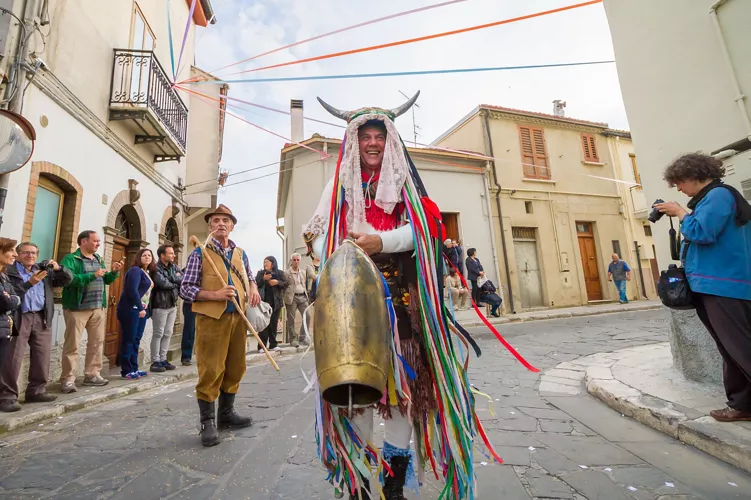 This event is a riot of colours, music, masks and fun. Animals are the protagonists and the occasion is the seasonal transhumance: participants imitate the sounds and movements of migrating herds. The symbolic masks of Tricarico Carnival are the cow and the bull, the first with long, colourful ribbons, a white garment and large bells always in motion, the other in a black garment streaked with red. The procession crosses the streets of the city to the sound of bells to praise and celebrate nature and the animal world, a symbol of fertility and sacredness. Don't miss the parade of themed allegorical floats, accompanied by minstrels singing ballads and traditional masks. 
Sauris Carnival: the carnival of lanterns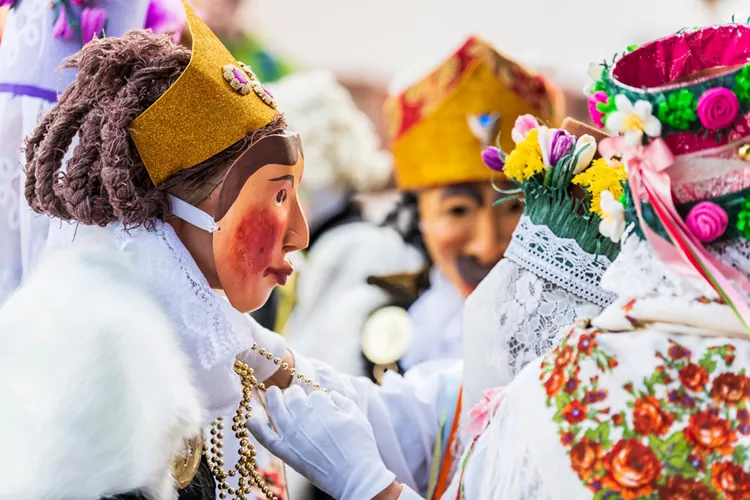 The village of Sauris celebrates every year a very special Carnival with folk dances, curious characters, large bonfires and night walks illuminated by old fashioned lanterns. This tradition especially features two masks: Rolar, whose face is face covered with soot, wearing dark clothes and rattles around his waist, and Kheirar, wearing a grotesque wooden mask and holding a broom to sweep away negative energies. There are also beautiful, finely dressed masks and ugly masks with poor clothes dancing together to give life to the whole village. A typical moment during Sauris Carnival is the night of the lanterns when the masked procession lights up the village. The destination is in the Alpine woods where a large propitiatory bonfire awaits them. 
The fairy-tale Hapsburg Carnival in Madonna di Campiglio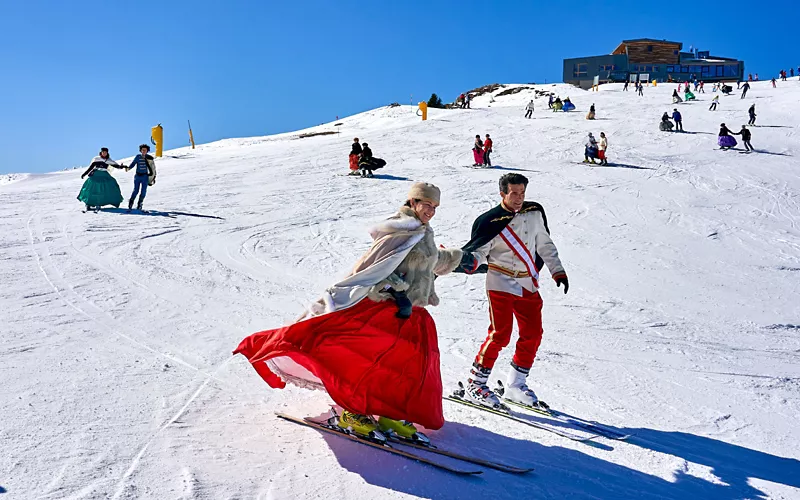 This is the Carnival of princesses, lords and ladies, waltzes and courtly dances. It lasts for 7 days and evokes the historical period of the Hapsburg Empire and the stay of Austrian Empress Sissi in Madonna di Campiglio. Just like the most beautiful royal fairy tales, horse-drawn carriages, the costume parades of Emperor Franz Joseph and Empress Sissi, the elegant masks of the ladies-in-waiting and their lords are all on show. You will be impressed by the famous Imperial Ski Parade under the evocative light of burning torches and the Emperor's Grand Ball, taking you back to Vienna at the end of the XIX century with its masked dances to the music of Waltzes.
Photo credit: ApT Campigliodolomiti - Bisti Paolo
Aliano Carnival: folklore between sacred and profane
The protagonists of the rather grotesque Carnival in the land of ravines are horned masks. The streets of Aliano echo with two days of festivities, celebrations and parade accompanied by the music of accordions and the cupa cupa, papier-mâché masks with a grim, demonic appearance - ancient symbols of the exorcism of evil. Women in traditional costumes known as Pacchiane and children dressed as young brigands also take part in the carnival parades. It is also the occasion for serving the produce and delicacies of the local rural cuisine at table! Ask to taste home-made Frzzue, seasoned with a pork and rind sauce, horseradish and sheep's cheese