Liguria
Liguria, flavors suspended between land and sea
A fragrant and mouthwatering region that bewitches you with its olive-covered sides and emerald profile.
Powered by:

Discovering the tasty Riviera di Ponente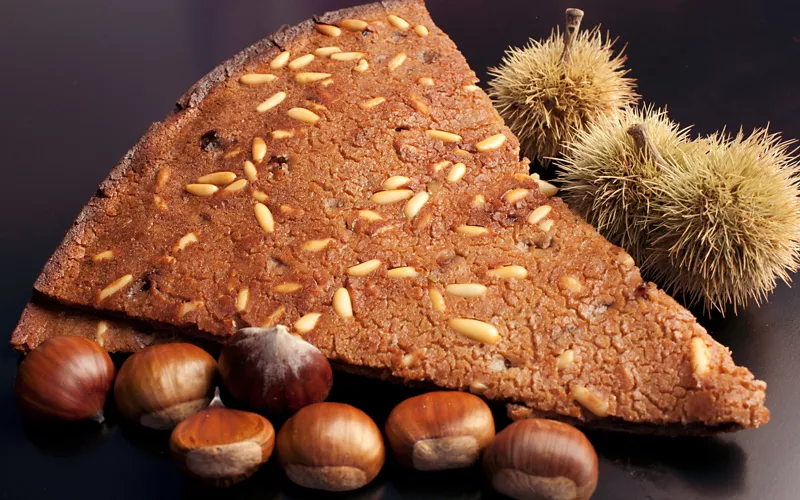 The itinerary unfolds along the Via Aurelia, with delightful promenades and delicious local produce. In Albenga, fine local vegetables, such as purple asparagus, trombetta zucchini, thorny artichoke and ox-heart tomato, add special flavor to the simplest dishes, whereas in Alassio you will find baci, created from the original recipe of Vittorio Emanuele III's pastry chef, filled with a chocolate cream. 
In Oneglia, indulge raw or blanched in the highly sought-after purple-headed shrimp, sweet and fragrant, as well as the focaccia pizza baked with onions and an anchovy paste called "pissala", also called the "Pizza all'Andrea" ("piscialandrea") in honor of Admiral Andrea Doria, lord of the Republic of Genoa in the 16th century, who was a native of the Ligurian village.
In Imperia it is among the typical cheeses that you will find Alpeggio di Triora and on the wine front, Pigato, Vermentino, Ormeasco, Rossese and Rossese di Dolceacqua.
Reach Sanremo where street food comes into play, for example the Torta verde (green cake), with a filling of rice and seasonal vegetables; among the appetizers, the stockfish "brandacujun" (creamed) presented as a spreadable cream to be eaten at the very beginning of the meal, with potatoes and Taggiasca olives. As a main course, give the rabbit "alla sanremese" (or rabbit with olives) a try, and for desserts, in addition to the baci, which are typical of the area, try the "Torta de ciavai", a delicacy with zabaglione and cream, flavored with curacao.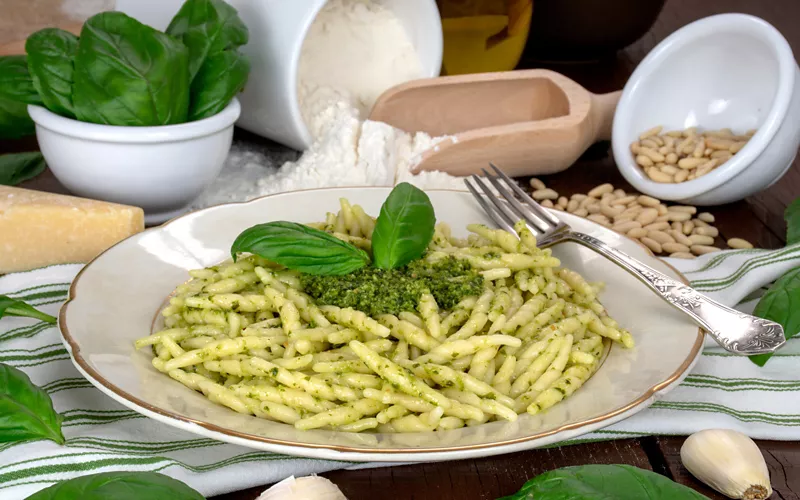 Trofiette with pesto
Try this signature dish of Ligurian cuisine, ideal for those who love fresh homemade pasta. Serve them with pesto, a true gastronomic "must" of the region - so called for being crushed in a marble mortar - taking care to use Genovese basil and "Riviera Ligure" extra virgin olive oil, and with potatoes and green beans. A bit of trivia: the term "trofie" in the region is used to refer to gnocchi. Trofiette, on the other hand, have a totally different shape: they are thin, elongated and twisted.
The Ligurian Castagnaccio
During autumn, this is a traditional sweet that can't be lacking on Ligurian tables. A true delicacy with a distinctive taste and aroma, born in the Apennine areas and then spread throughout the region, prepared with chestnut flour, pine nuts and sultanas. A cake that is steeped in legend and seems to conceal a love potion.