In the Dolomites between spas and skiing, a wellness boost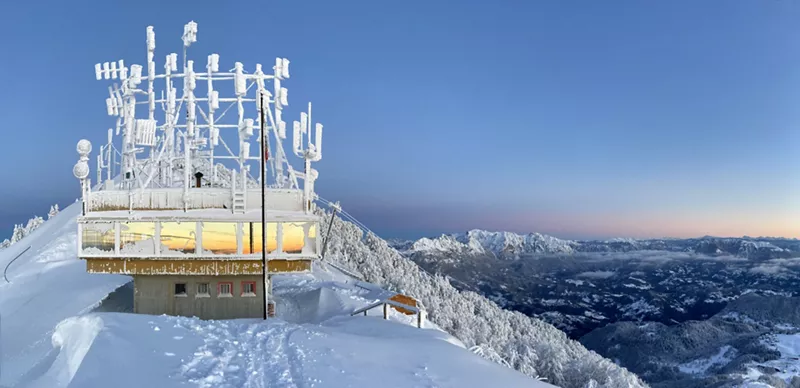 At the feet of the "Piccole Dolomiti" in a lush green basin, the spa and town of Terme di Recoaro, near Vicenza, boast nine kinds of therapeutic waters known since ancient times. The establishment, in the vast Parco delle Fonti replete with relaxing cedars and fir trees, offers well-being, beauty and cosmetic services and products. They are perfect after a day of skiing on the slopes of Recoaro Mille, over downhill or cross-country skiing tracks. Don't miss a visit to Montagna Spaccata, an evocative fracture in the rock almost 90 metres deep.
Trentino - Pozza di Fassa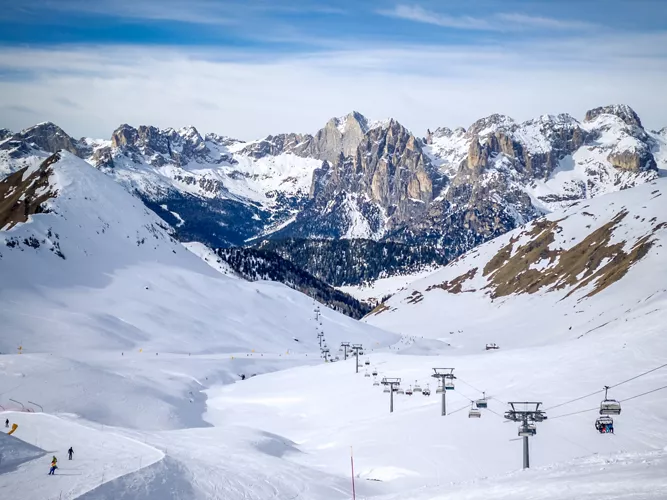 Pozza di Fassa in the heart of the Dolomites - a UNESCO World Heritage Site - has two spas that use the sulphurous water of Alloch for wellness treatments. The avant-garde QC Terme Dolomiti offers chromotherapy sensorial pools, Kneipp paths, cascades and bio-saunas, as well as the unique Perlage Sauna inspired by the visual and olfactory experience of a wine cellar, combined with a whirlpool tub. The establishment also proposes the Oriental practice of forest bathing in the surrounding woods to recover energy. Terme di Dolomia offers physical and mental well-being paths between water and nature, open-air activities such as Qi Gong, thermal and well-being treatments with products prepared using spa water. 
Pozza di Fassa is not far from the Buffaure ski area, with slopes for everyone, a snow park, a competitive Ski Stadium, a playground in the snow for children, as well as moonlight snowshoeing and sledging. You can also ski in the woods of San Martino di Castrozza, over varied and panoramic slopes, as well as in Passo Rolle, with facilities also equipped for children. The Pampeago – Predazzo – Obereggen ski area dominated by the dolomitic Latemar group offers ski and tobogganing even at night, snow parks and adrenaline-pumping attractions such as the Gardonè Alpine Coaster, a sledge on a monorail with jumps and parabolic curves in the woods, not to mention the trampolines in the Stadio del Salto. Lastly, Val di Fiemme and Val di Fassa are connected by the slopes of the Bellamonte-Alpe Lusia ski area, which also offer nature trails for snowshoes and cross-country skiing.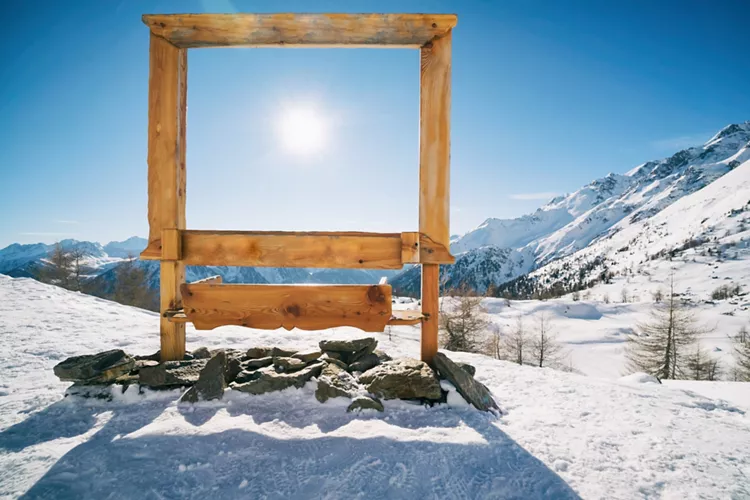 Set in the Stelvio National Park, Terme di Pejo offers psycho-physical well-being paths immersed in nature thanks to curative thermal spa water from three springs. Proposals include meditation, dynamic yoga, breathing exercises combined with Aufguss, ice cascades and treatments based on medicinal plants and alpine herbs, as well as treatments with products prepared with thermal spa water and extracts of local plants. Well-being continues on the slopes of Pejo 3000, the Val di Pejo ski area, which also offers the chance to explore the Park with snowshoes, Alpine skiing, curling and ice skating and climbing ice cascades. The vast ski area of Folgarida-Marilleva, Madonna di Campiglio and Pinzolo is also not far away, with 380 km slopes of the Dolomiti Adamello Brenta Skirama.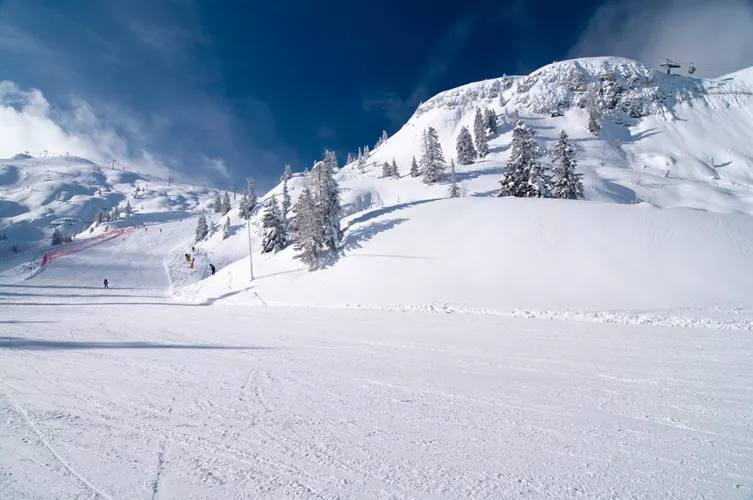 Between the Brenta Dolomites and Lake Garda, the spa waters of Terme di Comano are particularly beneficial for skin problems in adults and children. A visit is also an excuse to enjoy the snow of Paganella Ski - Andalo - Fai della Paganella in the Adamello Brenta Natural Park, with excursions on skis or snowshoes. Madonna di Campiglio also has cross-country skiing through woods and clearings, Alpine skiing and Nordic skiing. The slopes of Monte Bondone are broad and safe - don't miss the Gran Pista through meadows and conifer and birch forests. The snow park is also open in the evening. The slopes around Pinzolo pass through larch woods, with tracks for beginners and experts alike: the DoloMitica slope is particularly dedicated to expert skiers. There is also the possibility for snowshoeing and Alpine skiing excursions.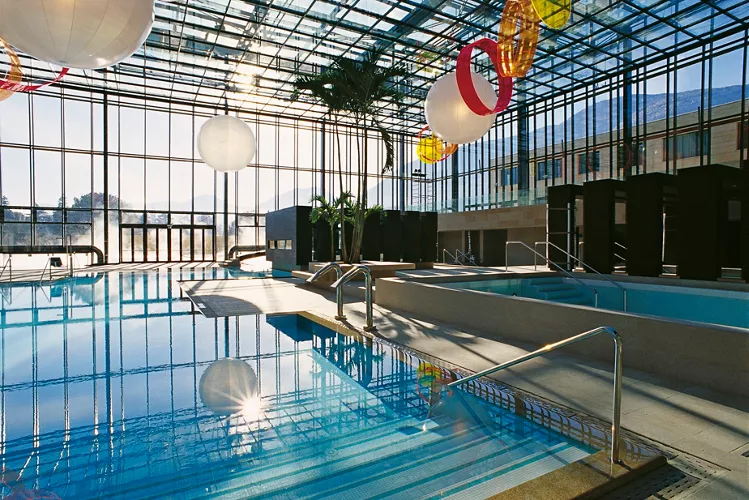 Green parks, botanical gardens and snow-capped peaks around Terme di Merano offer across-the-board well-being thanks to twenty-five pools, a sauna area and an avant-garde spa. A great many cultural and musical events are also held in the square of the spa. From here, you can go up to Merano 2000, with medium-low difficulty slopes for skis and sledges, as well as a snow park which is highly recommended for families. Yet there is also a black slope for experts and the possibility of romantic rides in a carriage. The ski area of the Val Senales glacier, on the other hand, has slopes rising up to over 3000 metres and are mostly black or suitable for Alpine skiing. Do not miss the guided Otzi Glacier Tour excursion to Giogo di Tisa, where Otzi the Similaun Mummy was found.
Friuli Venezia Giulia - Arta Terme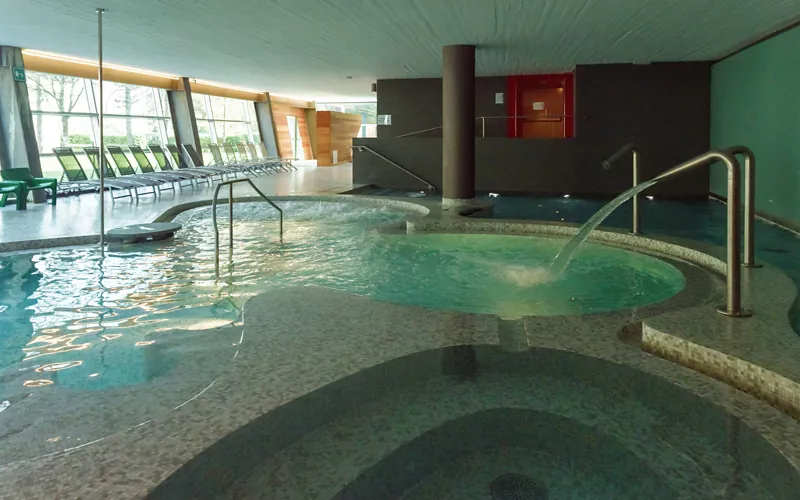 In the green settings of the Carnic Alps, the modern Terme di Arta in the locality of the same name ensures health and well-being thanks to the beneficial properties of its mineral spa waters. Special attention is given to skin treatments with skilful use of herbs. Palazzo delle Acque boasts saunas, Turkish baths, emotional showers and a Kneipp path. It is a perfect integration with the many activities in the snow in the four nearby ski resorts: Forni di Sopra Ski Area, Sauris Ski Area, Zoncolan Ski Area and Sappada-Pista dei Campioni. Combined, they create an amphitheatre of majestic peaks set among woods and the River Piave where, in addition to skiing at all levels, you can also enjoy snowboarding, Alpine skiing, sled dog and snow cat excursions, sledding, snowshoeing and ice skating.