The perfect backpack: essential for a summer walk in Italy
Walking is good for the mind, body and spirit. Hiking, with a backpack on your shoulders, is an extraordinary experience.
Before setting out on a hike, you must choose very carefully the key item for your journey: the hiking backpack will, in short, be your faithful companion for the entire journey. First of all, it must be relatively light and the fabric must be relatively durable.
Along the way, you may come across days of sunshine or heavy rain, suffocating heat or strong wind. Therefore, make sure you choose a good quality backpack that guarantees you comfort and customisable adjustments.
The weight of the backpack: the Via degli Dei and the Via Francigena
In order to make your walk an unforgettable experience rather than a hellish journey, you must take special care to pack items well inside your backpack. Do not put too much strain on your back and joints, because you will be walking for quite a long time.
As a general rule, the ideal weight should not exceed 5 kilos per day. If the walk is fairly easy, lasting 2 or 3 days, a 10-20 litre backpack will be more than adequate. As the length of the route increases, you will have to gradually lighten your load, because the effort to be sustained will clearly be greater.
If, for example, you decide to tackle the Via degli Dei, the trail from Bologna to Florence across the Apennines, you can opt for a 48-litre backpack. The 130 km hike is, admittedly, demanding in some sections, but can be adapted to your timeframe and ability. We advise you not to rush, and to enjoy the landscape at a slow pace, in 5 or 6 stages, in order to fully savour the historic route.
If, on the other hand, you choose a significantly longer route, such as the Via Francigena, then you should lower the capacity of your backpack to around 28 litres. With its 1,000 km from the Great St Bernard Pass to Rome, along mountain paths, stony mule tracks and country roads, it is one of the most demanding pilgrimage routes in Italy, but one that is rich in charm.
What to put in your backpack: a list stripped down to the essentials
Even if you decide to set out during the summer season, you must always be prepared for the eventuality of encountering bad weather along the way. It is therefore advisable to protect your backpack with a waterproof cover, and place all the contents in plastic or nylon bags so that heavy and continuous rain does not damage anything. A further measure to protect clothing and various accessories from possible moisture is to divide them into compartments, each in a bag.
The list of items you carry on your back should be kept as small as possible. A topographical map of the place you will be passing through and a mini first-aid kit are indispensable. An altimeter and sunscreen are also useful, especially if you are in direct sunlight. Next, pack a waterproof jacket (preferably one that can be compressed) or a waxed canvas poncho, fleece clothing and gloves (if you are tackling high altitudes and the cold gets to you), a t-shirt and long trousers (replace cotton with synthetic technical clothing), spare briefs and socks, a microfibre towel, a hat, handkerchiefs, sunglasses, walking poles and a compact sleeping bag.
How to wear a backpack: symmetry of objects and weight distribution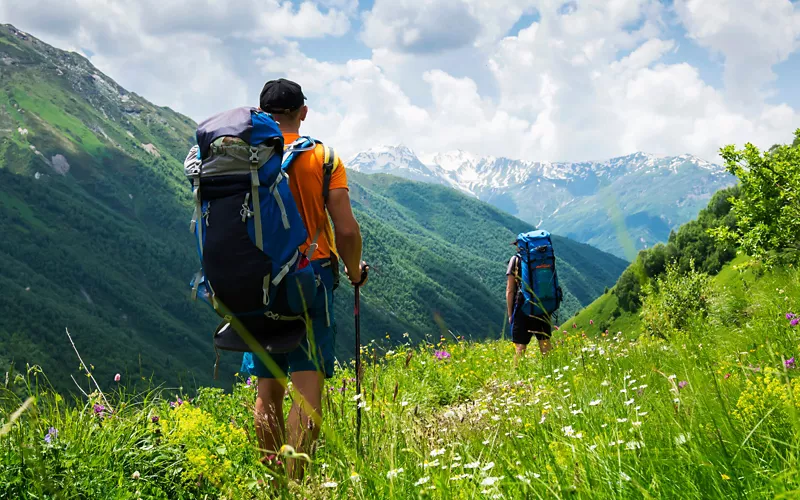 It is essential to try to distribute the load evenly, leaving the lighter objects at the top of the backpack and the heavier ones towards the pelvis, to avoid weighing down the shoulders. For the same reason, tighten the belt as much as possible, just above the hips.
Choose a backpack with adjustable straps so that it can be adapted to your height and to bring the upper part of the bag closer to your back.
There are many walking routes in Italy and each one is full of charm.
They are a dual journey: to discover one's inner world and the world around you, in which you come into full contact with nature and the products of the earth.
We have suggested that you take the essentials with you, but we have one last piece of advice: try to find a place in your backpack for a notebook. You can jot down your impressions of the trip, and they will be a beautiful memento of your experience.