For over a millennium, Florence has been a global icon of beauty. Even its lesser-known neighbourhoods are a delight
The cradle of the Renaissance and the world capital of art in the 15th century, it boasts one of the oldest historic centres and some of the most famous museums in the world, as well as one of the most iconic and distinctive landscapes as far as the eye can see. Everything in Florence is spectacular: from the shops to the streets that lead to the hills overlooking the most touristy areas, from the most authentic and popular neighbourhoods, just outside the historic centre, to the monuments that exhibit its soul. 
City
The city that symbolises the Renaissance
This open-air art gallery, admired around the world, is the perfect destination for holidays dedicated to culture, and also to great food and drink. Its vibrant soul fills the streets, brimming with architecture, churches, museums, small art workshops and artists ready for impromptu performances. Last but not least, it is also a benchmark for fashion.
Learn more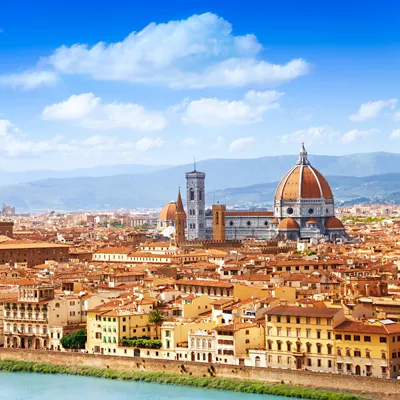 Useful info
All you need to know