Italy's 11 best not-to-be-missed ski resorts
From north to south, Italy is spoilt for choice when it comes to ski holidays.
Skiing in Madonna di Campiglio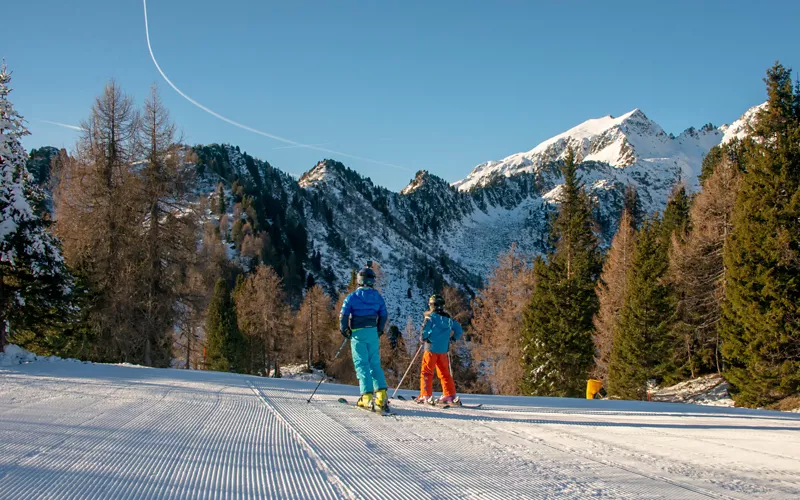 Madonna di Campiglio is one of the most important ski resorts in Trentino.
Its ski area covers 150 kilometres of slopes with 63 lifts.
If you are looking for an adrenaline rush, you can count on the Ursus Snowpark with more than 8 hectares of freestyle terrain, a boardercross slope and a 3-kilometre-long toboggan-only slope down from Monte Spinale.
The Madonna di Campiglio cable cars are open between December and April and between June and September for the summer season.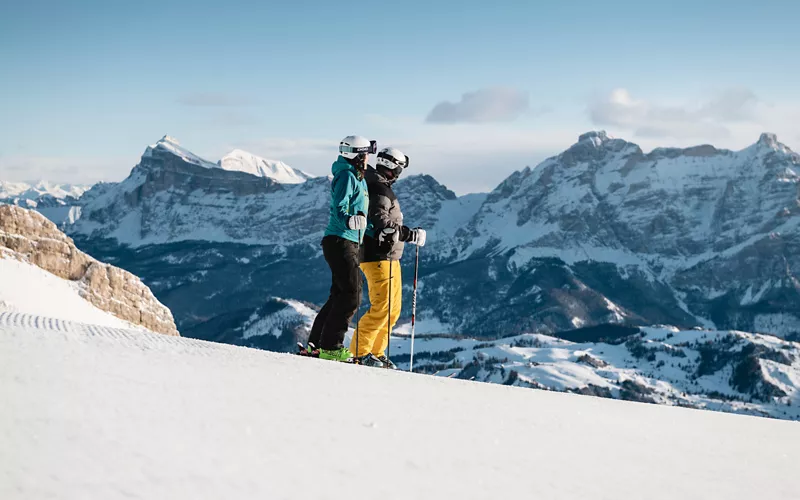 Enveloped by the majesty of the Dolomites mountain range, skiing in Alta Badia is always a great choice.
With 53 lifts and 130 km of slopes, Alta Badia is one of the most well-known valleys in the Dolomites. It is a popular destination for professional skiers, who can show off their skills on the Gran Risa and dream of winning the Ski World Cup, although it is also suitable for children and novice skiers.
Here, skiing is designed for everyone, and everyone can find a slope suited to their needs and abilities. Don't miss the descent from the Boè, which passes through a dense coniferous forest with a series of truly thrilling steep slopes.
The Audi FIS Ski World Cup - the Alpine Skiing World Cup - is held in La Villa every year, and continues in Val Gardena, in Santa Caterina, with the saslong slope. 
Copyright: IDM Südtirol-Alto Adige/Alex Moling
Skiing on the slopes of Plan de Corones/Kronplatz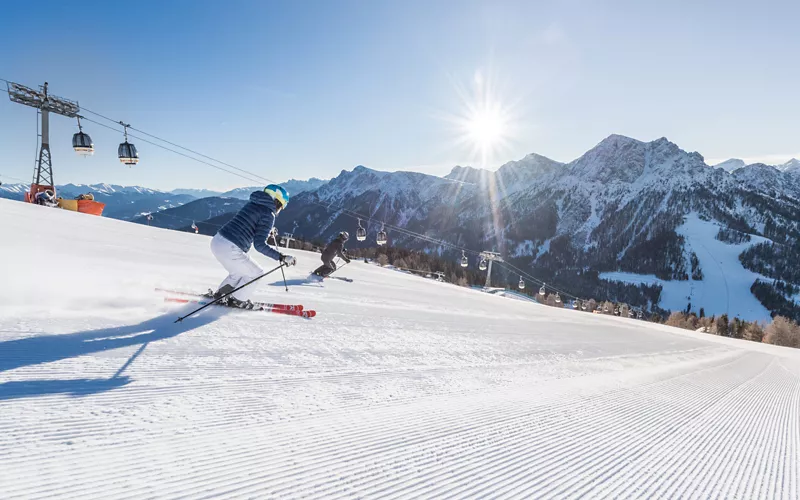 Over 120 kilometres of pistes, 32 modern lifts, fresh snow and more than 300 days of sunshine a year: welcome to the Plan de Corones/Kronplatz ski area in South Tyrol, one of the top winter sports destinations in the Dolomites.
The range of slope types at Plan de Corones/Kronplatz - virtually endless - and the modern lift facilities, impress and please beginners and professionals alike, as well as families and groups of young people. Out of all of them, the Erta slope is a must try. To top it all off, the picturesque old town of San Vigilio di Marebbe with its traditional Ladin dwellings will make your après-ski experience worthwhile.
Copyright: IDM Südtirol-Alto Adige/Harald Wisthaler
Nestled in the Sirente-Velino park is the town of Ovindoli, located at 1375 metres above sea level. This ski resort in Abruzzo is popular with alpine skiing enthusiasts for its excellent black slopes.
The Ovindoli facilities serve 20 kilometres of slopes (7 km of black slopes, 9 km of red slopes and 7 km of blue slopes) and are open to the public between December and April from 8.30 am to 4 pm.
The Ovindoli ski pass gives access to 11 ski lifts with slopes for adults and children.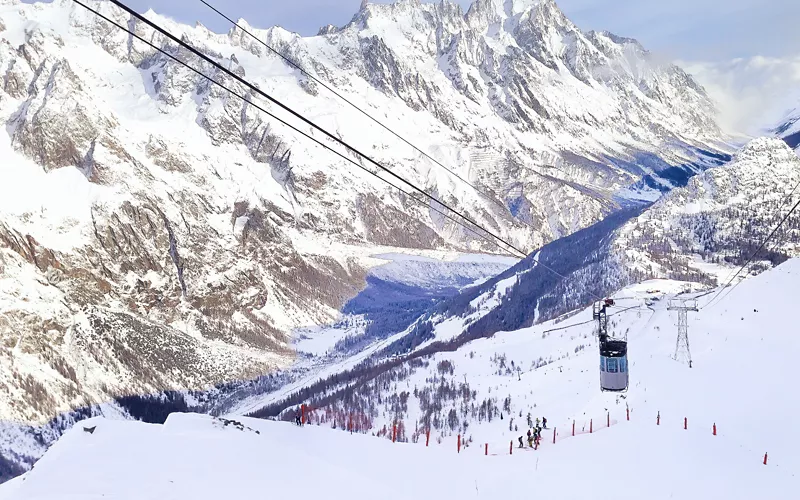 The slopes of Courmayeur offer a unique view of the Alps, also for this reason, this town is among the most evocative ski resorts in the Aosta Valley.
This is also thanks to the excellent lifts that serve more than 100 kilometres of slopes and off-piste between the Chécrouit and Val Vény sides, the two ski and snowboard schools available to all, and the important Courmayeur cable car that takes you 3466 metres up Mont Blanc.
The Courmayeur ski pass includes access to the entire ski area and the Mont Blanc Skyway.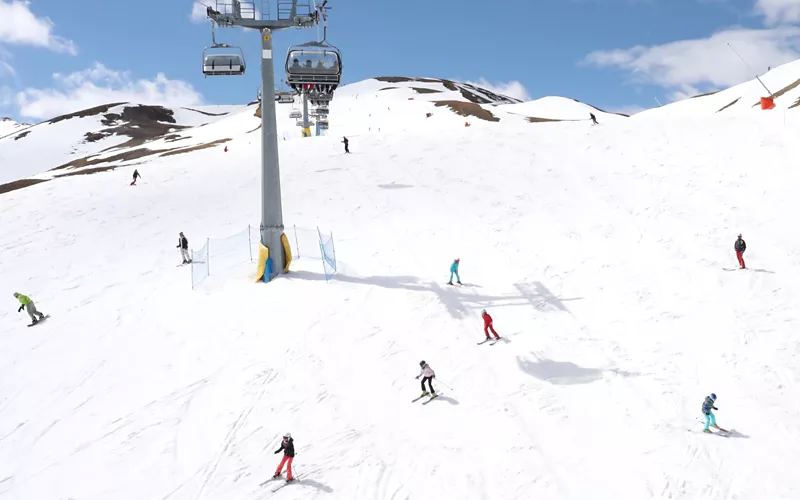 Alpine skiing, cross-country skiing, snowboarding and freestyle: there are plenty of opportunities for lovers of these disciplines at the Livigno Ski Area, one of the largest and most popular in Lombardy.
Livigno's 115 kilometres of slopes are served by 31 lifts. This makes Livigno, a delightful resort located at 1,816 metres above sea level, a true paradise for snow lovers. You can count on school camps and tracks for beginners, as well as black slopes for experienced skiers, like the Giorgio Rocca slope. 
Skiing in Breuil-Cervinia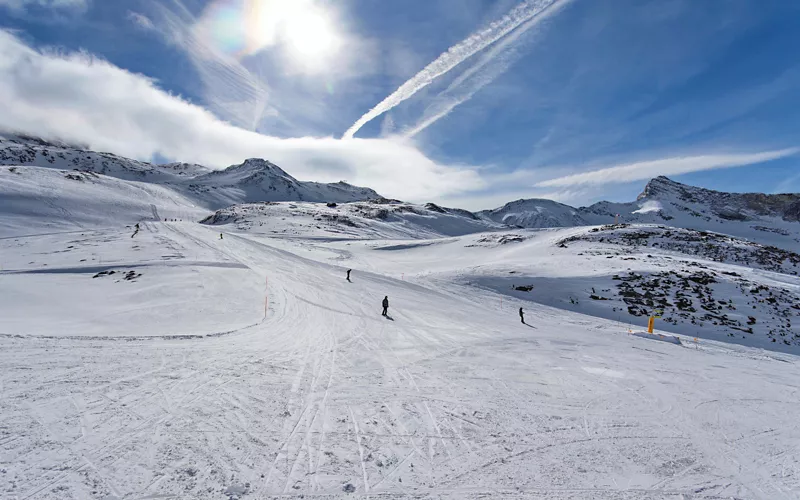 Breuil-Cervinia lies at 2050 metres above sea level at the foot of the Matterhorn and is one of the reference points for those who want to ski in Valle d'Aosta.
Cervinia's 46 slopes stretch over 150 kilometres, with 104 km of red pistes, 39 km of blue pistes and 11 km of black pistes. The 19 lifts in Cervinia, including 2 cable cars and 12 chairlifts, operate between December and May.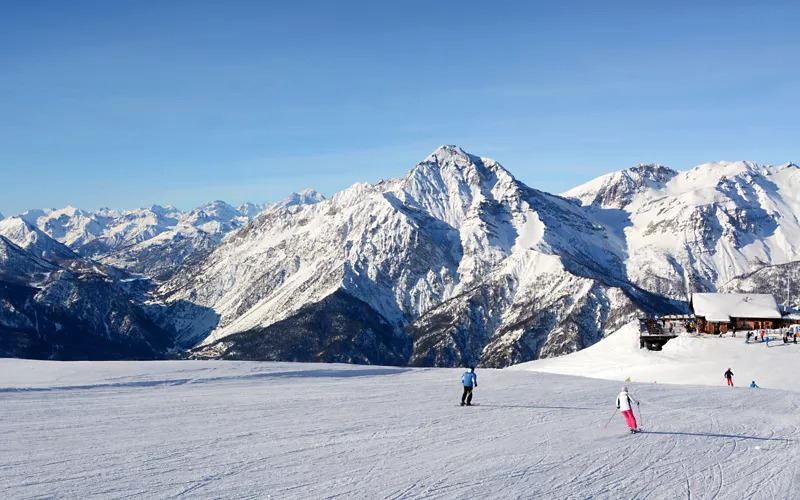 Straddling Val Chisone and Val Susa is Sestriere, a point of reference for those who want to ski in Piedmont with its 2035 metres of altitude and no less than 400 kilometres of slopes stretching across the Via Lattea ski area.
Sestriere's slopes please everyone, from beginners to experts: 80 km of black pistes, 200 km of red pistes and 120 km of blue pistes, 70 lifts with daily ski passes.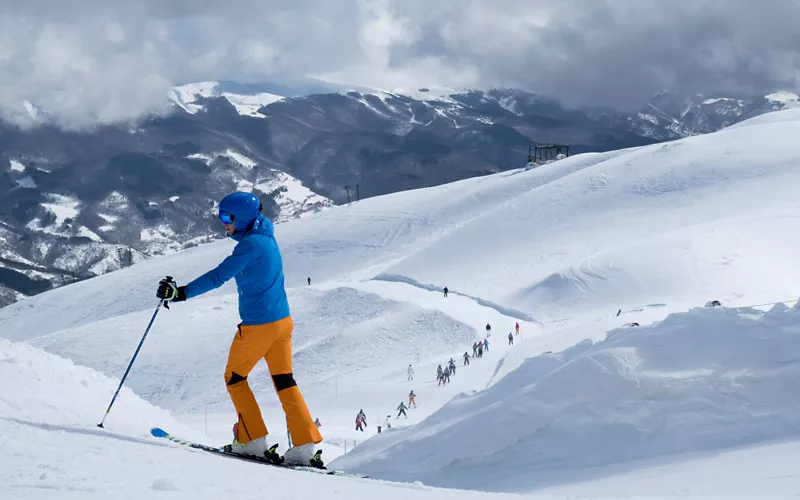 During the winter months, Abetone is one of the most suitable places for skiing in Tuscany.
Abetone's slopes are divided between 30 kilometres of red slopes and 13 kilometres of blue slopes, served by 21 lifts including chairlifts, ski lifts and conveyor belts open from 8.30 a.m. only during the winter season. 
Roccaraso is a ski resort in Abruzzo, located at 1,236m in the Alta Val di Sangro, 200 kilometres from Rome.
Roccaraso's 65 ski slopes cover more than 140 kilometres - 54 red and blue, 11 black - and three different ski resorts: Aremogna, Monte Pratello and Monte Pizzalto, for a total of 38 lifts.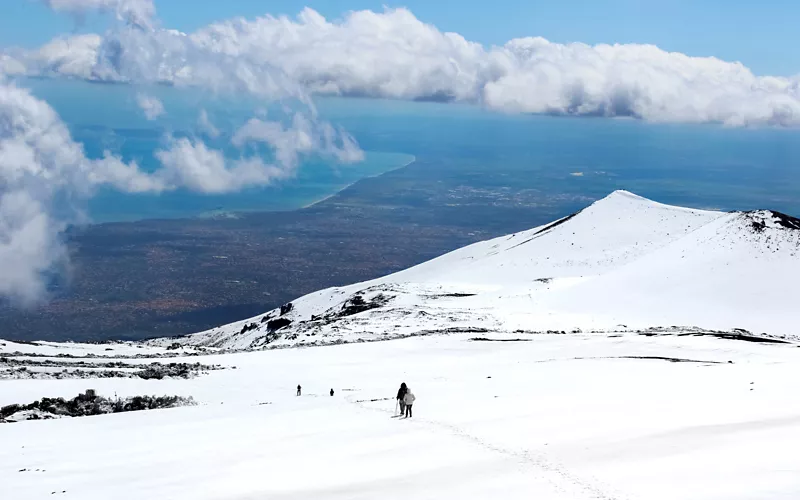 Skiing in Sicily? Yes, thanks to the two ski lifts on Etna, it is possible to ski and mountaineer up to 2700 metres on Italy's highest active volcano. 10 slopes in total, 7 red and 3 blue, divided between the Nicolosi ski area, which can be reached in half an hour from Catania, and the Etna Nord-Piano Provenzana ski area at Linguaglossa on the northern slope of the volcano.
Here, you can count on a 4-seater chairlift and 3 ski lifts, while the Nicolosi ski resort boasts a 6-seater gondola, a 2-seater chairlift and 3 ski lifts.
To experience skiing at an altitude of 2,500 metres, you have to reach the 'Piccolo rifugio' slope for a descent of almost 3 kilometres with an altitude difference of 580 metres.
9 top ski resorts in Italy, one goal: having fun while wearing skis.