Sicilian capital and crossroads of cultures and traditions, Palermo will cause you to fall in love with its exhilarating colours, fragrances and flavours
Palermo is a city teeming with churches, monuments and priceless works of art, animated by noisy working-class neighbourhoods adjoining sumptuous aristocratic buildings. Icing on the cake is the pleasant climate in all seasons, a breathtaking ocean view and a compelling culinary tradition.
City
A precious jewel of the south with rich cultural heritage
Of all the dominations over the centuries, Palermo retains character and contradictions, which it proudly displays by claiming its uniqueness in artistic and architectural heritage, society, and richness of its extraordinary food and wine tradition exported all over the world. It is in a fusion of cultures that the heart of the city resides. 
Learn more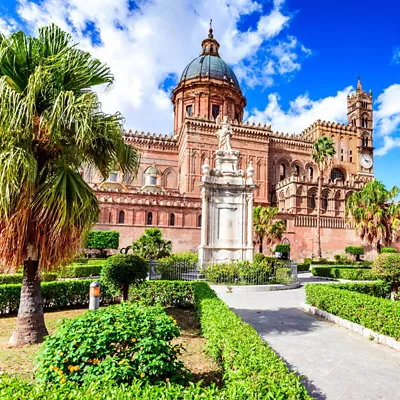 Useful info
All you need to know