trentino-alto adige
Trentino: Stand-up paddleboarding on the lakes: "the other surfing"
Lake Garda: suitable for beginners and experts
Be it the calmest hours of the day or when the wind is blowing on its shores, Lake Garda offers an endless number of routes to practise SUP in Trentino.
For beginners, we recommend the Baia Azzurra and Riva del Garda-Lungolago tours, which allow you to get to grips with the discipline of Stand Up Paddle without excessive athletic effort. About 3 kilometres to discover the area at the slow pace of the paddle.
The Conca d'oro, Ca' Rossa, Lago di Ledro and Sperone routes are of medium difficulty. The first runs along the northern shore of the lake as far as Torbole and overlooks the rocky slopes of Monte Brione and the reedy reeds at the mouth of the Sarca River.
Ca' Rossa leads to the small beach on the D'Annunzio lakefront, where you can take a refreshing break. The iridescent turquoise waters of Lake Ledro surround the UNESCO World Heritage pile-dwelling settlement dating back to the Bronze Age.
And finally, Sperone is the wildest and most spectacular shore, on the slopes of Mount Rocchetta.
For those who love a difficult challenge, we recommend the Ponale torrent waterfall, the Corno di Bò and the Coast to Coast tour. Three routes designed for experts not only because of the length of the routes, but also because of the strength of the winds, which affect your balance on the board.
Levico and Caldonazzo Lakes: calm waters and a Blue Flag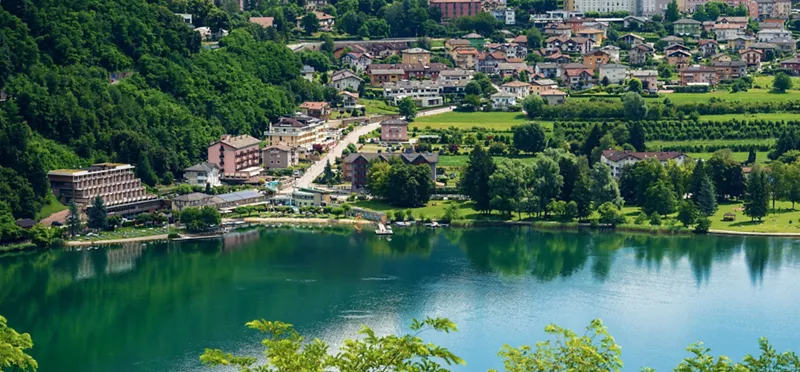 Just a stone's throw from Trento, the waters of the Levico and Caldonazzo Lakes shine, ideal destinations for those who are keen on stand-up paddling. So clean that they have been awarded Blue Flag status, these two bodies of water, surrounded by forests, allow you to stand on your board and paddle without any difficulty, thanks to the absence of strong currents. The real "motor" is you, not the wind.
Lake Molveno: the most beautiful in Italy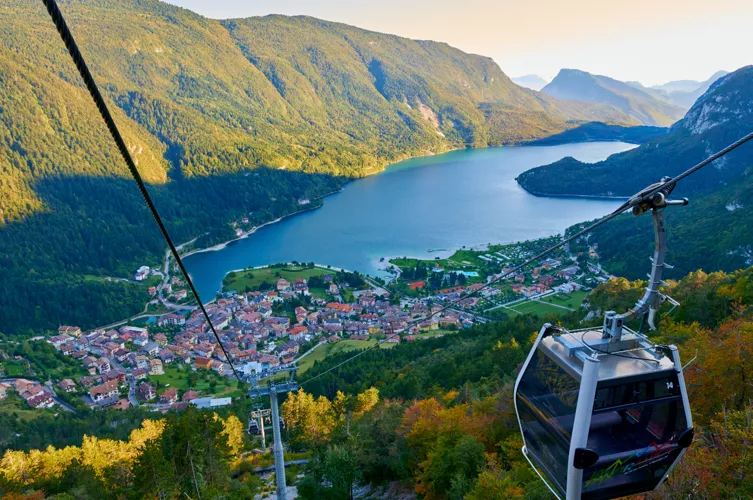 Framed by the Brenta Dolomites, Lake Molveno won the title of Italy's most beautiful lake in 2019. So it is easy to imagine the sight that unfolds before your eyes as you cross it on a surfboard. It is perfect for those who want to learn or improve their technique because of its flat, calm waters. 
Lake Ledro: in the suspended valley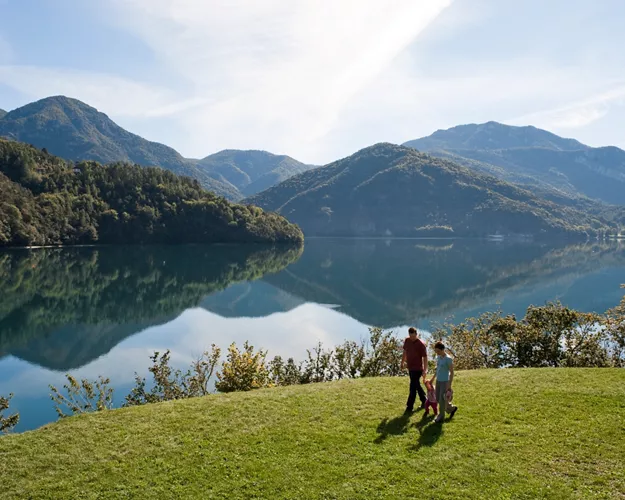 The last stretch of blue water to explore in Trentino, while standing on a surfboard, is Lake Ledro. Here, the favourable wind conditions make SUP outings not too challenging. Letting yourself be transported on its surface, gliding over the water between woods and mountains, floating around the valley that joins Lake Garda with the Chiese valley, is not only a useful opportunity to keep fit and tone the entire body structure, but also to enjoy a regenerating experience in contact with nature.