Smart working immersed in a natural environment: at a camping village or on a sailing boat, supporting a sustainable world
The smart working phenomenon has allowed us to rediscover the pleasure of engaging in our professional activities at desirable retreats far from the madding crowd and offices, and in an environment where we feel very comfortable.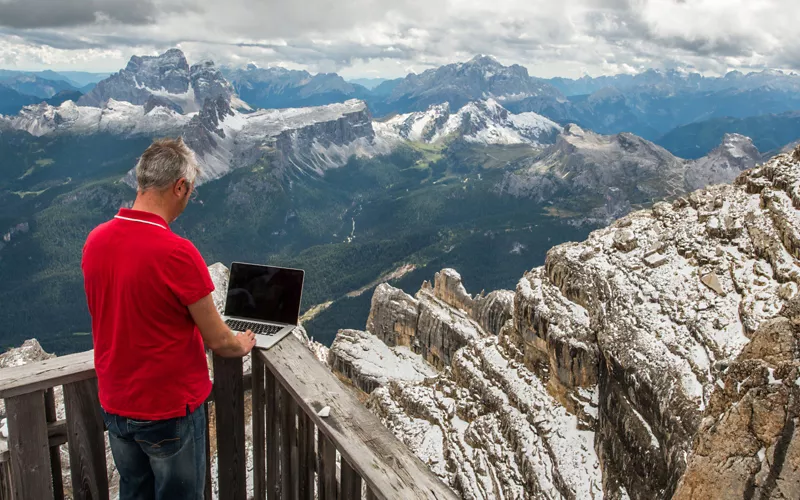 The Trentino - South Tyrol region is currently focusing strongly on remote work in contact with nature through the 'Desk With a View' initiative, which involves local hotels, rural agri-tourism accommodation and B&B facilities. The aim is to offer guests a wide range of leisure-time experiences. People who choose to spend a period of smart working in one of the structures participating in the initiative can rely on stable and fast internet connections and will be able to print documents and receive shipments at the premises where they reside.
In your free time you will be able to engage in such activities as 'forest bathing', picnics at a nearby vineyard, wine-tasting sessions organised by local winegrowers and visits to alpine lodges and refuges, craft breweries and many other places where local specialities are produced. Agritur Broch at Passo Cereda, EcoBaita Carefree Nature at Canal San Bovo or Agritur Maso Kofler at Rumo are just a few examples.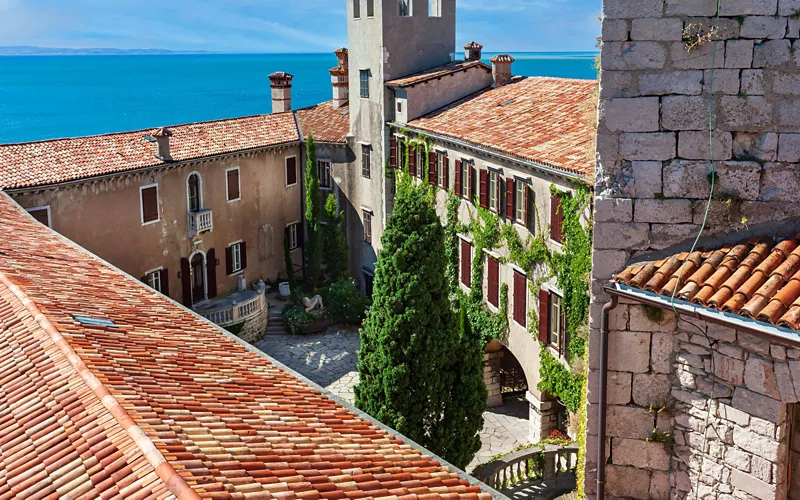 The Friuli Venezia Giulia region is included in the list of the 20 most 'digital nomad-friendly' destinations in the world that has been drawn up by Airbnb and not only on account of the favourable relationship between living costs and the quality of life. In fact, more and more accommodation facilities are gearing up to provide advantages to people who choose the smart working solution, such as flexible prices for long periods of residence, an excellent internet connection, spacious work desks and office accessories. These benefits are available, for example, at the Pian Dei Ciclamini hiking refuge in the heart of the Natural Park of the Julian Pre-Alps or at many accommodation facilities in Trieste, Udine and Pordenone.
If you feel you would prefer to spend your period of remote working more in contact with the natural world we might suggest you try one of the wonderful villages overlooking the sea, such as Grado, Duino or Grignano. You will be surrounded by breathtaking landscapes and you can dedicate a lot of your leisure time to activities in the immediate surrounding countryside.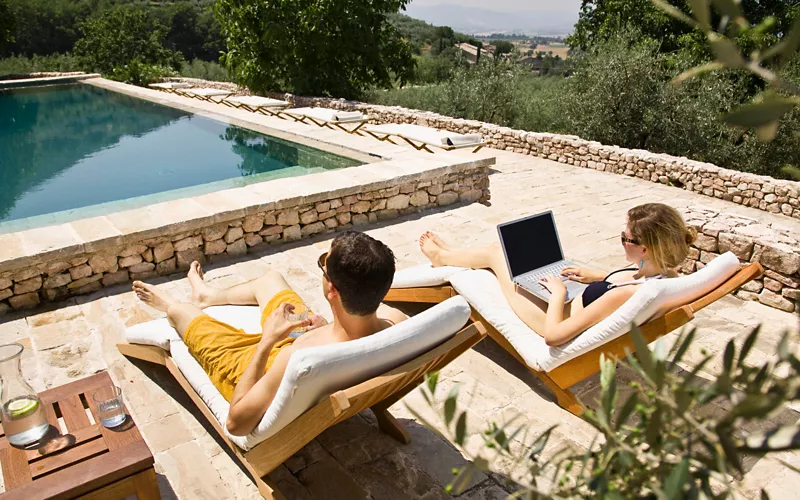 The Emilia Romagna region has been promoting the spread of smart working for various years now and if you are looking for a fascinating off-beat location we can suggest a few places you will certainly be tempted to visit. Located in the Parma Appenine district, Castello di Compiano is one of the most beautiful rural villages in Italy. You will find everything you need for prolonged periods of work at this particular location. You can reside and work at the castle and in your free time you can explore the surrounding area or perhaps participate in a game of billiards or go for a dip in the swimming pool.
Just outside the city of Reggio Emilia you can engage in smart working at an 18th-century farm surrounded by vineyards, fields in which organic crops are cultivated, livestock breeding grounds and farmyard animals. The rooms available at the Tenuta La Razza estate have large windows which allow guests to enjoy a view of the surrounding countryside during working days, and in your free time you can relax in the pool, play golf or rent a bicycle and travel along the Via Emilia.
If you prefer to spend time close to the sea the Club Del Sole camping village in Forlì offers mobile homes immersed in nature with all the services you will require for smart working. This is an ideal solution for those who have to continue working but have no intention to forgo an outdoor holiday with their family.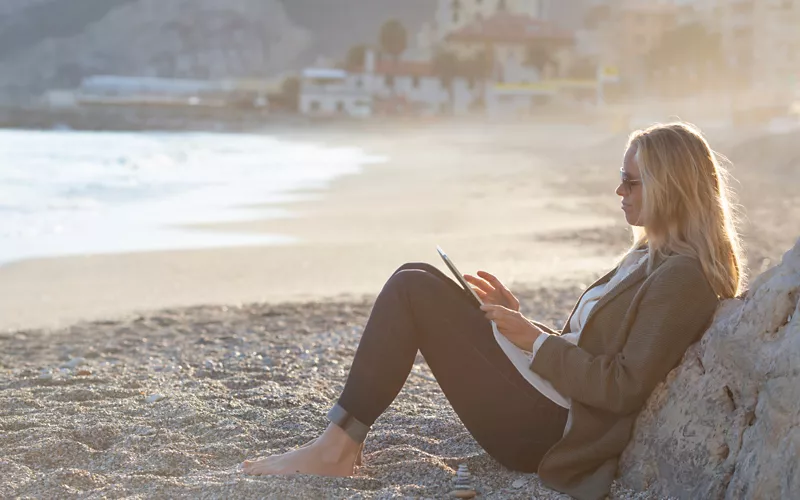 People who love being near the sea will also find wonderful solutions in the Liguria region where there will only be a short distance between the countryside location they have chosen and some of the most beautiful beaches in northern Italy. We would recommend the Agrilunassa Eco Guest House at Bordighera, situated in a panoramic position with a splendid view of the sea and immersed in the green Montenero countryside.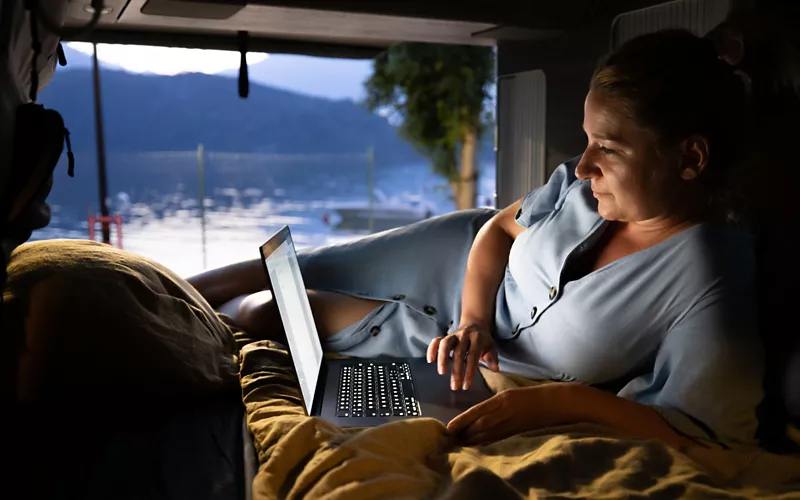 If almost everyone in Milan has returned to their office, it is not the same everywhere in Lombardy. In the Province of Lecco, within a designated WWF biodiversity oasis and just a short distance from Lake Como, the Oasi Galbusera Bianca 'bio relais' centre, with its charming farmhouse in a 14th century village, has so much to offer.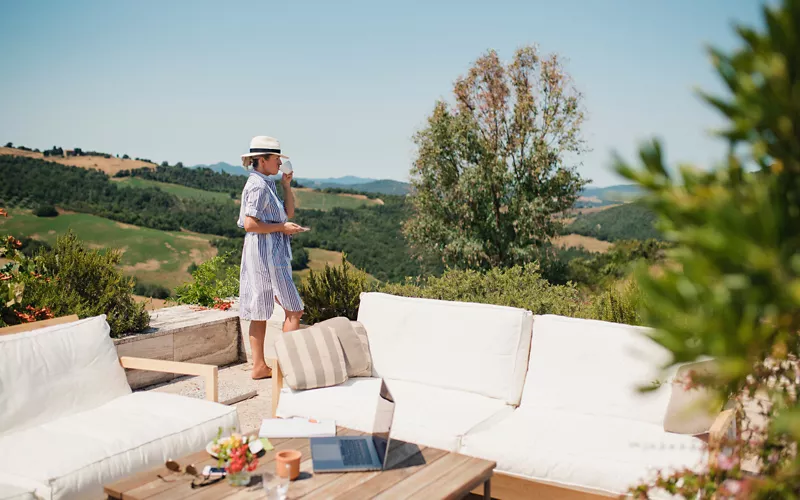 In Tuscany an authentic smart working village has been established. Santa Fiora, in the province of Grosseto, offers a variety of properties, services and broadband infrastructure for smart workers.
A very similar situation has developed in the Basilicata region at Latronico, a small town in the province of Potenza. Here, in this 'city of well-being', the municipal administration has implemented a series of incentives to attract remote workers from all over the world. Fast broadband connection is provided, and also cheap accommodation for medium and long-term periods of residence in a strategic position allowing for easy and rapid access to coastal areas such as Maratea, Praia and Sapri.
Again, in Tuscany you may decide to try a smart working camping village, choosing a solution such as Camping Africa or the Camping Oasis, both of which are situated in the Maremma district. Free wi-fi connection and quiet points where one may participate in or receive conference calls are available at these locations.

As in the case of the Friuli region the city and Province of Brindisi are now very popular destinations for smart workers.
This is not only on account of the splendid countryside and landscapes but also thanks to the local authorities that are encouraging the development of medium or long-term accommodation solutions for digital nomads and even proposing original facilities on boats or in buildings offering excellent panoramic views of the coastline.
Those who choose the Province of Brindisi for a boat working experience may also benefit from discounts in various shops and restaurants.
These are just a few suggestions for smart working in close contact with nature at locations where one can discover the wonders of Italy. The possibilities are endless. All you need is a computer and a desire to nurture and cultivate your adventurous spirit.