South Tyrol
Travel driven by the curiosity to discover sustainable design in Alto Adige
Alto Adige has an ambitious goal: to become one of the most desireable sustainable habitats in Europe.
Lasa marble extracted in a sustainable way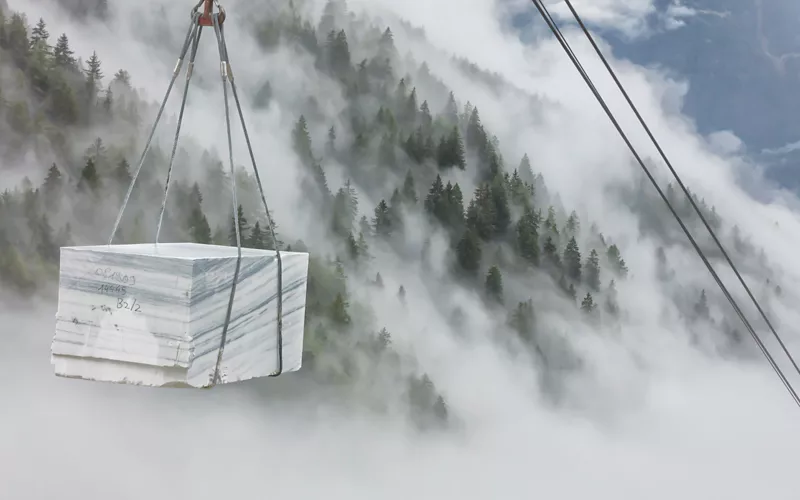 The largest architectural projects in the world use white Lasa marble from Val Venosta since the late 1800s. Today the extraction process is more sustainable than ever, as it is done underground with all waste reused in 3D printing to create furniture and accessories. 
Local sustainable resources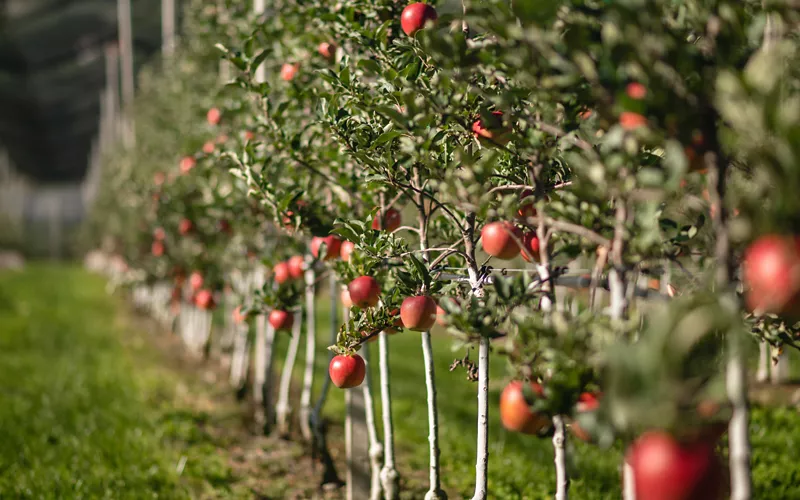 Centuries ago, the Alto Adige people learned to live in this mountainous region which offers few resources, but of those it has, all precious and utilized in many ways thanks to a spirit of adaptation, craftsmanship and harmony with nature.
In practice, the very foundations of the sustainable approach.
Here, several artisans make objects using local and sustainable resources. Like Beatrix Hohenegger who engraves goose eggs in Curon to make decorative objects, not just Easter ones. Or Erhard Paris who uses recycled materials and willow to make baskets, lamps, bags. He also teaches weaving techniques to anyone who wants to learn it, in Val d'Ultimo.
Other craftsmen work with wood to make everyday objects such as plates and bowls or pieces of art and sculptures. Helga Lazzarino, produces ski clothing using Appleskin, a material derived from the waste after processing apples in Alto Adige.
Up-cycling as a lifestyle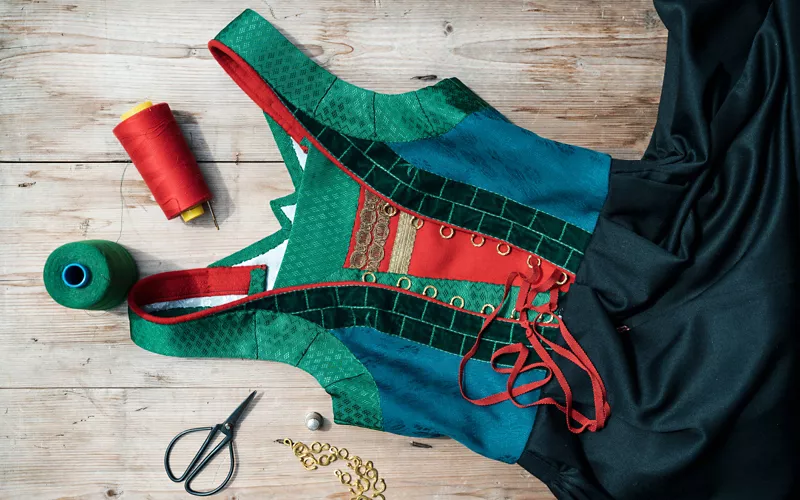 For those who live in the mountains, the automatic inclination to reuse instead of throwing away, now called up-cycling, is nothing new. Giving life back to what has already been produced rather than discarding it to buy something new is a practice that has become more needed than ever and in Alto Adige is an art form.
In Sesto Pusteria there are those who process waste from other productions - from hemp, beer, coffee or tobacco - to make furnishing objects as with Johannes Kiniger's High Society brand. Jasmin Castagnaro, in Bressanone, recycles fallen leaves in autumn to make lamps and tables. The project is called Laab which in the local dialect describes the leaves. With waste the musician Max Castlunger in Val Badia makes musical instruments. Fabrics from old traditional costumes made into bags by the hands of Joachim Premstaller and Marco Vedovelli. 
If not everything can be produced locally, focus is still given to the origin of the raw materials used in local production of sustainable clothing made with organic cotton, bamboo and recycled textiles.
This is what the Re-Bello brand founded in 2012 by Daniel Tocca, Emanuele Bacchin and Daniel Sperandio does, using organic cotton, eucalyptus, bamboo, beech wood, regenerated nylon and recycled wool. Elisabeth Tocca has been doing the same since 2014 by offering sustainable clothing for babies and children including a yoga line. Sigrid Regensberger in Brunico incorporates social inclusion in her artisan production of women's fashion while Norbert Öttl is a carpenter who produces only biodegradable objects with local wood.
Sustainable architecture in Alto Adige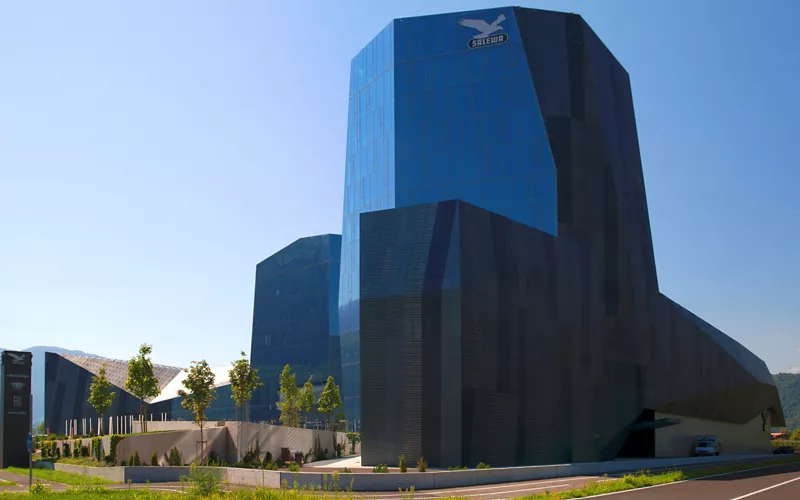 Architecture in Alto Adige also focuses on sustainability and harmony within the landscape and collects prizes upon prizes. The noa * network of architecture, rewarded an Honorable Mention at the International Sustainable Architecture Award for Ötzi Peak 3251m, a viewing platform on the Val Senales glacier.
CiAsa Aqua Bad Cortina, an eco hotel designed by Pedevilla Architects in S. Vigilio di Marebbe, surrounded by the Dolomites of Val Badia, has also received several awards. Pur Südtirol, designed by Harry Thaler in Bressanone, won the German Design Award 2021 in the Eco Design category: it is a shop stocking typical local products entirely built and furnished according to eco-friendly principles.
Sustainable design in Alto Adige has become art beyond form, an example of the love of beauty and goodness that radiates made in Italy.