Abruzzo
Skiing in Abruzzo
Abruzzo, mountainous and park-covered terrain, boasts numerous ski resorts where visitors can have a blast practicing their favorite winter sports.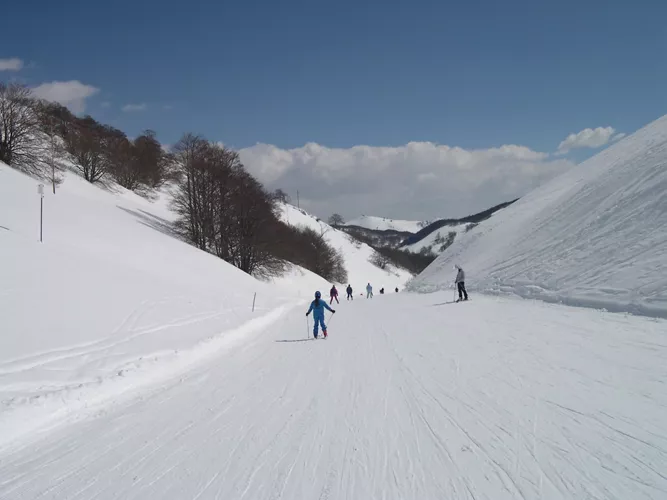 Roccaraso is the ski destination par excellence for Central-Southern Italy. Situated at 4,101 feet above sea level, and known since the early 1900s, it is the most-noted and best-equipped ski resort in the Apennines. It is located in the Province of Aquila, on the plateaus known as the Altopiani Maggiori, and is one of the largest protected areas in the National Parks, the National Park of Abruzzo and of Majella.
The well-appointed resort comprises Aremogna-Montepratello, with 30 very modern cable car apparatuses and 68.4 mi of descent. The cross-country runs, the snowboard park, the possibility to take ski excursions, and the ice hockey arena, all set within a beautiful natural environment, make for a complete and memorable vacation. The excellent hotel and commercial endowments, the beauty and wellness spas, and the endless options for fun ensure an active vacation marked by psychophysical regeneration and relaxation. Such is enhanced by the nearness of the charming towns of Rivisondoli and Pescocostanzo.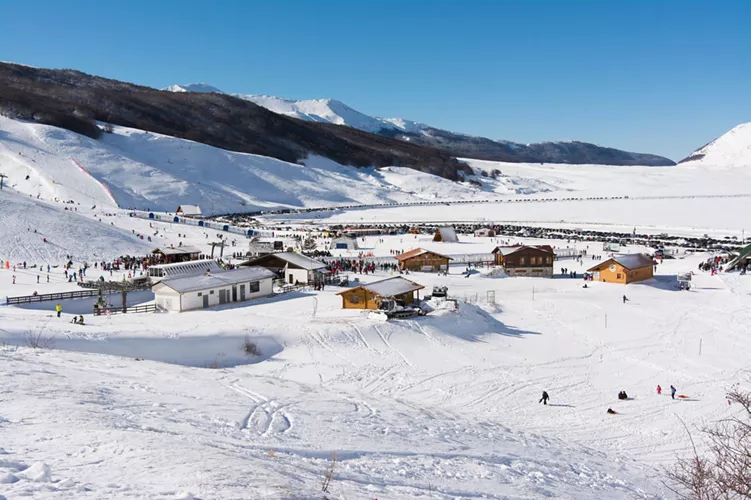 Established in the 1960s, Campo Felice is a well-known ski center, highly-frequented by mostly Roman skiers since its beginnings. Campo Felice is 9.9 miles of slopes satisfying every taste; it also boasts gradients that exceed 1,970 feet. Here skiers can cross two different mountainsides: from the Altopiano delle Rocche, or Rocche Plateau (comprises Rocca di Mezzo, Rocca di Cambio and Ovindoli) to that of Campo Felice (Tornimparte); additionally, it is worth one's while to admire the evocative panorama of Abruzzo's Mountains from Monte Rotondo, taking in the inspiring view of the peaks of Gran Sasso, Majella and Velino.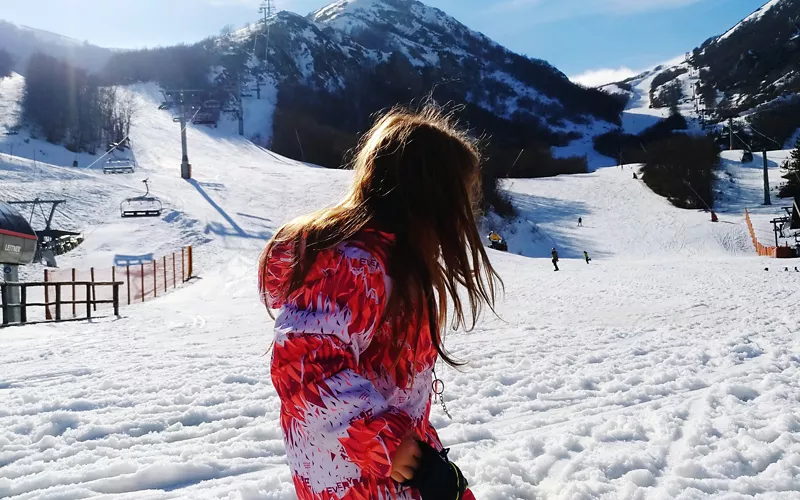 In gorgeous Ovindoli the mountain of Magnola possesses modern ski facilities and can rival other ski points in both Abruzzo and in Central-South Italy. Its ski district rises at between 4,593 and 7,283 ft and expands over 18.6 miles of ski track.
Pescasseroli (like the others, in the Province of L'Aquila), is blessed with modern installations: three chair-lifts, three ski-lifts, an area for beginners, and a variety of slopes running over 12.3 miles (some of which are more than 4.3 miles in length).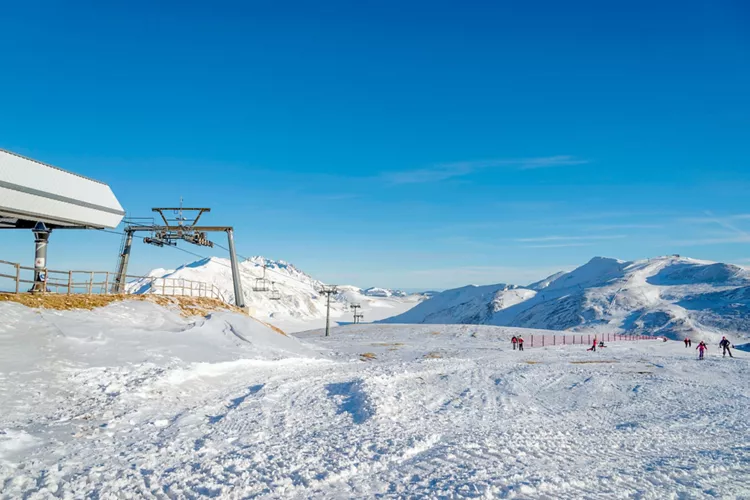 Campo Imperatore, then, was actually the first ski resort born in the Apennines Range; it lies at the edges of the same-named plateau that is overshadowed by the summits of Gran Sasso. Among the chilliest zones in Italy, it is characterized by consistent snowfall, November to April. While in summertime it is accessible by several passable roads, in wintertime it is easier to take the cable car transport connecting Campo Imperatore to the Commune of Assergi.
The slopes that make up this ski resort can extend to 9.3 miles and are served by four different ski lifts. Thirty-seven miles of Nordic Ski track are also available, in addition to snowboarding areas and a snowpark.
Prato Selva and Prati di Tivo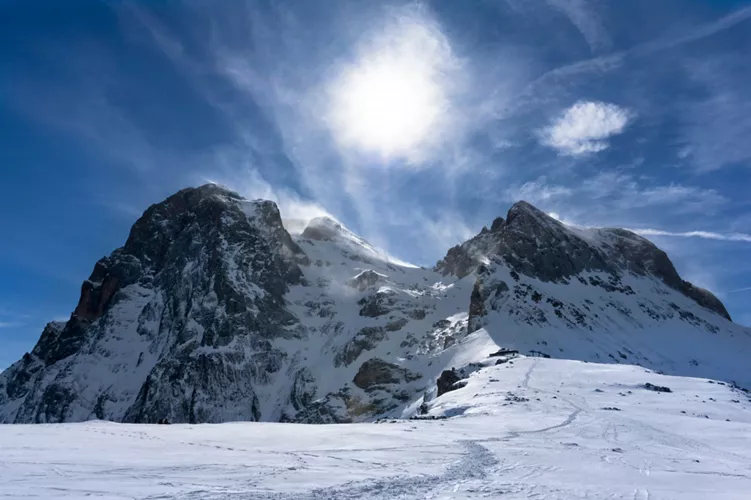 On the opposite side of Gran Sasso (in Teramo Province), Prato Selva is a smaller ski destination, at an altitude of 4,593 ft, that welcomes ski lovers to some of the Gran Sasso massif's longest descents.
These extremely long slopes, sweet and varied, are ideal for their snow cover, even though they are flooded with light from dusk to dawn. Cross-country skiers and mountaineers especially will be happy here, due to the safe and relatively leisurely paths.
Prati di Tivo (also in the Provincial territory of Teramo), is another buzzing ski spot, this one at the feet of Corno Piccolo's south face. The ski installations cover 1.4 mi of slopes in descent, with a cross-country ski track alongside. Prati di Tivo is also busy in summer, rich in Ski Touring itineraries and a draw for those interested in excursions and mountain treks.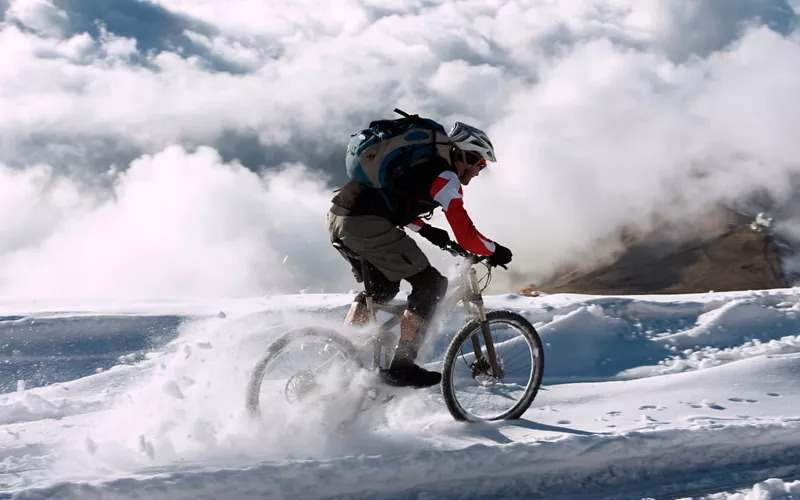 Among other sports,  cycling is by now a consolidated tradition for which not only free-ride, downhill and cross-country tracks exist (in Pizzalto), but also spaces for ice-skating and figure skating. The Palaghiaccio di Roccaraso is equipped with a modern Olympic ice rink (98.4 ft x 197 ft). In summer (June to September), the ropes course in Ombrellone - incorporated into a pretty pinewoods area - lets guests take on two itineraries (green and blue) with varying difficulty levels.