Molise
In the heart of Italy, a small oasis waiting to be discovered
A little-known region, custodian of treasures and distant memories of peoples who have made Italy's most ancient history.
Powered by:

The Matese massif, harsh and wild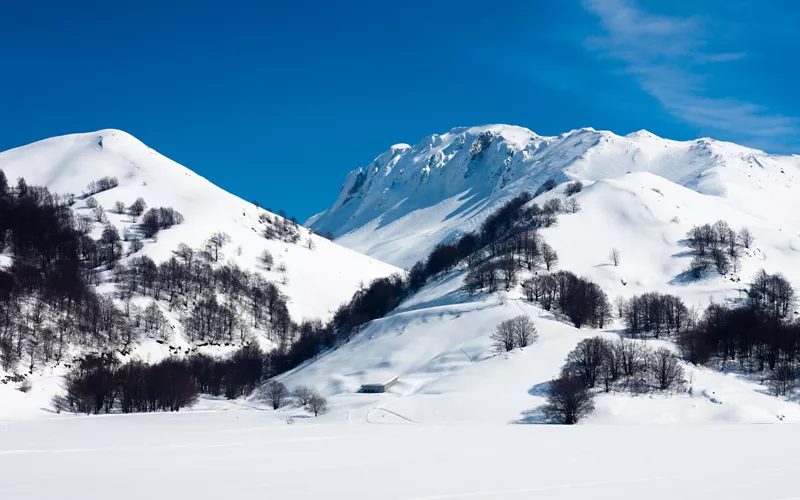 More than half of Molise's surface area is covered by mountains. A true natural heritage, rugged and wild, pure and uncontaminated, rich in biodiversity thanks to lush vegetation and the presence of pure springs that give rise to the Biferno, Volturno and Trigno rivers. 
The highest peaks in the region belong to the Matese Massif, one of the most important mountain groups in the Apennines. Among them, Mount Miletto exceeds 2,000 metres in altitude. But the Matese is also famous for the phenomenon of karstification, which has given rise to caves and cavities of great speleological interest and spectacular landscapes, such as the canyon of the Quirino torrent, the San Nicola waterfall, the caves of Pozzo della Neve and Cul di Bove in the WWF Oasis of Guardiaregia Campochiaro. A favourite destination for winter sports enthusiasts is Campitello Matese with its facilities and 40 kilometres of slopes for alpine skiing.
The Molise coast, 35 kilometres of beauty and excitement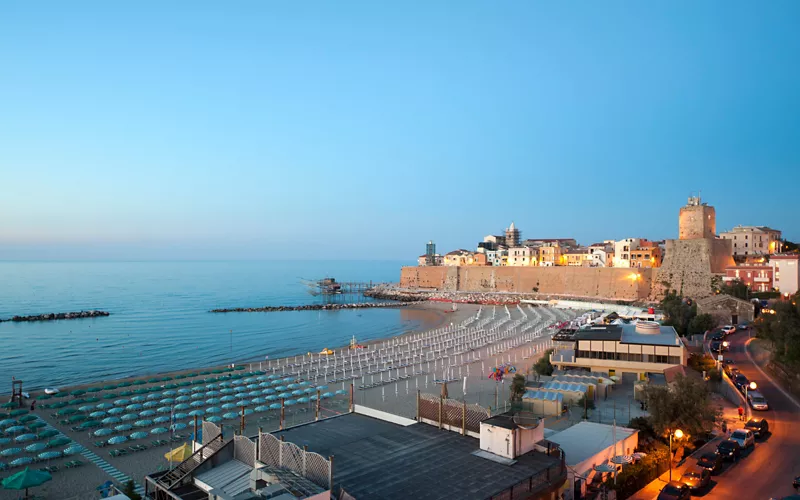 A short stretch washed by the Adriatic that stretches from the mouth of the Trigno river to that of the Saccione torrent in Apulia and condenses the best of Molise's summer tourist offer. Whether isolated and wild shores surrounded by dunes and pine forests or wide beaches of fine sand, the Molise coastline has many arrows in its bow to strike a chord in your heart. 
Termoli is the most renowned seaside resort thanks to the beauty and breadth of its beaches - Sant'Antonio and Rio Vivo - both characterised by fine sand and crystal-clear water. The Borgo Vecchio, the oldest part of the town, stands on the top of a promontory and looks like a charming, fortified citadel, characterised by small squares and narrow streets, including Vico Il Castello, one of the narrowest in Europe. Together with Termoli, the small towns of Marina di Montenero, Petacciato and the Campomarino Lido offer a wonderful natural setting in which to spend relaxing and regenerating holiday days.
Strong and romantic Molise
"Molise is among the most secret, deepest and least known plains of our country", wrote Guido Piovene in 1957 in his journey through Italy in search of the signs of landscape, history, and society that distinguish the various regions from one another. This condition of 'non-knowledge', in some way of presumed 'indefiniteness' of Molise's lands, has changed somewhat in more than half a century, but not as much as it should. Molise, while enjoying distinctive natural and historical traits, in more than a few surprising cases, still seems to elude broad consideration and familiarity, a widespread awareness of its characteristics and heritages. The advantage, then, is that here one can still appreciate a kind of romantic 'foreignness', ideal for those who seek unexpected sensations of land and sea.