The 5 favourite destinations for the Milanese to ski near Milan
Which are the favourite places for those who love skiing near Milan? Here are 5 tips for unforgettable skiing holidays in Lombardy, including snowshoeing and downhill skiing.
Piani di Bobbio - Distance from Milan: 1 hour and 10 minutes
The morning spent at the office in Milan and a snowshoeing trip to Piani di Bobbio in the early afternoon: quite a schedule! In fact, in just over an hour from the city centre, you can reach this ski resort between the provinces of Lecco and Bergamo by motorway.
The Skipass for Piani di Bobbio, available in hourly, daily or longer-term versions, allows you to use the 11 ski lifts serving 35 kilometres of alpine ski slopes: 10 km of blue, 16 km of red and 9 km of black slopes.
Snowboarders can have fun in the more than 1,500 square metres of the Bobbio Park, while if you prefer snowshoeing in company, you will find two routes suitable for everyone that will take you up to 1,900 metres above sea level.
Pila - Distance from Milan: 2-3 hours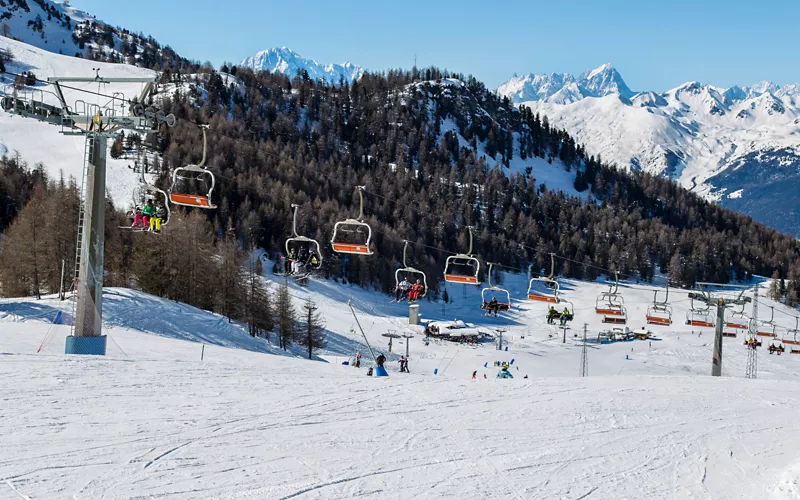 Ideal for a long weekend in the snow or a skiing holiday from Milan, Pila in Valle D'Aosta has everything that downhill skiing, snowboarding and snowshoeing enthusiasts could dream of.
16 ski lifts, including 8 chairlifts and 3 gondolas, serve Pila's more than 70 kilometres of tracks and slopes, some of which are truly magnificent, such as the Pista del Bosco and Couis 1.
If you love snowshoeing, you will not want to miss the trips organised by moonlight, and if you want to hone your snowboarding skills, Areaeffe awaits you, just a stone's throw from the Grimod chairlift at an altitude of 2200 metres.
For those who also just want to enjoy a breath of mountain air, the Aosta-Pila gondola is worth the journey. In 18 minutes from the city centre, you will reach the resort at an altitude of 1800 metres and can stroll through the fir and larch forests.
Madesimo - Distance from Milan: 2-3 hours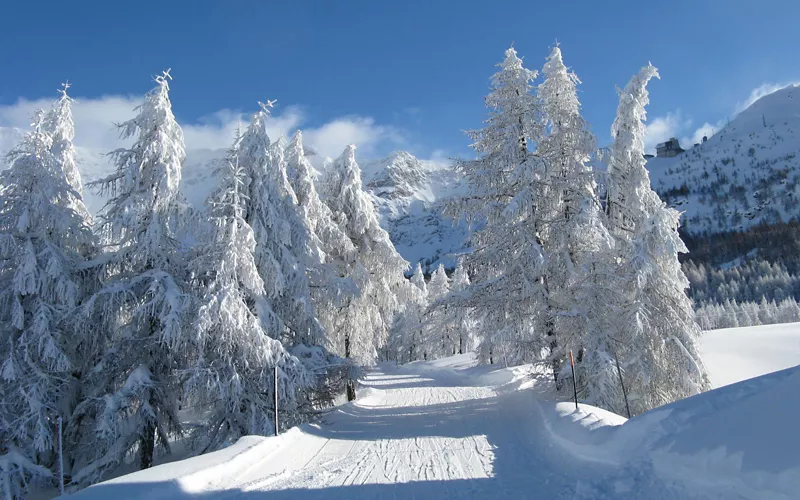 The Madesimo ski area can be reached in 2-3 hours by car from Milan, depending on traffic and on which road you decide to take. For the most part, you will be driving along the shores of Lake Como, encountering truly spectacular scenery.
We recommend planning at least a weekend, or a week-long visit, to the Madesimo slopes to have the opportunity, on Wednesdays and Saturdays, to ski at night until 10.30 p.m. and dine at the Rifugio Larici. If you want to enjoy the snow at night, but don't want to ski, the area's guides organise snowshoe hikes on full moon nights that you can't miss. 
Chiesa Valmalenco - Distance from Milan: 2-3 hours
In under 3 hours from Milan you can also travel to Chiesa Valmalenco and discover the breathtaking views of Alpe Palù, in the province of Sondrio.
The recently renovated facilities of Chiesa in Valmalenco are part of the Valmalenco Ski Resort and include the world's largest cable car with 160-person cabins: the Chiesa Valmalenco cable car, known as Snow Eagle, takes you from 985 metres to 2078 metres in less than 4 minutes, at a speed of 10 metres per second.
The slopes of Chiesa Valmalenco extend for 35 kilometres and include particularly scenic runs such as the blue Sasso Alto-Palo, the red Barchi and the black Nana-Sasso Alto.
Bormio - Distance from Milan: 3-4 hours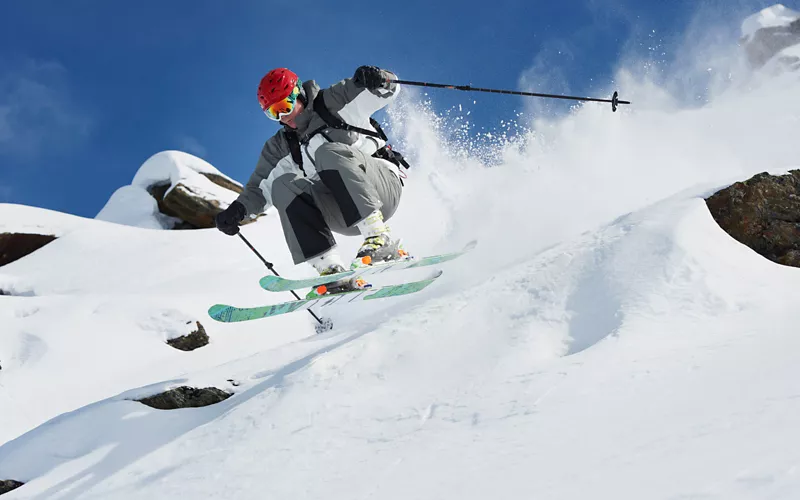 If you love downhill skiing, Bormio will be your go-to ski resort just a few hours away from Milan. This is where the World Cup downhill races take place, on the very long Stelvio slope that descends from 2,255 metres to the village at 1,268 metres with a maximum gradient of 60%. If you prefer quieter situations, the facilities in Bormio serve 50 kilometres of slopes, 20 of which are also suitable for beginners, and there is also a large snow park and 2 school courses.
There are many suggestive snowshoeing trails in Bormio, but we recommend the Sentiero delle Sorgenti, which goes up to an altitude of 2,000 metres, and the Sentiero dell'Ables, recommended for those who already have experience with snowshoes.
For the Milanese, Bormio is also the starting point for day trips to the Santa Caterina or Livigno ski resorts. Here, in addition to skiing, shopping is advantageous because it is a tax-free zone.