Dive into the wonders of the underwater world at Cattolica
Our first stop is Cattolica, queen of the Adriatic offering an infinite range of activities for all age groups. Starting off with the attraction that every year draws in the tourists to the seaside resort, The Navi Aquarium: the largest aquarium on the Adriatic coast.

Within the structure, is still nestled the building that was used as a summer camp for children in the 1930's. The children will be amazed upon seeing all the various sea creatures that swim here. Tropical fish, piranha fish, sharks and jellyfish, but also penguins, otters and turtles too. An extraordinary spectacle that will have your little ones overjoyed, and at the same time teaching them of the importance of safeguarding these underwater wonders.
After the visit, we would of course recommend you spend the rest of the day on the beach: and if it's not the most ideal season for a swim, to enjoy a lovely beach stroll.
Cattolica has been repeatedly awarded a Blue Flag for the water quality and public services: the beach is well equipped and looked after. The sand is super fine: ideal for building sand castles while mum and dad relax on a lounger.
Rimini. Italy in miniature, feel like Gulliver in Lilliput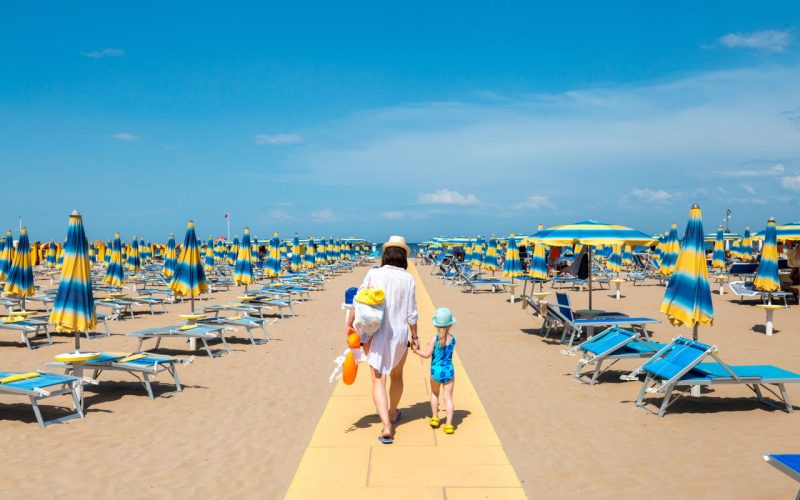 We continue with Rimini, the capital of seaside entertainment that offers a vast range of entertainment options. We will limit ourselves to suggesting the attraction that will perhaps intrigue your children the most: Italy in miniature. Showing as many as 270 perfectly scaled reproductions of every corner of Italy that would enchant any child. Also an excellent opportunity for learning while having fun.
Monuments, buildings, historic sites so small that you'll feel like Gulliver in the land of the Lilliputians, taking but a moment to travel through a territory that spans from the Alps to Sicily. Furthermore, within the park you will also come across smaller parts of Europe in miniature, before heading over to the adventure area: here you can experience the thrill of ziplining, Tibetan bridges and breathtaking walkways amongst the treetops. 
All smiles at Mirabilandia and Fiabilandia
On the third day you'll have to make a tough choice: Mirabilandia or Fiabilandia?

The first is the largest theme park in Italy, where you can visit attractions that transport you back in time, go on super adrenaline pumping rides or take in a live show. There's even a Ducati World, a whole 35,000 square metres dedicated to two wheeler fans.
Fiabilandia, in comparison this adventure park is dedicated to the idea of magic and fairy tales. Here the stories, characters and magic that live in the imagination of our little ones are brought to life. Ready to let the kids decide which one to visit?