The journey can only begin in Salsomaggiore, the queen of spas in Emilia Romagna. Here, in fact, is the Berzieri spa, a true temple of health that has always been synonymous with excellence but also elegance thanks to its dazzling Art Nouveau style.
Before even entering, take a seat in one of the bars across the square from the spa building and enjoy the ​panorama.
Pay a visit to the tourist information office located in the beautiful Warowland Palace where you will also find a shop selling thermal water products and a lovely inner courtyard with a garden.
And if the main activity in Salsomaggiore Terme is relaxing among pools and thermal baths, be sure to plan a tour of the centre. There are several art deco and art nouveau buildings worth looking at, part of a pleasant walking route through the city.
Also enjoy a walk in the greenery and silence of Mazzini Park, a large green space with trees, paths, flowerbeds, a children's playground and a pond.
Salsomaggiore Terme will also prove to be strategic as a base for the entire weekend thanks to its proximity to numerous interesting castles and medieval villages that can easily be visited during day trips.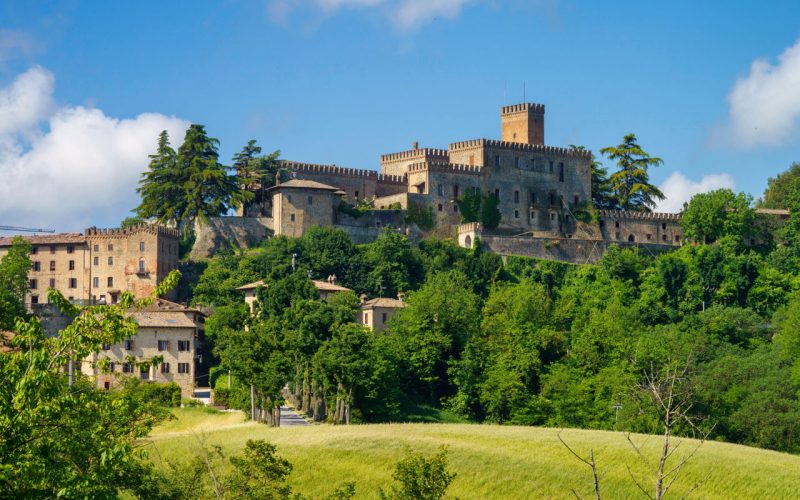 In the hills of Salsomaggiore there are some splendid castles that deserve a day in themselves. We start at Contignaco Castle, also called Aldighieri Fortress, built around the beginning of the 11th century by Adalberto Pallavicino. According to legend, Dante Alighieri himself stayed there during his two-year exile.
It is possible to visit the castle by appointment only.
The castle is also renowned for its wines, which can be tasted during the visit.
After a visit and a tasting, set off for Scipione Castle, the oldest in the province of Parma.
Nicknamed Castello del Sale (Castle of Salt) for its strategic position in defence of the numerous wells for salt extraction, Scipione Castle has remained for centuries mostly in the hands of the Pallavicino family.
For those who want to stay within these historic walls, there are two suites with separate entrances and private gardens.
Just like Salsomaggiore, Tabiano Terme has its own magic water, with a high sulphur concentration, and extremely beneficial for the respiratory system, metabolism and skin.
A must-see destination is Terme Respighi, also known as Terme del Respiro, housing the T-Spatium centre, a spa with a 32°–35° sulphur water pool, sauna, bio sauna, Turkish bath, Kneipp path, whirlpool bath and aromatic showers.
Illustrious guests included Giuseppe Verdi with his second wife, Giuseppina Strepponi, and the tenor Enrico Caruso.
After a few hours of relaxation, find the time for one last visit. The Tabiano Castle, between ancient cellars and vaulted ceilings, absolutely worth a visit. Here, you can also stay at the Antico Borgo on the slopes of the Castle, enjoying the authentic charm of medieval dwellings, enriched with all comforts.