Close to the sea and a byword for nightlife, Rimini is also a city rich in history and culture
More than two centuries of history have left unforgettable traces in the centre of Rimini, where in just a few steps you can pass from ancient Rome to Renaissance splendours and the charm of Fellini's settings. This is all just a short distance from the beaches, nightlife venues and the most popular amusement parks of the Romagna Riviera in Italy.
City
From ancient Rome to Renaissance splendour
Rimini is the city where past and present coexist in harmony with history, art and food and wine. Ancient Roman Ariminum, a medieval municipality and Malatesta Signoria, but also a therapeutic and seaside resort and Italy's holiday and nightlife capital. The thousand faces in Rimini never cease to surprise and amaze.
Learn more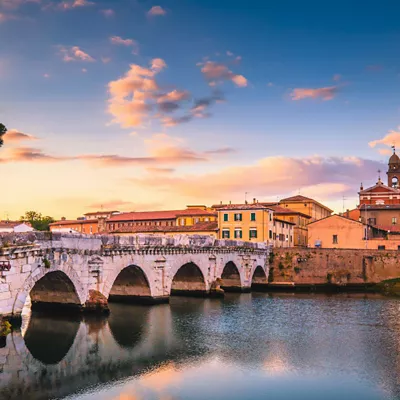 Useful info
All you need to know