Combining wine and UNESCO world heritage landscapes
Italy's richness and uniqueness in wine production is well-known all over the world. Suffice it to say that some production areas have been awarded a UNESCO Heritage status - for example, the Piedmontese wine-growing areas of Langhe-Roero and Monferrato; the Prosecco Hills of Conegliano and Valdobbiadene; and the alberello vines of Pantelleria. But, even beyond these incredible excellences, the Italian wine tourism offer is truly immense.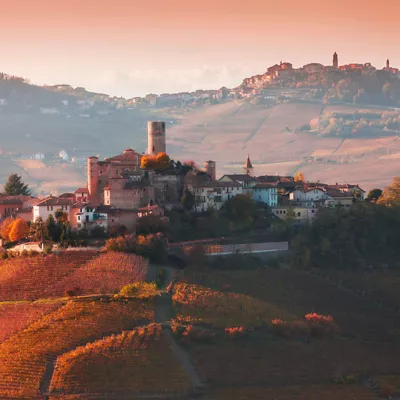 Unmissable experiences
From Tuscany to Piedmont, from Trentino-South Tyrol via Friuli Venezia Giulia to Campania, there are many Italian regions and territories whose hillsides are covered with rows of vines and vineyards, and all are well worth discovering.

But how? The world of wine is being enriched with increasingly new experiences. In addition to the classic visits with wine-tasting in a cellar, there is a growing number of opportunities to relax in a wine resort. This is the case at Castello di Spessa in Collio Goriziano in Friuli, where you can sleep in sumptuous rooms in the ancient castle, or in country chic rooms in the annexes.
Or, for the more adventurous, you could explore the rows of vines in a four-wheel drive vehicle, thus combining the thrill of off-roading with the magnificent South Tyrolean wine landscape.
Yoga enthusiasts, on the other hand, may well discover a new dimension to their practice with lessons in the vineyards. For example, in those of the Il Falconiere winery in Cortona, Tuscany, which also offers a personal trainer, spa and Michelin-starred restaurant.
These are all experiences that, thanks to the technological development of the sector, have become much more accessible and can be booked online.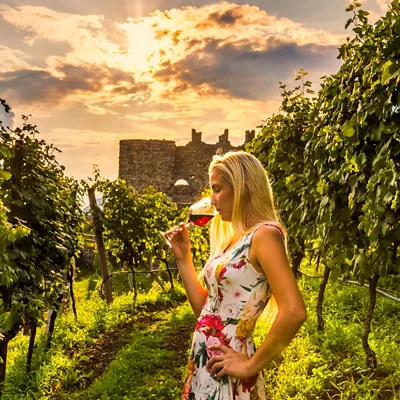 Wineries and sustainability
And as tourists are increasingly attracted to eco-friendly destinations, the Italian wine sector is responding with the growing popularity of the 'sustainable winery' concept. Sustainability is understood both from an environmental point of view—attention to consumption and waste management, use of renewable energy sources and materials with a low environmental impact—and from a social point of view, to promote the socio-economic development of the Italian territory. 
Also worth noting is the exponential growth of the female contingent in the management of the various activities related to the sector.

Italy is also the capital of wine tourism for 2022: the sixth edition of the Global Conference on Wine Tourism will be held in Alba, Italy, from 19 to 21 September. The focus will not only be on the development of the industry, but great emphasis will also be placed on sustainability and inclusiveness in the production areas.