UMBRIA
Umbria: the scenic flight here takes place against an enchanting backdrop of villages, hills and blooming meadows
In Castelluccio di Norcia, flying over acres of blooming meadows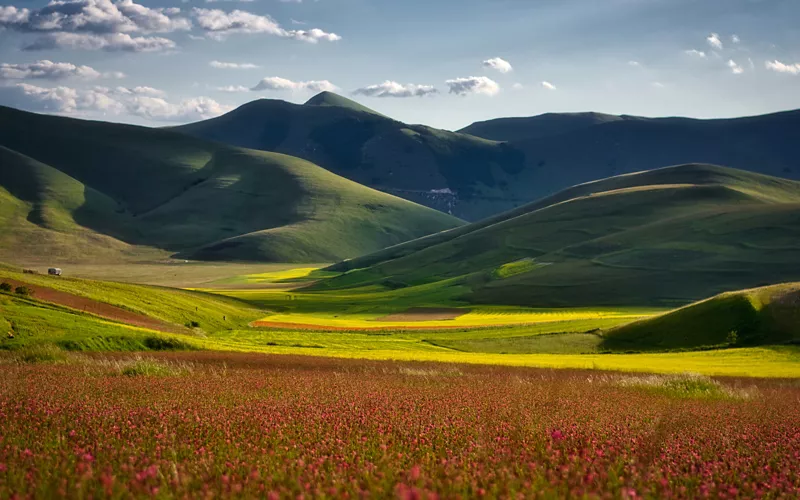 The first attractive destination we recommend is Castelluccio di Norcia, a small Umbrian village perched at an altitude of 1452 metres, inside the Sibillini Mountains National Park and at the foot of the imposing Vettore massif, in what is significantly called the "Valley of the Eagles" (or "Tibet of Italy").
Between late June and early July, its steep meadows are covered with a colourful carpet of gentians, daffodils, violets, buttercups and daisies, a bloom that draws thousands of tourists every year.
It is an authentic spectacle of scents and colours the panorama that unfolds before the eyes (and inebriates the nostrils) of those who take off from the national airfield at Castelluccio di Norcia, a meeting place for pioneers and free flight enthusiasts, which offers courses and experiences in hang-gliding and paragliding, also in tandem, aboard two-seater craft led by expert instructors.
Taking off from Mount Cucco, home to international competitions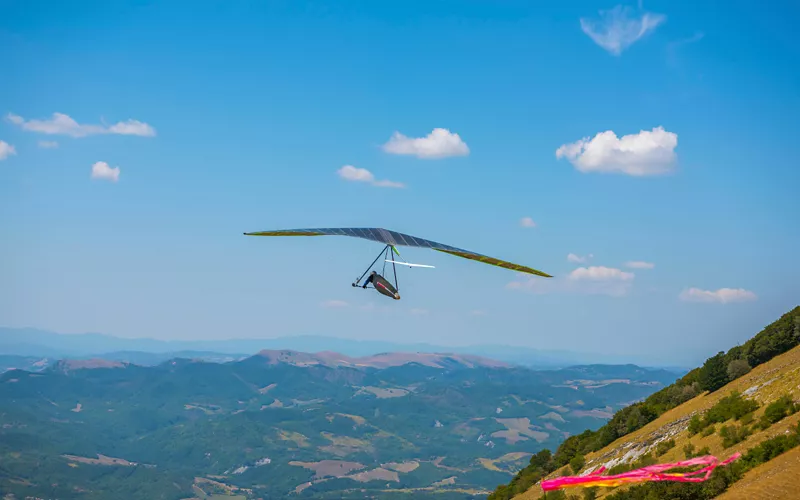 The orographic characteristics and the absence of reliefs hindering the alternation of the Atlantic and Balkan currents also make the territory of the Monte Cucco regional park an excellent destination for free flight, particularly for the discipline of hang-gliding: its esplanades are among the very few places in the world where it is possible to take off and land in the same spot.
It is no coincidence that national and international free-flying competitions and open hang-gliding championships are also held on the Monte Cucco massif, in addition to the traditional Monte Cucco Trophy tournament, in which many foreign delegations participate.

On its territory you will find several associations that carry out didactic activities and "double" tourist flights, for those who want to experience a baptism of the air with the support of an experienced pilot.
Terni, Assisi and Spello: a bird's eye view of art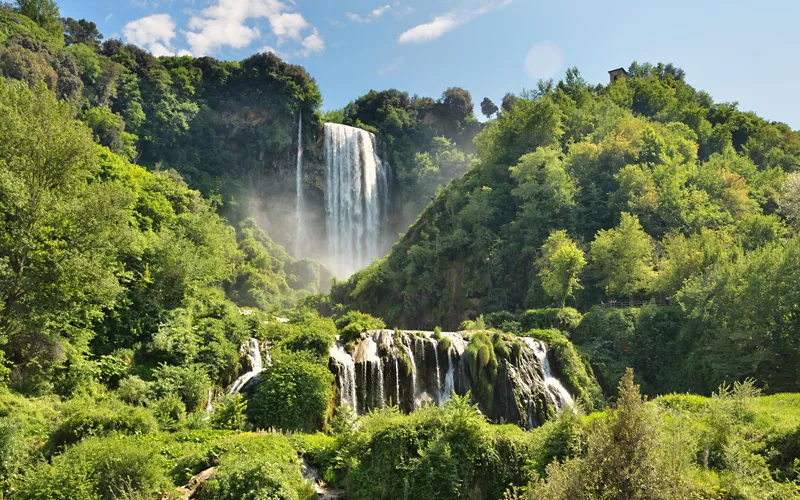 Even from the green heights to the north of Terni, one can experience the magical thrill of a first hang-gliding flight, escorted by the safe guidance of a professional pilot: this is a less frequented area by hang-gliding enthusiasts than the previous ones, but it offers the unmissable chance to take off while enjoying a spectacular view over the Marmore Falls.
If, on the other hand, you decide to ride the currents starting from Mount Subasio, at an altitude of 1290 metres, facing a drop of more than 1000 metres, you can try the equally memorable experience of flying over, on board a two-seater hang-glider, the fortress of Assisi and the picturesque village of Spello, scenic panoramas rich in art and history.