Tuscany
Cycling in the land of the Etruscans: from Camaiore to Val di Merse, with a stop in Volterra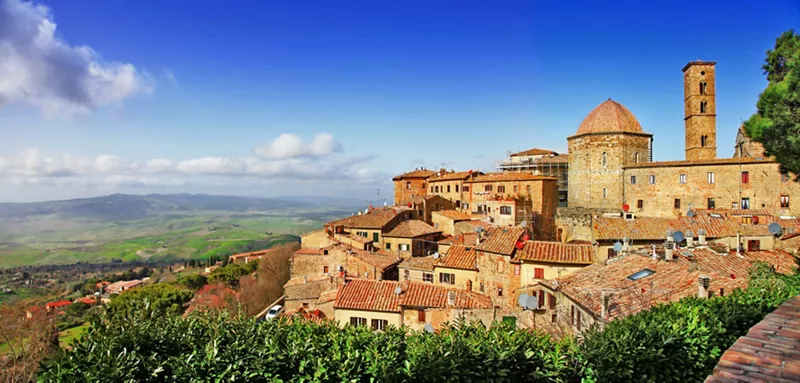 Before getting on your bike, we recommend a visit to the Abbey of San Pietro, near the centre of Camaiore, once belonging to a Benedictine monastery. The image of the church, with its white stone façade silhouetted against the blue sky, will accompany those who tackle the first stretch of the race. It's a lunge across the Pisan plain, with long straights that touch on Pisa, Ponsacco, and Lajatico. Amateurs can stop off in Volterra (a hundred or so kilometres from the start), the city founded in the fourth century B.C. by the Etruscans that dominates the Val di Cecina. What are the must-see landmarks, once you get off your bike? In addition to the famous alabaster workshops, the Palazzo dei Priori, the oldest town hall in Tuscany, built from 1208, and the Cathedral of Santa Maria Assunta.
In San Galgano, between charm and legend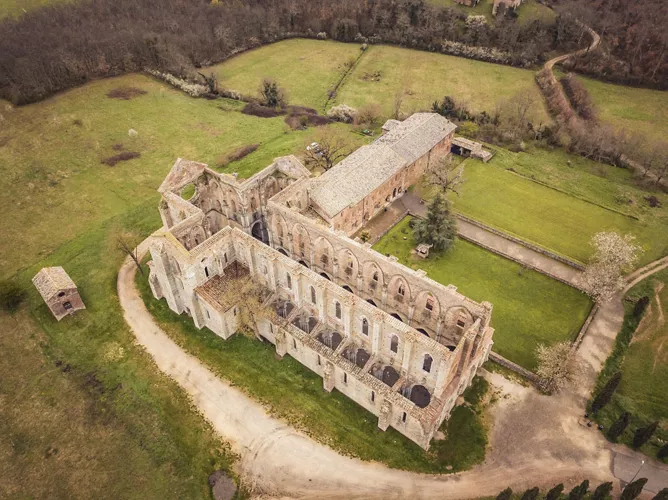 Rolling on undulating roads, you enter the Siena area, a land of uncontaminated greenery, history and legends. After reaching the Colonna di Montarrenti, the route becomes a sort of circuit that, after a stretch of national road, meets the La Pineta climb. Past the municipality of Monticiano, perched on a hill surrounded by luxuriant nature, you reach the San Galgano plain and immediately think of the abbey of the same name. Only the majestic walls, the naves and some rooms remain standing of the building constructed by the Cistercian monks from 1218, but something else makes it an evocative place: 200 metres away, in the Rotunda of Montesiepi, is the Sword of San Galgano embedded in the rock.
In Sovicille, amidst dry stone walls and sunflowers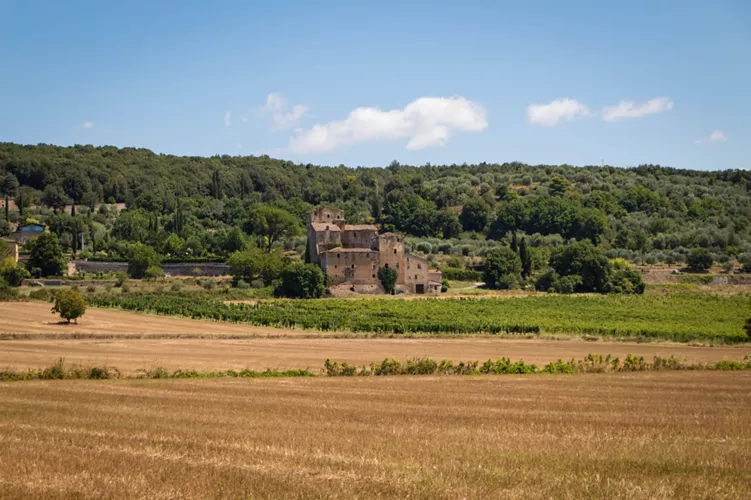 Approximately 20 km from the finish is the symbolic climb of this stage leading to the town of Chiusdino: a mildly uphill start and a steep climb in the final 3 kilometres, with peaks of 8% gradient. A warning to amateurs: be prepared to ride out of the saddle. Once you reach the top, however, you can breathe a sigh of relief. The last part of the route is virtually flat, but not without emotion. Approaching the finish in Sovicille is a magical experience: the Etruscan town looks like a small island suspended in a sea of woods. And even its historic centre, full of narrow streets and stone-walled houses, is a balm for the mind. Just like the 18th-century Villa Lechner, built on the castle walls, with a staircase leading down to the gardens. A final note. This is the starting point for the Girotondo a Sovicille, a perfect route for a two-wheeled trip with the whole family: 29 km with a minimum elevation gain (300 metres), winding along minor roads surrounded by sunflower fields, vineyards, olive groves and dry-stone walls.
By the editorial staff of RCS Sport.