Trentino
Madonna di Campiglio: a slalom between the slopes and sophistication
If you want more from a ski resort than just superb slopes and spectacular views, you are sure to love Madonna di Campiglio.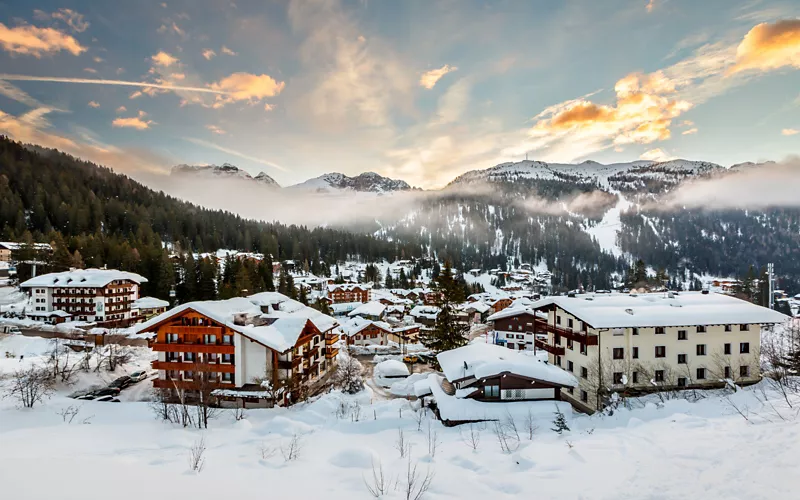 At 1,550 metres above sea level and surrounded by the Brenta Dolomites and the glaciers of the Adamello group, Madonna di Campiglio owes its epic transformation, from a quaint mountain village to the ultimate ski tourism resort, to a local timber merchant. Giovanni Battista Righi realised the area's potential back in 1868, when he bought an old monastery and converted it into a hotel. Many others soon took the same gamble, and just a few years later Madonna di Campiglio became a tourist hotspot. Notable guests have included Franz Joseph I of Austria and his wife Sissi, who both enjoyed strolling through the valleys.
After the Second World War, some entrepreneurs from Lombardy decided to invest in state-of-the-art infrastructure and facilities in the area. Traces of its glorious past can still be found today in the traditional stubes and elegant hotels in the town centre. Oh, and make sure not to leave Madonna di Campiglio without first pausing to admire the Hofer Hall at the Grand Hotel Des Alpes. 
Downhill or cross-country, snowboarding or ice skating: something for everyone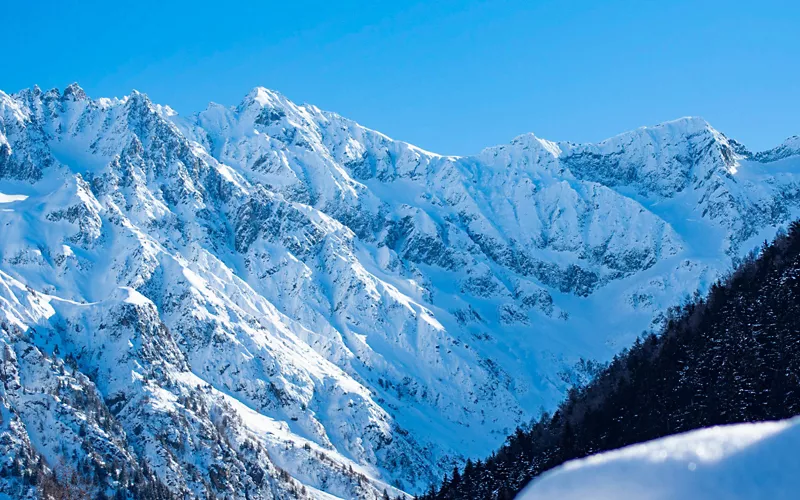 Nestled among enchanting lakes, woods and waterfalls, Madonna di Campiglio offers boundless skiing across a spectacular and varied mountain environment, with kilometres of slopes with various difficulty ratings.
Downhill skiing not your thing? Try out some Nordic skiing, immersing yourself in the pristine nature of the Adamello Brenta Nature Park. The Campo Carlo Magno cross-country ski centre offers 22 km of trails, while the Pinzolo-Carisolo cross-country ski centre hosts a delightful 5-km trail with artificial snow and night lighting.
If you love snowboarding, we recommend checking out the two beloved snow parks: Ursus (and Mini Ursus, which is perfect for the kids), accessible by the Grosté Pass cable car, and Brenta Snow Park in Pinzolo, served by the Grual chairlift, which offers 18 facilities to meet the needs of all guests, absolute beginners and seasoned experts alike. If ice skating is right up your alley, you have the choice of the Madonna di Campiglio lake for a refreshing adventure en plein air, or the Pinzolo Ice Arena, where you can experience skating on an Olympic ice rink.
A visit to Pinzolo, a town where time stands still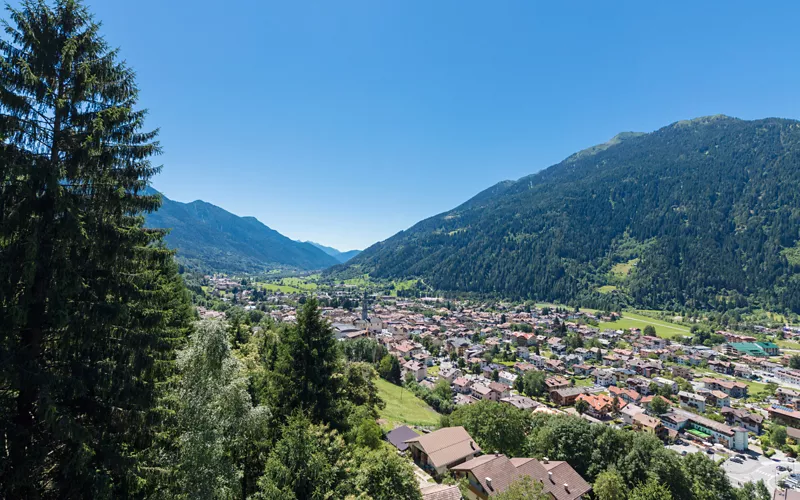 Speaking of Pinzolo, if you're in search of a more authentic and stimulating atmosphere, you're sure to be enthralled by this small town in Val Rendina.
The path less travelled compared to Madonna di Campiglio, but by no means any less enchanting, Pinzolo retains the traditional flavour of the mountain resorts of the good old days. The historic centre flaunts colourful, decorative age-old buildings, as well as the 16th-century church of San Vigilio, which houses works by Simone Baschenis, a renowned painter from Bergamo who is best known for his Danse Macabre frescoes.
Pinzolo is also home to Val Genova, known as the "valley of waterfalls": admiring the gushing cascades of the Nardis waterfalls, among the highest in Trentino, is a truly magical experience.
A spa break in Caderzone: healing waters and beauty treatments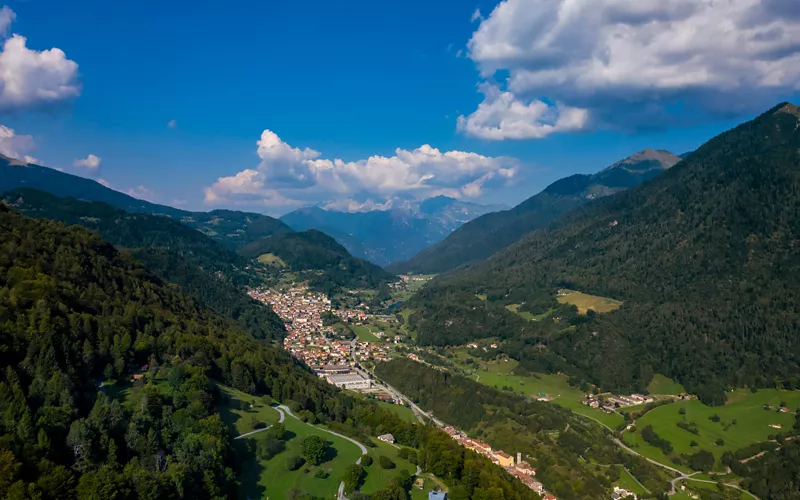 The Borgo Salute thermal baths in Caderzone Terme, not far from Madonna di Campiglio and Pinzolo, flow with Sant'Antonio ferruginous spring water, which is ideal for respiratory and vascular treatments. As well as a section for hydroponic and inhalation therapies and balneotherapy, there is a wellness area that offers a swimming pool, a sauna, hydro-massage, a Turkish bath, a Kneipp path and beauty treatments. These thermal baths were born out of the redevelopment of some of the village's historic buildings.