Trentino
Discover the grandeur of the Dolomites trails and hikes
Savouring the full spirit of the Dolomites is all about going from one stage to the next, stopping at mountain huts and mountain houses, experiencing and admiring wonderful landscapes.
The beauty of the Dolomites amid the Alta Via and scenic routes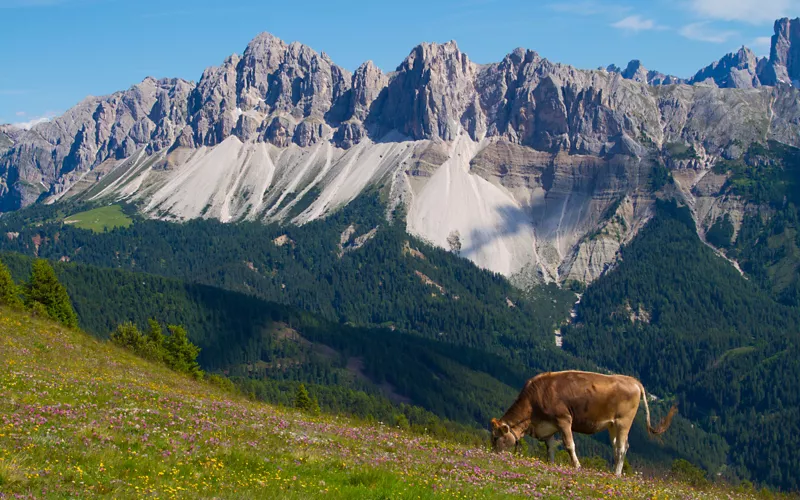 The Alta Via of the Dolomites, or high routes, can be walked on 10 hikes covering approximately 200 kilometres.

It starts with the Ortles High Route that will take you to the highest peak in Alto Adige from the Stelvio National Park.
From the Alta Via di Merano, routes branch off into the Tessa Group Nature Park, while the Alta Via della Val Venosta offers high mountain tours to Monte Sole.
The Alta Via Lausitz or Via Vetta d'Italia is the oldest of the Alte Vie in the Alto Adige region. TheAlta Via di Bressanone on the Plose is a hike that covers the Plose mountain. The Alta Via di Appiano consists mostly of forest paths Hufeisentour, on the other hand, marks the High Route in the Val Sarentino Alps, where it is possible to walk along hidden paths lost in nature.
Among the memorable hikes that can be made in the Upper Adige Dolomites is the "Dolomites without borders" route, to discover the borderland between Austria and Italy consisting of 108 kilometres of roads, ferratas and walkways, the same that the soldiers of the First World War walked more than a hundred years ago. The walk is divided into 9 stops, each of which allows you to immerse yourself both in nature and in a piece of contemporary Italian history.
Then there is the Sentiero delle Due Valli, another trail that crosses Italian and Austrian peaks and connects Hopfgarten with Rasun di Sotto. It consists of 90 kilometres in 6 stages along a unique trail, which combines the element of a lowland hike with a real mountain trail. Finally, the Dolomites Panorama Trail, known as Dolorama, is a scenic route that runs from the Rodengo and Luson Alps to Laion and consists of four stops.
And if you love trekking the trip you need is the Geotrail, a route through a UNESCO World Heritage area designed to provide an insight into the geology of the Dolomites and the history of their creation.
A breathtaking 176-kilometre-long walk with 10 stops.