EMILIA ROMAGNA
The 9 best holiday farms in Emilia-Romagna with a swimming pool for unforgettable weekends away
How to choose the best holiday farm with swimming pool in Emilia-Romagna to suit your needs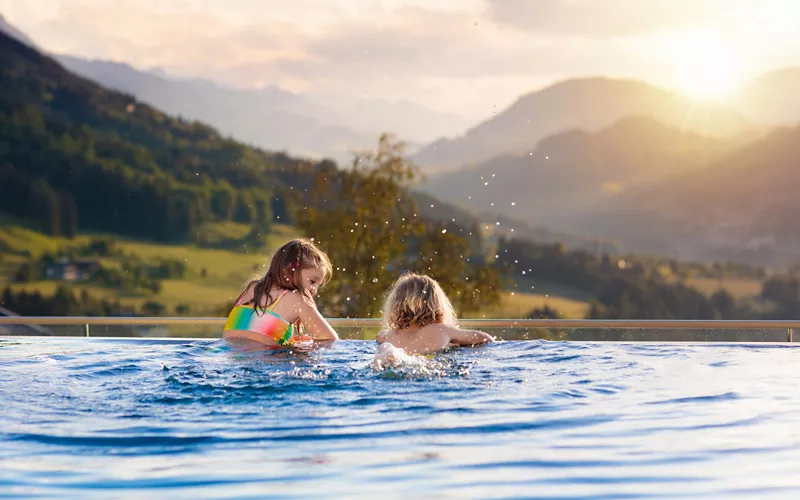 If you are planning a weekend of relaxation in Emilia-Romagna there are two routes to take. If you want to combine your well-earned rest with a bit of exploration, you can choose the area you wish to discover, such as the Emilia plain in the Ferrara area or the Adriatic coast between Rimini and Ravenna, and find an agritourism with a swimming pool based on the points of interest you absolutely cannot do without.
If, on the other hand, you wish to pamper yourself without choosing a particular destination, let the choice of agritourism guide you, perhaps benefiting from a few extra comforts or particularly favourable offers. Rest assured, every part of the region contains gems to discover after you have indulged in good food, swimming in the pool, massages and activities for the whole family.
An unforgettable weekend on the Emilia-Romagna coast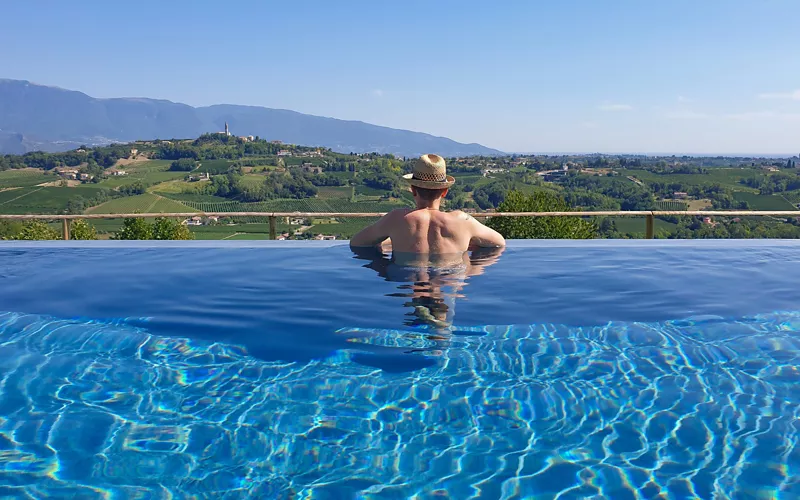 The Romagna coastline is full of agritourisms with swimming pool offering half-board or full-board accommodation just a stone's throw from the sea, in cities such as Ravenna, Cesena and Comacchio, or places of interest such as the Mirabilandia park.
The La Spagnera agritourism in San Pietro in Vincoli, for example, is arranged on two levels in an old farmhouse dating back to the early 19th century. It has a swimming pool with waterfall and whirlpool and also organises educational workshops, mountain bike rides and guided tours.

The La Ca' Nova agritourism, immersed in the nature of the Senio valley in the province of Ravenna, has a well-equipped stable with the option of guided horseback rides, an enclosure with fallow deer and other animals, and a pleasant outdoor swimming pool with umbrellas and sunbeds.

Further inland, between Faenza and Forlì, you can treat yourself to an unforgettable weekend at the La Sabbiona agritourism. This ancient rural residence has been recently renovated and is equipped with every comfort: a swimming pool with sunbeds and umbrellas, a children's play area, and many local delicacies including wines, fruit, grains, and extra virgin olive oil.

Relaxing in the Po Valley between Bologna and Ferrara
In the hills of Valsamoggia, between Modena and Bologna, the Fattoria Quercia is a tiny paradise in which guests can indulge in Bolognese cuisine, a panoramic swimming pool to cool off on hot summer days, an archery target and a rich botanical garden.
The agritourism also organises themed weekends, guided tours, cooking classes and wine tastings.

We are in the province of Bologna, and the Ca' Isotta agritourism, housed in a restored old barn, has everything you need for a carefree weekend. The farm produces wines, balsamic vinegar, fruit, jams, vegetables, pastries and fresh pasta, and the elegant building has a large swimming pool, a children's playground and an educational farm that is very popular with visitors.

In the heart of the Ferrara countryside, on the other hand, we recommend the La Lepre Bianca holiday farm, with a splendid natural stone swimming pool, set in a 2000-metre park with tall trees, a massage area and a sauna with all the necessary amenities.

Discovering the western part of Emilia-Romagna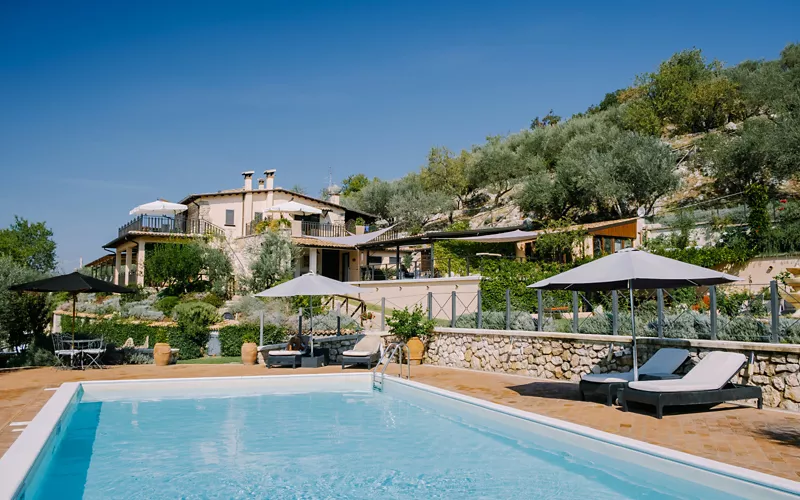 The westernmost area of Emilia-Romagna, between the provinces of Parma and Piacenza, is the perfect location for a truly relaxing holiday.
The Antica Torre agritourism, a small mediaeval hamlet in Salsomaggiore Terme, allows you to sleep in a 14th-century watchtower and take time out for yourself by bathing in the swimming pool with its solarium, and indulging in relaxing treatments with essential oils from the surrounding hills.

The Terra Antica farmhouse in Borgo Val di Taro boasts a beautiful, warm Finnish sauna with a large window overlooking the forest, a summer swimming pool overlooking the valley, and a small, cosy Wellness Lodge for massages and body treatments.

A stone's throw away, in this delightful mediaeval hamlet at an altitude of 700 metres above sea level, is the Vadonnino Antico Borgo agritourism. It is surrounded by a 24-hectare estate partly covered by Turkey oak and chestnut woods, populated by squirrels, dormice, foxes and pheasants.
The property offers apartments and chalets for all budgets, and offers guests a swimming pool with solarium, a tennis court and fully equipped garden areas with barbecue facilities.

A weekend on an agritourism in Emilia-Romagna is the best choice if, while waiting for your summer holidays, you want to treat yourself to three days of complete and regenerative relaxation.