Emilia Romagna
Rimini: from ancient Rome to Renaissance splendour
Rimini is one of the most visited coastal cities in central Italy. It is the ideal place for anyone seeking relaxation on the beach coupled with good food and seaside resorts, as well as for history and culture enthusiasts.
The history and magic of Rimini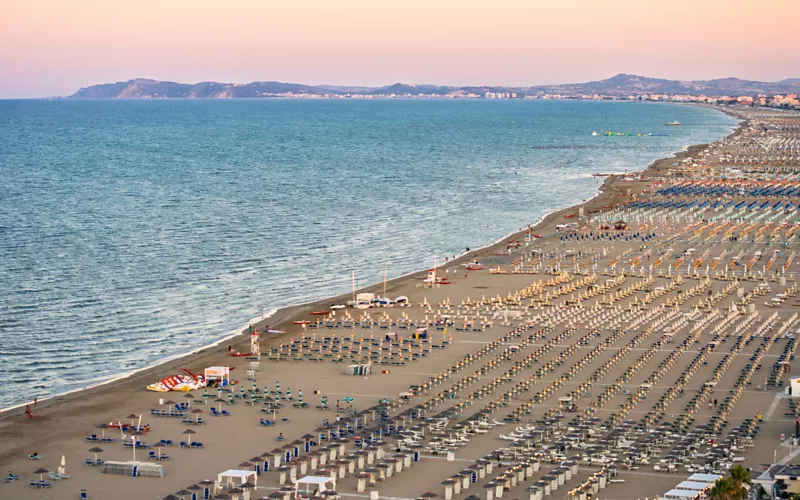 The history of Rimini dates back to 268 BC as the Roman Ariminum, thanks to the foresight of the emperors Augustus, Tiberius and Hadrian, who saw Rimini as the perfect meeting point between Via Flaminia and Via Emilia.
Rimini soon became a key economic and cultural centre, remaining so even during the Middle Ages. That splendour continued to grow during the Renaissance, when, thanks to the Malatesta family, Rimini became a major hub for this Italian and European artistic, scientific and literary rebirth.

The history of Rimini was marked by this period of innovation, with Castel Sismondo in Piazza Malatesta and the Malatesta Temple still remaining excellent examples of the love the Malatesta family had for their city.

What to see in Rimini: places not to be missed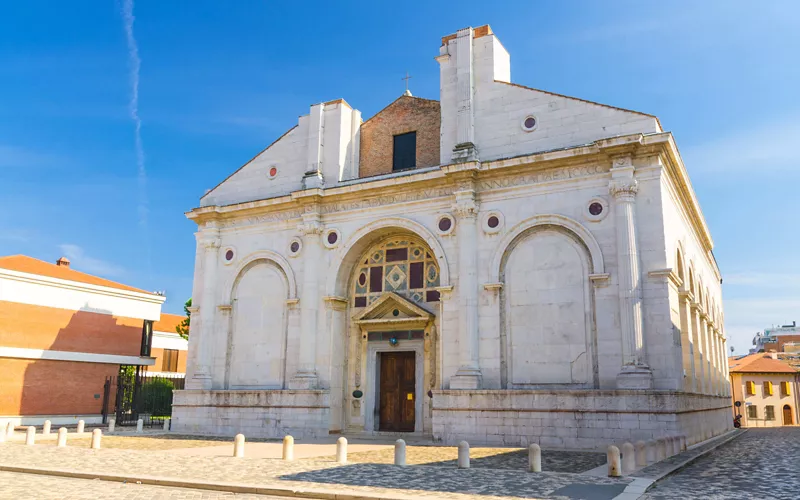 The traces left behind by more than two centuries of history and culture do not make it easy to choose what to see in Rimini, so we've picked out some of the city's most iconic sites and unmissable places, including monuments, works of art and entertainment venues.
Italy in Miniature, on the outskirts of Rimini, is one of Italy's most unique and famous attraction parks, with over 270 scale reproductions of Italian monuments, churches and buildings.

Rimini's symbolic Malatesta Temple is a Renaissance masterpiece that houses works by Piero della Francesca and Matteo de' Pasti. The city also boasts the oldest preserved arch in northern Italy, the Arch of Augustus, erected in 27 BC. Just around the corner, you can visit the Roman amphitheatre, built in the 2nd century by order of Emperor Hadrian.

Castel Sismondo, on the opposite side of the old town and a 15-minutes walk away, is a fortress in Piazza Malatesta. Still today, it preserves the core of the original construction with large square towers and imposing scarp walls.

What to do in Rimini: 10 ideas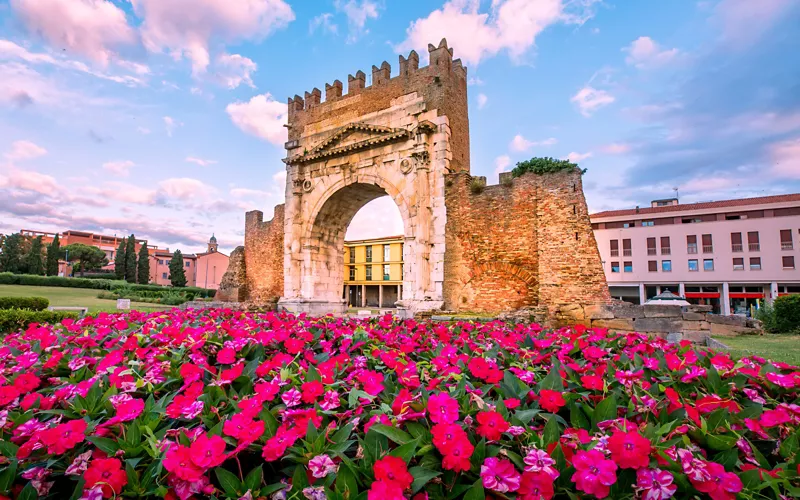 Rimini brings everyone together, culture enthusiasts and fun lovers alike. If you are wondering what to do in Rimini, we recommend starting with an excursion on foot or by bicycle, starting from the Arch of Augustus and continuing along Corso d'Augusto to the Church of Sant'Agostino, bursting with artistic treasures.
From there, in Piazza Malatesta, you can visit the fortress-residence of Castel Sismondo, the Galli Theatre and the Palazzo dell'Arengo e del Podestà with the Fontana della Pigna fountain, which amazed even Leonardo Da Vinci.

Nearby is the multimedia-exhibition path of Rimini Caput Viarum, after which we recommend walking to the Bridge of Tiberio for a stroll along the water's edge.

Families can treat themselves to a relaxing day at Fiabilandia, one of Italy's oldest amusement parks, packed with medieval, oriental and western themed attractions.

What to eat in Rimini: 9 specialities not to be missed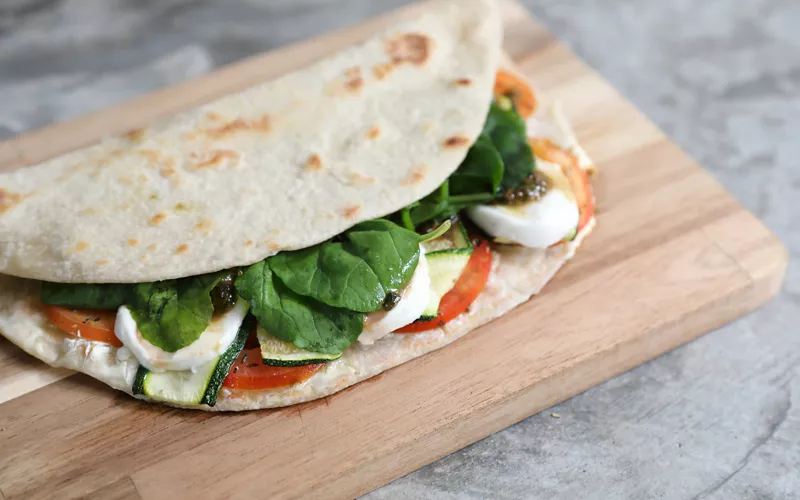 Cinema and literature have long celebrated the dishes from this area, which are as authentic and delightful as its people. It would be a travesty for anyone who wants to say they have seen Rimini not to at least try the main specialities that the local gastronomy has to offer.
    ●       The piadina romagnola is perfect as a snack or a quick lunch. Simple and tasty, it can be have various fillings, but the local favourite is squacquerone cheese or Mora salami.

    ●       Another staple is pasta, from tagliatelle al ragù to strozzapreti pasta served with sausage and peas.
    ●       Rabbit in pork is a must for meat lovers, available in all Rimini restaurants in many variations.
    ●       There is never a shortage of fish in Rimini, but if you want to stay true to tradition, you should try Brodetto, a fish soup served with crispy bread croutons.
    ●       If you have a sweet tooth, you have to try bracciatello, a traditional baked dessert accompanied by custard, and Bustrengo, a dense, moist cake containing dried fruit, honey and sultanas.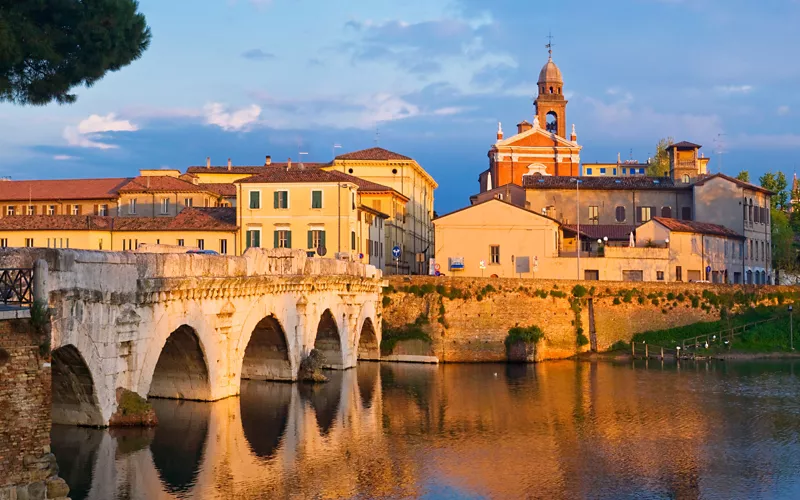 Rimini is also a city full of unique places to discover, off the usual tourist tracks. The Gambalunga Library, in the historic centre just 100 metres from the Surgeon's Domus, is one of the most beautiful libraries in the world. Founded in 1619 at the behest of Alessandro Gambalunga, it is housed in the Palazzo Gambalunga, which in its courtyard features an 18th-century well made in Istrian stone.
Just a two-minute walk away is Ripa Palace, a 19th-century building that was the first Rimini residence of the great Italian director Federico Fellini.Moving towards the coast, a stone's throw away from the park dedicated to Fellini, is the Church of San Girolamo. Completed in 1971, it contains fantastic works of art, such as Gian Battista Costa's Via Crucis, a 17th century crucifix, and a Virgin and Child dating back to 1800.