Campania
Procida: the enchanted island of watercolour houses and turquoise sea
Procida paints a unique picture of pastel-coloured houses, blue sky and crystal-clear sea.
Getting lost in hamlets and a maze of alleyways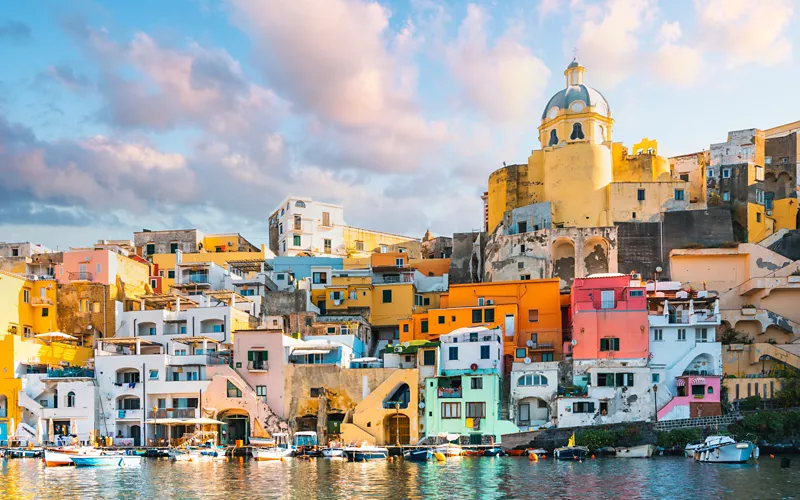 The territory of Procida is divided into nine contrade, called grancìe. These are Terra Murata (the oldest), Corricella (the fishing village), Sent'cò (with the commercial port of Marina Grande), Semmarezio, San Leonardo, Madonna della Libera (or Santissima Annunziata), Sant'Antuono, Sant'Antonio and Chiaiolella (a marina). At 16 kilometres in length, every corner is impressive, starting with the many small streets that open onto beaches hidden in bays.
The historic core is the hamlet of Terra Murata , which is in some ways its heart, but equally interesting is the small island of Vivara, connected to Procida by a bridge. Its peculiarity is that it is a protected natural island, which winks at a more informal tourism.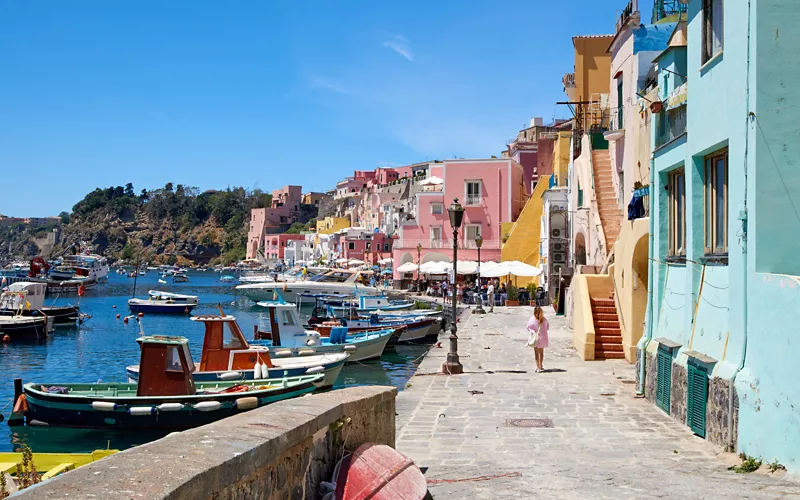 Procida can also be visited in one day, the most important thing is to plan your movements or, alternatively, to let yourself go by instinct or the tips of the locals.
To get there, take the ferry from the port of Naples or Pozzuoli, a one-hour boat ride. You will get to Marina Grande, the harbour and beating heart of the centre, divided between craft shops, bars, small boutiques and rental points for mopeds, bicycles, minicars and various boats.
From here you can move towards the historic centre, climbing up Via Principe Umberto to Piazza dei Martiri, passing by the Sanctuary of Santa Maria delle Grazie and stopping at the Belvedere dei Cannoni to observe Marina Corricella in all its wonder.
Terra Murata is the ancient historical centre. Here you can visit Palazzo D'Avalos, which used to be a palace and prison, and get lost among courtyards, stairways and small squares until you reach the 11th-century Abbey of San Michele Arcangelo. In addition, it boasts a museum complex on the three floors below.
The fishermen village, Corricella, is a place you can walk to. The small houses of different colours are reflected in the transparent waters of the marina and it is one of the most beautiful and characteristic views of the island.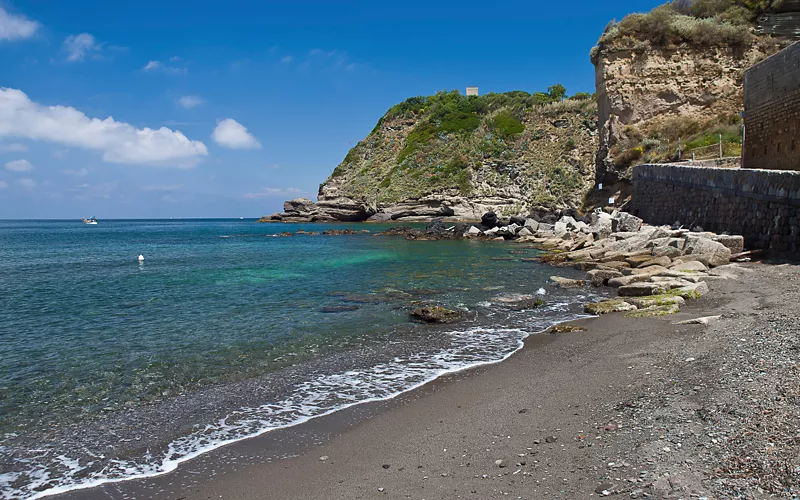 Among the Procida beaches one of the most beautiful is undoubtedly the Pozzo Vecchio beach. We are on the western side of the island and this place was made famous by Il Postino, the famous 1994 film. Also called the Spiaggia del Postino on this shoreline, Mario (Massimo Troisi) and the beautiful Beatrice (Mariagrazia Cucinotta) meet and fall in love for the first time.
Then, there is the Spiaggia della Chiaia, the most central of Procida's beaches, accessed via a descent of 186 steps, or the Spiaggia della Chiaiolella, the longest and busiest shoreline on the island.
This is by no means the end of the story, the advice is to go along with the locals, they will take you to very special places.