Naples
The Catacombs of Naples
An ancient monument to the religious side of Naples.
The Catacombs of San Gennaro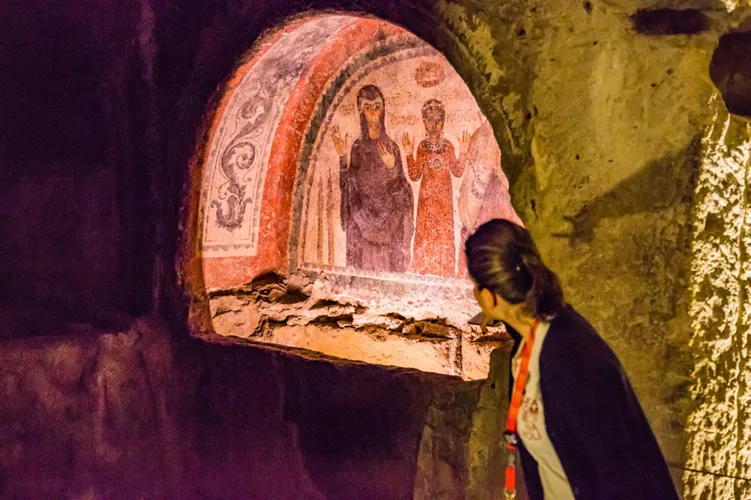 The San Gennaro Catacombs, the most extensive in southern Italy, are located beneath one of the most populated and characteristic neighborhoods in Naples, and they represent an important piece of the city's history: that of its protector saint, San Gennaro, whose body was laid to rest in these catacombs, existent in the 5th Century. From that time on, the catacombs were a pilgrimage destination up until the end of the 9th Century. In time forgotten, they were only rediscovered in the 1600s.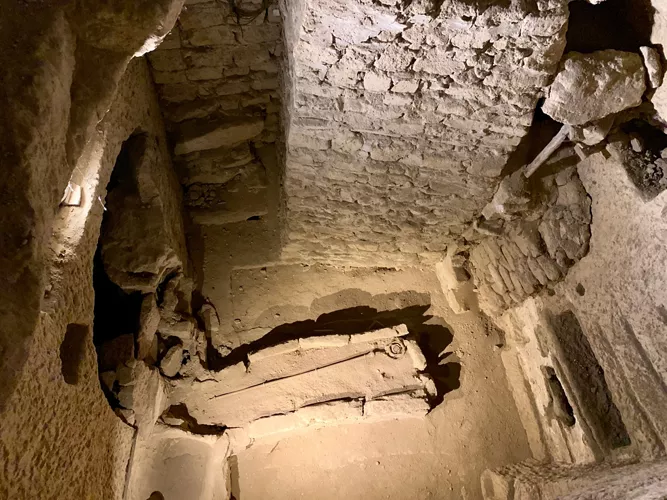 The San Gennaro Catacombs consisted of two levels, one on top of the other. Their original nucleus dates to somewhere between the late 2nd and early 3rd Centuries. From their lower vestibule, ambulacra or porticoed corridors developed outward in subsequent centuries. The upper level, which began with an ancient "upper vestibule," is remarkable for its frescoes (end Century) and for its tiny cripta dei vescovi or Bishops' Crypt (situated near the tomb of Gennaro himself) where Naples's first bishops are buried. Meanwhile, majestic "basilica maior" is the result of wide-sweeping modifications of neighboring rooms, all realized when, in the 5th Century, San Gennaro was transferred. The basilica maior, dug entirely in tuff rock, features three naves, and boasts a number of 5th-6th Century frescoes.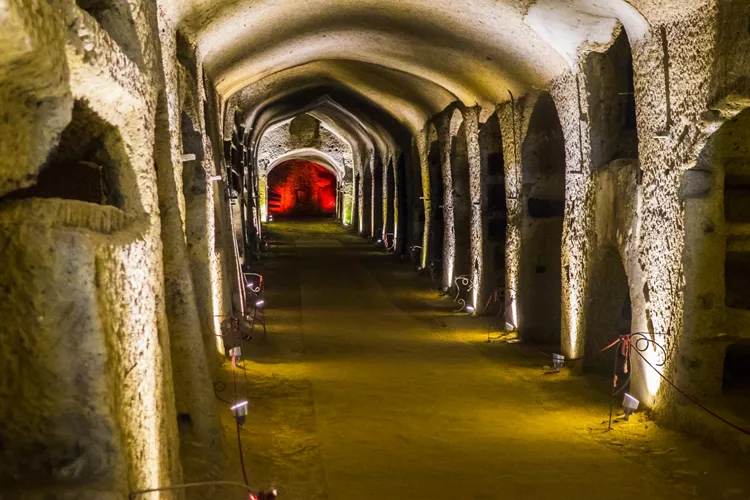 Today, access to the catacombs is possible from the square hosting the Basilica dell'Incoronata Madre del Buonconsiglio in Capodimonte, and from the Basilica di San Gennaro extramoenia (outside the walls). The catacomb complex of San Gennaro is extraordinarily large and unique, but is the result of extensions and mergers of formerly separate hypogea.
The Catacombs of San Severo and San Gaudioso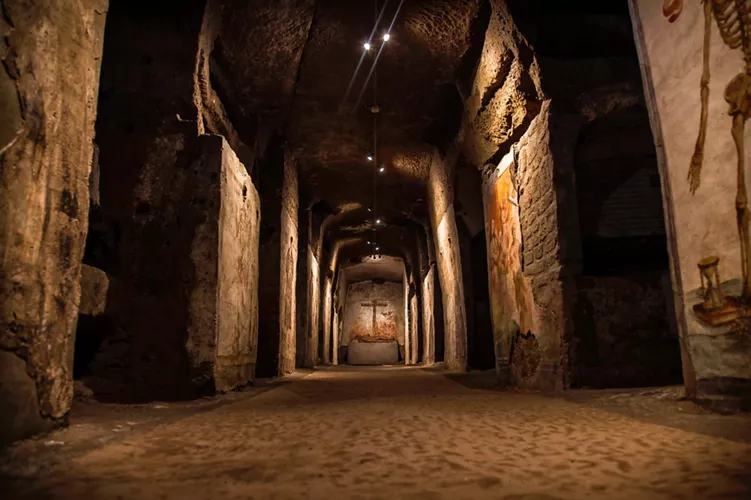 Other subterranean burial places include the San Severo Catacombs, originally a sort of memorial to the Bishop Severo and remaining only in the form of a small cubiculum; the San Gaudioso Catacomb, accessible via the Basilica of Santa Maria della Sanità and characterized by walls sepulchres bearing skulls of the deceased. Parts of the same walls open into cubicula, composed of precious 5th-6th Century paintings and mosaics that decorate further burial niches and depict such Christian symbols as lambs, peacocks and grapes.
The spectacular San Gennaro catacombs were recovered by a joint collaboration between l'Altra Napoli Onlus and other citizens' associations in the Sanità quarter. Currently, they are managed by social cooperative "La Paranza", a grouped formed by local youths.